Ascension Parish host annual Trash Bash to help clean up community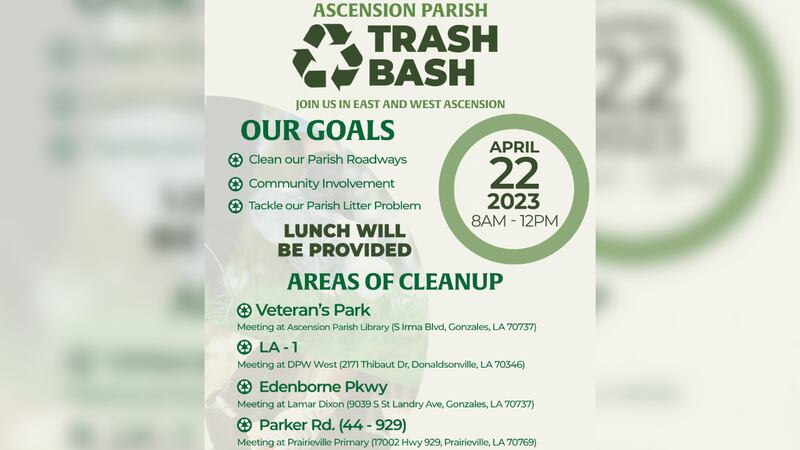 Published: Mar. 22, 2023 at 4:42 PM CDT
BATON ROUGE, La. (WAFB) - As part of Keep Louisiana Beautiful Week, Ascension Parish is hosting its annual Trash Bash to bring together the community.
Volunteers will get the opportunity to get involved and help clean up the parish. During the event volunteers will help by picking up trash and debris, planting trees and flowers, and helping with local conservation efforts, officials said.
The event will be hosted on April 22, 2023, from 8 a.m. until 12 p.m., officials added.
A spokesman with Ascension Parish said there will also be free t-shirts and jambalaya for volunteers.
"Our parish boasts natural beauty, and it is imperative that we are good stewards of our home. Events like the Trash Bash are vital in not only beautifying our areas but also to bring awareness to how we must take measures to maintain this best place to live," President Clint Cointment explained.
The areas that volunteers will help clean and meet at, will be located at:
Veteran's Park – Gonzales (S Irma Blvd)

LA-1 – Donaldsonville (2171 Thibaut Dr)

Edenborne Pkwy – Gonzales (9039 S St Landry Ave)

Parker Rd (44-929) – Prairieville (17002 Hwy 929)
For updates and to volunteer, you can visit the Keep Ascension Beautiful Facebook page.
Click here to report a typo.
Copyright 2022 WAFB. All rights reserved.