Heart of Louisiana: Notre Dame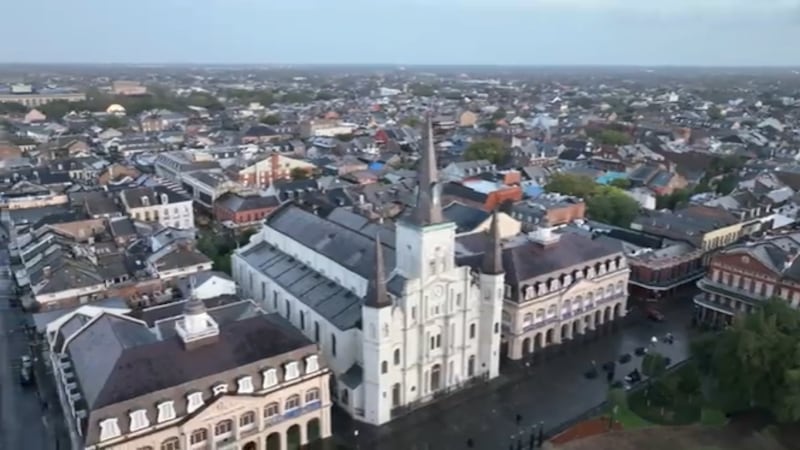 Published: Mar. 19, 2023 at 3:23 PM CDT
BATON ROUGE, La. (WAFB) - Architects who are putting together plans to renovate the historic St. Louis Cathedral in New Orleans are learning a few lessons from the fire-damaged Notre Dame in Paris. The local architects were given a rare look inside the french landmark.
At the giant Notre Dame Cathedral in Paris, a total restoration was unexpected. It's the result of a catastrophic fire nearly four years ago in New Orleans, St. Louis Cathedral needs its own renovation. The problems here result from moisture and leaks, decaying plaster that occasionally falls from overhead termites that have chewed through attic timbers, and a sinking foundation. The effort to restore the New Orleans landmark is being pushed by saints and pelican owner Gayle Benson, who saw an opportunity with the ongoing restoration in Paris. She brought it up in a recent meeting with the french ambassador.
"I told him that I wanted to have access and that we were working on a project in New Orleans, and I wanted to get our architects and designers to collaborate with the France people, and he said okay," said Gayle Benson.
Within a few weeks, two architects leading the St. Louis cathedral project were touring Notre Dame, their guide was the chief french architect. In Paris, everything is being restored to how it was before the fire. Artisans are chiseling stones to make exact copies of the ornamental features damaged in the fire, and plaster sculptures are being repaired and repainted.
"So this is in one of the chapels that they have been restoring and cleaning," said a female interpreter.
Some of the art is 19th century like St. Louis Cathedral, but other pieces date to medieval times and there were a few surprises with unexpected burials and other artifacts beneath the floor.
"They also found lots of sculptures," the female interpreter said.
"It's amazing. It's fascinating," Benson said.
The limestone walls darkened by nearly a thousand years, and the heat and smoke of the catastrophic inferno have been carefully cleaned with latex. At Notre Dame. donations poured in from around the world raising nearly a billion dollars to cover this work in New Orleans. The fundraising is just beginning. The touring architects shared ideas looking for common solutions.
"Our cathedral in New Orleans goes like this and the walls are not plumed, so they bow out," said Andre Villere. "The extent and scope of the work were dramatic. The complexity of the scaffolding to support the roof was overwhelming. The fact that every surface of the building is being touched, cleaned, and repaired is astounding," he added.
New Orleans architects, Andre Villere, and Kevin Morris spent an entire day at Notre Dame. If you take the approach that they took here which is very time-consuming, very complex, and very expensive, how would you apply that kind of approach in New Orleans?
"Our approach is not about designing or changing the design of the cathedral. It's more so about creating preservation of the cathedral and restoring the authenticity that was there before," Villere said.
The French architects were also guided in their project by a total three-dimensional laser imaging of Notre Dame completed a few years before the fire. That's something that could help with the New Orleans project.
"We would employ such a technique as well if we are able to because we do not have exact dimensions, profiles, or original drawings. We have nothing to document the portions of the church that are inaccessible," Villere said.
Now nearly four years into the Notre Dame restoration, some of the cleanings are complete and some scaffolding is coming down revealing the bright limestone walls of the giant nave. Those visiting here hope the french success will energize the drive to restore St. Louis Cathedral.
"It is a monument you know, I don't look at it as a church. It happens to have masses inside but it's really a very historic building and it's over 200 years old and we just can't lose that," Benson said.
That historic preservation now depends on the success of fundraising, which in Paris is now bringing Notre Dame back to life.
Click here to report a typo.
Copyright 2022 WAFB. All rights reserved.