No. 14 LSU splits doubleheader against South Carolina to win series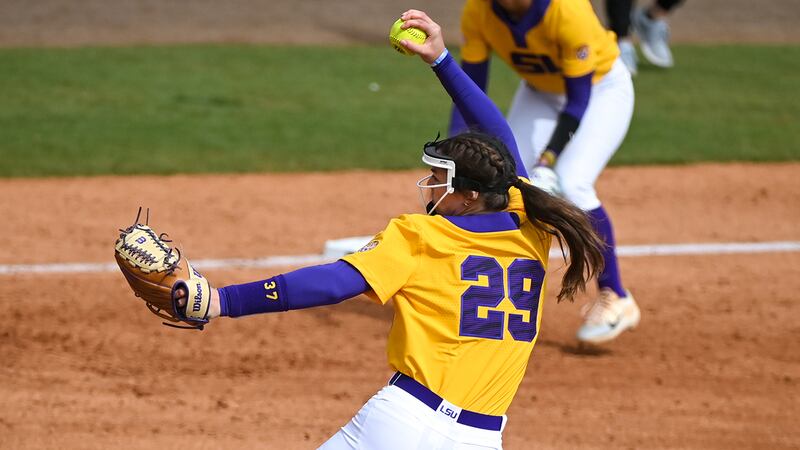 Published: Mar. 13, 2023 at 5:48 PM CDT
COLUMBIA, S.C. (WAFB) - The No. 14 LSU softball team split the doubleheader against South Carolina on Monday, March 13.
In the first game on Monday, the Tigers (22-2, 2-1 SEC) fell to the Gamecocks (22-4, 1-2 SEC) 4-2, but in the second game, they were able to avenge that loss with a 5-1 victory to take the series.
In the first game, Sydney Berzon (7-1) took the loss in the circle. She allowed the four runs on five hits and struck out three.
LSU scored the first run of the game when a single by Karli Petty plated Georgia Clark in the top of the second inning to make it 1-0.
South Carolina did its damage in the fourth inning. With two on and one out, Zoe Laneaux ripped a double to left center to put the Gamecocks up 2-1. Then, Marissa Gonzalez hit a two-run homer to left-center to make it 4-1.
Ali Newland hit a double in the top of the sixth, scoring Madilyn Giglio to make it 4-2.
CLICK HERE for more on game one.
In the second game, Ali Kilponen (8-0) got the start and pitched seven innings, allowing a run.
McKenzie Redoutey led the offense, going 2-for-3 with an RBI and a triple.
LSU will face Southeastern on Wednesday, March 15, at 6 p.m. in Hammond, La.
CLICK HERE for more on game two.
Click here to report a typo.
Copyright 2022 WAFB. All rights reserved.