New Saints QB Derek Carr embracing chance to 'reinvent' himself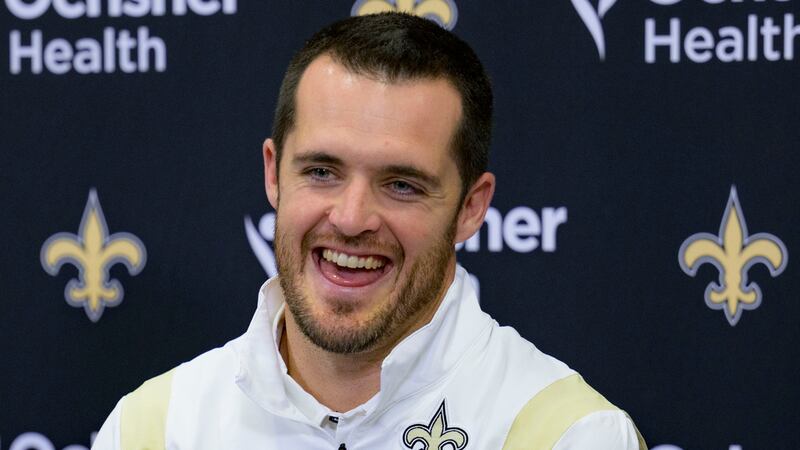 Published: Mar. 13, 2023 at 12:26 PM CDT
METAIRIE, La. (AP) — For newly signed Saints quarterback Derek Carr, moving to New Orleans will mean learning new terminology — and not merely in the playbook.
"Everybody's saying words to me and I'm like, 'What does that mean?'" Carr said with a grin in relaying his interactions with Saints fans.
Louisiana's past as a French and Spanish colony, along with its African and Caribbean influences, gives it a distinct culture from much of the rest of the United States. And that seems appealing to Carr, who spoke enthusiastically of his opportunity to "reinvent" himself in New Orleans after spending the first nine years of his career with the Raiders in Oakland, California, and Las Vegas.
"I'd be lying to you if I said I didn't have a chip on my shoulder with how everything finished" Carr said of the Raiders' decision to release him this offseason. "I didn't plan on or dream of it finishing that way ... It lit a fire in me that I've always had. But it just made it hotter, and gave me this excitement to where I can't wait to get to another building and show just what I'm capable of."
The Saints' brass and coach Dennis Allen, who was the Raiders' coach when Carr was drafted in 2014, didn't need convincing. The team went all out to persuade Carr it was the best fit for him, and they agreed on a new contract Monday.
"He was clearly our No. 1 target in terms of what we wanted to do at the quarterback position," Allen said. "We wanted to be first out there and just make sure that he knew he was the No. 1 option."
New Orleans first tried to trade for Carr before the Raiders released him. That stuck with Carr, who turns 32 this month, as he entertained other offers.
"What he had to say carried weight," Carr said. "I won't get into all the details because some of that was private to him and to me, but a lot of what he said is probably why I'm sitting here."
Carr said he also spoke with former NFL quarterback Peyton Manning, as well as Manning patriarch Archie — a former Saints star who still lives in New Orleans — and Peyton's brother, Cooper, a lifelong New Orleans resident.
Several current Saints players also reached out. Carr highlighted his talk with record-setting receiver Michael Thomas, whose contract status and injury-plagued past three seasons have created uncertainty about his future with the club.
Carr sounded eager to work with Thomas, and confident he might get that chance, even though it would virtually require Thomas and the Saints to agree by Friday on a more salary cap-friendly contract.
"You're valuing me as a quarterback, me as a human, without even having to say anything," Carr said.
The four-time Pro Bowler is the Raiders' all-time leader in yards passing (35,222) and touchdown passes (217), but the team made the playoffs just twice with Carr at QB and did not win a postseason game.
The Saints haven't made the playoffs since franchise all-time passer Drew Brees retired after the 2020 season. New Orleans went 9-8 in 2021 and 7-10 last season.
Carr emphasized that he's "not coming here trying to be Drew Brees," but said his decision to come to New Orleans was informed by a recent phone conversation with Brees while Carr was on vacation.
"He wasn't even trying to recruit me," Carr said, "he was just like, 'When are we getting to work, we're wasting time, time is ticking."
Carr said his wife, Heather, also favored New Orleans, partly because of how personable she found Saints owner Gayle Benson. The quarterback, his wife and their four children were invited to watch the New Orleans Pelicans — also owned by Benson — in the owner's suite on Saturday.
After that will come the process of settling in a new city before going back to work with a familiar face — with his first NFL coach. Allen, who was fired by the Raiders during the 2014 season, said he followed Carr's career from afar.
When Carr confirmed he'd be a Saint, Allen said: "It was like, 'it's time for us to go finish what we started.' So, I think it's kind of a cool deal."
Copyright 2023 The Associated Press. All rights reserved.