No. 15 LSU shows off offensive prowess again in win over Cal Poly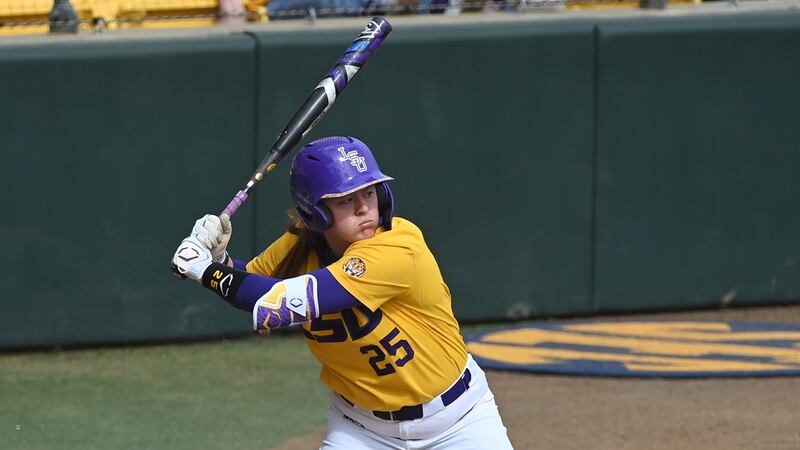 Published: Mar. 5, 2023 at 4:21 PM CST
FULLERTON, Calif. (WAFB) - The No. 15 LSU softball team used a huge fourth inning to roar past Cal Poly in the Judi Garman Classic on Sunday, March 5.
Information provided by LSU Sports:
No. 15 LSU exploded for 10 runs in the fourth inning to secure a 12-4 run-rule victory over Cal Poly at Anderson Family Field to conclude the Judi Garman Classic.
LSU improved to 20-1 on the season after winning all five of its contests on the West Coast. Cal Poly falls to 7-7 this season with the loss.
The Tigers totaled 14 hits and logged a season-high three home runs, including two in the same inning. Second baseman Karli Petty hit a grand slam for her first home run of the season to match a career-high four RBIs in a single game. Outfielders Ali Newland and McKenzie Redoutey both added two-run shots in the win.
First baseman Raeleen Gutierrez was a perfect 3-for-3 at the plate and scored two runs. Third baseman Danieca Coffey had her third multi-hit game of the tournament as she went 3-for-4 with one run. Designated player Georgia Clark rounded out the multi-hit Tigers in the game with two hits in three at bats with two RBIs and one run scored.
Graduate pitcher Ali Kilponen earned the win to move to 6-0 in the circle after punching out two batters and allowed two hits, no walks and no runs in 1.2 innings. Pitcher Emilee Casanova started the game on the rubber and finished with four strikeouts with four hits, three walks, and four runs through 3.1 innings.
CLICK HERE for more.
Click here to report a typo.
Copyright 2022 WAFB. All rights reserved.