Drying out, much cooler into the weekend
Published: Feb. 17, 2023 at 4:29 AM CST
|
Updated: Feb. 18, 2023 at 10:30 AM CST
BATON ROUGE, La. (WAFB) - Drier and much cooler weather is settling into the region in the wake of a cold front that moved through late Thursday. Today's temperatures will be about 30 degrees colder than Thursday, with highs topping out in the low 50s. Additionally, breezy conditions will add a bit of a chilly, with northerly winds running 10-20 mph through the day.
Weekend Parade Forecasts
While it will certainly be much cooler for a big chunk of the weekend, the good news is that things stay dry for a full slate of parades. You'll definitely want to bundle up if heading to the Krewe of Southdowns tonight, with temperatures starting out in the mid 40s and falling into the low 40s. Winds shouldn't be as strong as what we see during the day, but there will still be a bit of a breeze tonight.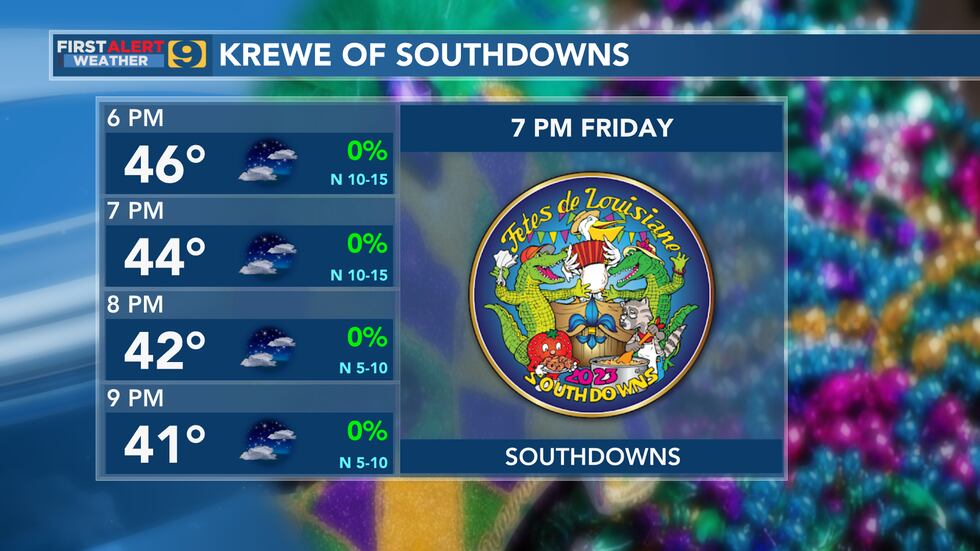 Those riding in Spanish Town on Saturday will want to dress in layers. It will be a very cold start in the morning, with temperatures near freezing at daybreak on Saturday. But by the time the parade rolls at Noon, temperatures will have rebounded a bit into the low 50s, and should climb into the mid 50s by the end of the parade under mostly sunny to partly cloudy skies.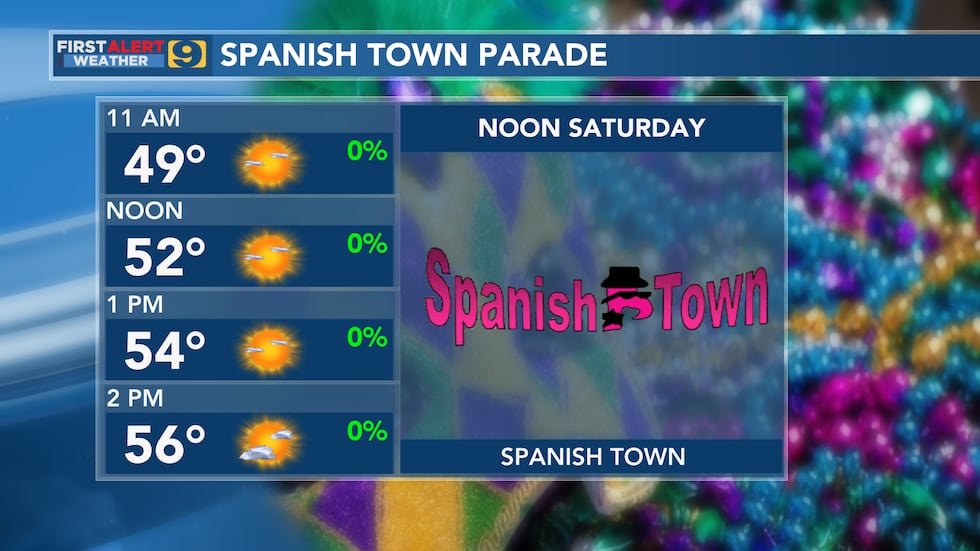 Several parades also roll around the area on Sunday and will enjoy somewhat warmer temperatures. Afternoon readings will range from the mid 60s to around 70 degrees under partly cloudy skies. The Krewe of Comogo in Plaquemine will see temperatures in the low 60s as the parade starts at 7 p.m. falling into the mid to upper 50s.
Extended Outlook
A significant warm-up is still expected as we head into Mardi Gras. Highs will reach the upper 70s on Monday and low 80s by Fat Tuesday. A few stray showers can't be ruled out, but no major impacts are expected to parades through Mardi Gras Day.
Unusually warm weather will continue through at least the mid part of next week, with perhaps a slight drop in temperatures during the latter part of the week.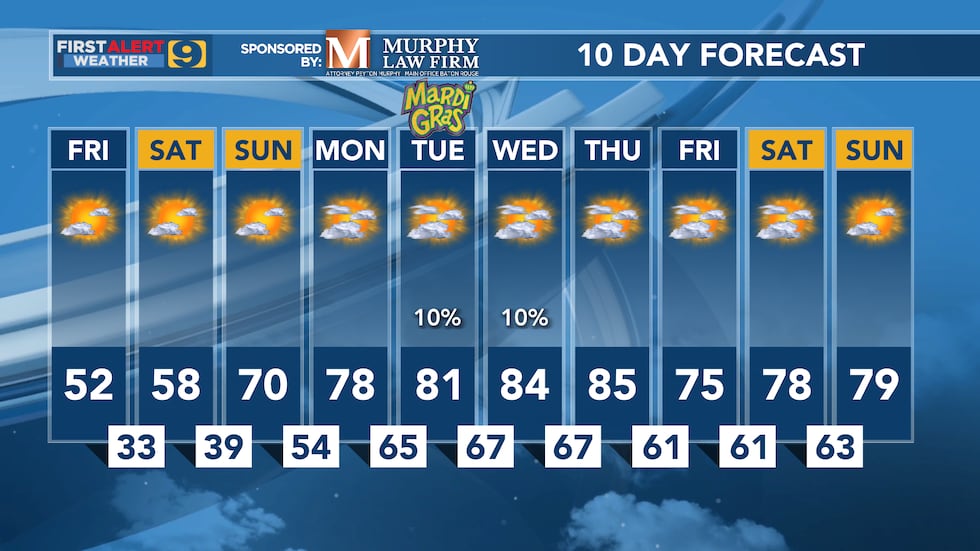 Click here to report a typo.
Copyright 2022 WAFB. All rights reserved.