LSU Board of Supervisors approves change to Dale Brown/Sue Gunter Court
Published: Feb. 9, 2023 at 2:55 PM CST
|
Updated: Feb. 10, 2023 at 6:18 PM CST
UPDATE
BATON ROUGE, La. (WAFB) - The basketball court inside of the Pete Maravich Assembly Center at LSU officially has a new name.
Adding the name of former women's basketball head coach, Sue Gunter, to the Dale Brown Court inside of the PMAC was approved by LSU's Board of Supervisors Friday, Feb. 10.
Officials voted and approved changing the name of the court, making it the Dale Brown/Sue Gunter court.
ORIGINAL
The LSU Board of Supervisors will decide whether to add the name of former women's basketball head coach Sue Gunter to the Dale Brown Court.
The board will meet on Friday, Feb. 10, at 9 a.m. The agenda shows the request is to rename the basketball court inside the Pete Maravich Assembly Center to the Dale Brown/Sue Gunter Court.
Currently, the court is only named after Brown.
"The University will not be making comments on board agenda items prior to Friday's meeting," said LSU spokesman Cody Worsham.
Gunter coached the Tigers from 1982 until 2004. She is credited with taking the program from obscurity to national prominence. At the time of her death in 2005, she was the third all-time winningest coach in NCAA women's college basketball history. She has since dropped to No. 22.
Gunter compiled 708 career victories while leading LSU to eight Sweet 16 appearances, four Elite 8s, and one Final Four. She was inducted into the Naismith Memorial Basketball Hall of Fame. She passed away in 2005 at the age of 66 after suffering from emphysema for years.
"I don't want to talk about that right now, let's wait and see what happens tomorrow. But I'll be fair with you, ask me after all of it settles. And I'll briing Bob Starkey with me, and he can help me. Because he coached with Dale, and he coached with Sue. Any information I give you would be from afar. And it would not be in depth like he could. So, at the right time, we'll discuss that. But I would only allow Bob Starkey to be with me, because I think he can be fair," said LSU Women's Basketball Head Coach Kim Mulkey on Thursday.
Keia Howell-Lane, who played for LSU from 1994-98, said she thinks it would be disrespectful to Dale Brown to add Gunter's name to the PMAC court just a year after the court was named after him. Howell-Lane loves Coach Gunter and wants her to be honored but not like this.
RELATED: LSU unveils Dale Brown Court in honor of Hall of Fame coach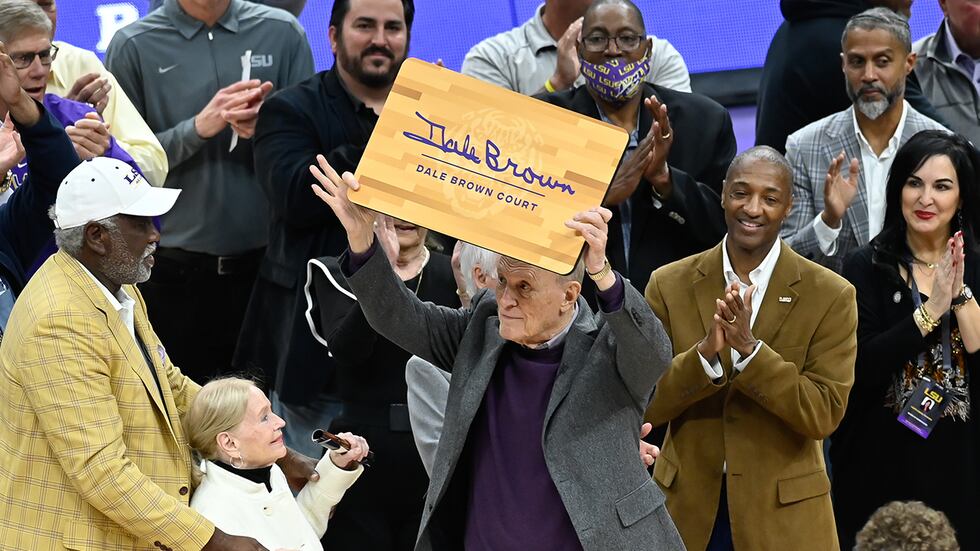 It was just 17 months ago that the same LSU Board voted 12-3 against the Sue Gunter-Dale Brown.
Brown was honored with the unveiling of Dale Brown Court before LSU hosted Kentucky in front of a packed PMAC crowd on Jan. 4, 2022.
He replaced Press Maravich in 1972 and coached the Tigers until 1997. He is also credited with turning around the program and taking it to the national spotlight. Brown led the Tigers to two Final Four appearances, four SEC Championships, and 448 wins.
He is a member of the Louisiana Sports Hall of Fame and Basketball Coaches Hall of Fame.
President of Tiger Rag Magazine Jim Engster says the topic of renaming the court to honor both greats is nothing short of controversial.
"This is the most controversial matter involving sports and maybe involving anything before the LSU Board of Supervisors since 1986 when Mike Archer was hired as football coach two days before Christmas, and LSU turned down Steve Spurrier," said Engster.
He says, while LSU wants to be inclusive and progressive, some opponents would argue Dale Brown was inclusive and progressive years before his peers.
"Some view this as honoring Sue Gunter which of course it would, but also view it as a slight to Coach Brown, who logged 25 years here as the greatest coach in LSU Basketball history and has nothing in his honor from the university he delivered mightily to through his tenure," said Engster.
And those LSU board members that Governor John Bel Edwards appointed, Engster believes they will stay loyal to him with this decision.
"In Louisiana it's custom that you support somebody, you get on boards and commissions. And these people are supporters of the governor. The governor's acting no different than any other governor and he said he wanted this. And also, the president of the university is complicit in this because the board appointed him, they respect him, and if he said let's not do it, I think Bill Tate could stop this, but he's chosen not to as well. So as a result, the fact that the governor and the president of the university are on board, the board members are likely to follow their instructions, at least most of them," said Engster.
Click here to report a typo.
Copyright 2022 WAFB. All rights reserved.