Ingram scores 30 as Pelicans win third straight, topping Atlanta Hawks, 116-107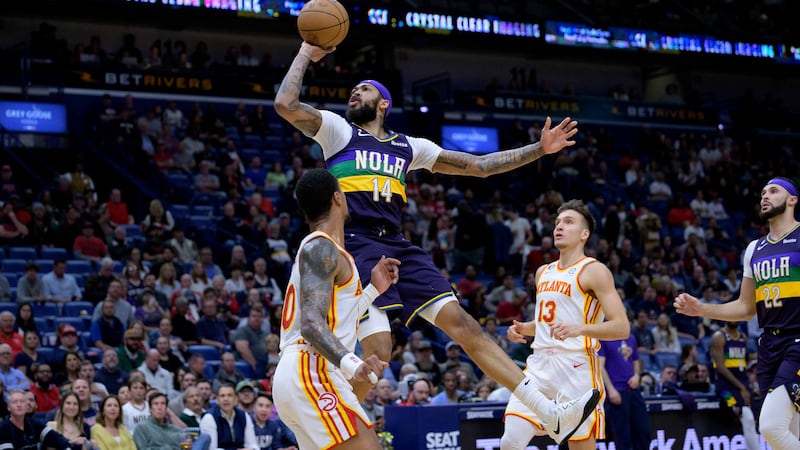 Published: Feb. 7, 2023 at 9:54 PM CST
|
Updated: Feb. 8, 2023 at 7:01 AM CST
NEW ORLEANS (AP) — Brandon Ingram scored 30 points, C.J. McCollum added 21 and the New Orleans Pelicans defeated the Atlanta Hawks, 116-107, on Tuesday night (Feb. 7) for their third straight victory.
Jonas Valanciunas, returning from a one-game absence because of a sore right quadriceps muscle, had 16 points and 14 rebounds for New Orleans.
The Pelicans led, 111-95, when Trey Murphy III hit his fourth 3-pointer of the game with 3:24 to go.
Atlanta responded with a 7-0 run to cut the Pelicans' lead to nine with 1:49 left. Ingram briefly stemmed the run with a driving layup in traffic, but John Collins hit a turnaround and Trae Young hit a 3-pointer from 29 feet to make it a two-possession game with 43 seconds left.
Atlanta then fouled Herb Jones, who hit two free throws and then blocked Bogdan Bogdanovic's 3-pointer to help the Pelicans hold on. Jones finished with 11 points and nine rebounds. Murphy scored 16 for the Pelicans, whose current winning streak has come on the heels of a 10-game skid.
Bogdanovic scored 22 points for Atlanta and Dejounte Murray, who played despite being listed as questionable with a migraine earlier in the day, scored 19. Young had 16 points and 16 assists, and Collins finished with 15 points.
Atlanta missed its first six shots and trailed 12-2 before recovering to tie the game at 23 on Young's 3-pointer late in the first quarter.
The game remained close for the rest of the half, and the Pelicans led 62-59 at halftime after McCollum hit a 3-pointers on consecutive possessions.
Notes: Pelicans All-Star forward Zion Williamson (right hamstring) missed his 19th straight game. Coach Willie Green said Williamson continued to be "day to day" and that it was unclear whether he would play before the All-Star break. ... New Orleans outscored Atlanta in the paint, 56-40. ... The Pelicans converted 13 offensive rebounds into 22 second-chance points. ... The Pelicans play again Friday night, at home against Cleveland.
See a spelling or grammar error in our story? Click Here to report it. Please include the headline.
Copyright 2023 WVUE. All rights reserved.