NBA YoungBoy regrets violent lyrics, plans to convert to Mormonism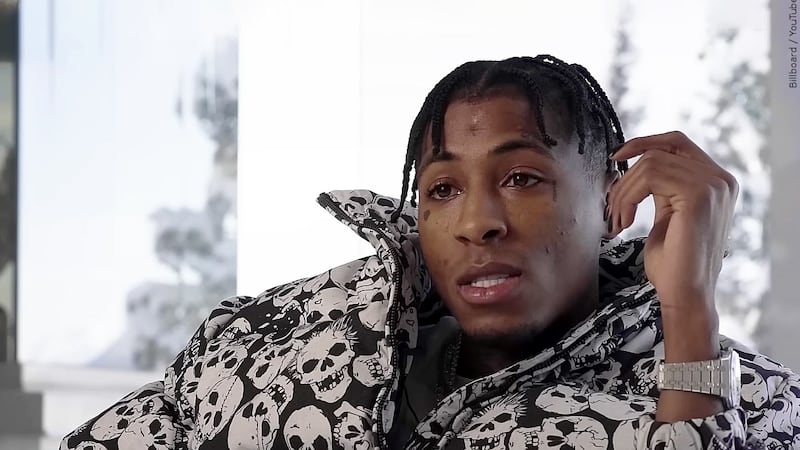 Published: Feb. 3, 2023 at 1:22 PM CST
(WVUE) - In one of the most revealing interviews since being sentenced to house arrest in Utah, Baton Rouge chart-topping rapper NBA YoungBoy says it's time he atones for his past and looks forward to a more positive future.
YoungBoy, real name Kentrell Gaulden, invited Billboard to his Salt Lake City mansion, where he's been surveilled by court-ordered ex-military security ever since he was released from St. Martin Parish custody in Oct. 2021 on firearms charges stemming from a music video shoot in his hometown. He's left his house exactly zero times. His ankle monitor will trigger if he so much as crosses the end of his driveway.
The cover story, published Wed., Feb. 1, is one of the most vulnerable interviews YoungBoy has given, reflecting on his life and career.
NBA YoungBoy's music earned over five billion on-demand streams in 2022, behind only Drake and Taylor Swift. Five out of his eight full-length releases last year reached the top 10 of the Billboard 200.
With that kind of influence and popularity, the rapper says he's growing uncertain about the violent storytelling in his lyrics. He says it troubles him to know fans, kids included, might have been negatively influenced by his music.
Billboard says his latest release and first since signing to Motown, I Rest My Case, intentionally had fewer mentions of guns than on his previous projects. The album debuted at No. 9 after its arrival in early January. "The Last Slimeto," which peaked at No. 2 on the albums chart, was the rapper's final obligation to Atlantic Records, where he has been pumping out hits for the last five years.
YoungBoy says he feels a sense of responsibility for "the sh-- I put in these people's ears."
"I feel very wrong about a lot of things," he said. "How many kids of people have got in a car or put this sh-- in their ears and actually went and hurt someone?"
The 23-year-old admits he can't rewrite his music as a street rapper, and he refuses to rap about violence merely to satisfy listeners, but says he's eager to "clean whatever I can clean" moving forward, adding "it's gon' take time."
"What if they don't like me now? I'm not changing. I will not be provoked, I will not be broken, and I'm not going back to who I used to be. Accept it or not... I ain't going back," he said.
He discussed how moving to Utah has had a positive impact on his daily life, which now includes regular readings of Book of Mormon and the Church of Jesus Christ of Latter-day Saints, after missionaries came to his home. The rapper says he turned them away the first time they swung by, but when they returned, he decided to let them in.
"I wanted help very badly. I needed a friend. And it hit me," he recalled. "It was just cool to see someone with a different mindset that had nothing to do with business or money... just these wonderful souls."
The missionaries now discuss the Book of Mormon with YoungBoy regularly, reflected in his recent "Hi Haters" video, which opens with a quote from the LDS tome.
According to YoungBoy, the visits help "make sure my heart is in the right space." He says he's planning on having a Mormon baptism once he's off of house arrest.
See a spelling or grammar error in our story? Click Here to report it. Please include the headline.
Copyright 2023 WVUE. All rights reserved.