Mayor Cantrell may have broken state law mailing out flyers
Published: Feb. 2, 2023 at 4:43 PM CST
NEW ORLEANS (WVUE) - For the first time since taking office, New Orleans Mayor LaToya Cantrell's administration sent out a yearly recap mailer that may have broken state law.
Tri-fold pamphlets titled "City of New Orleans 2022 Recap" were mailed to 106,000 New Orleans homes over the past week, touting Mayor Cantrell's accomplishments on a variety of topics, ranging from infrastructure to public safety and the economy.
According to the city, the pamphlets cost $50,000 in taxpayer money.
State law says no public funds can be used to advertise the name of a public official.
"Her name and face is what screams illegality to me," said Fox 8 Legal Analyst Joe Raspanti. "You're not supposed to self-promote on the taxpayer's dime and she's all over this and her name's all over this."
Raspanti believes Mayor Cantrell broke the law.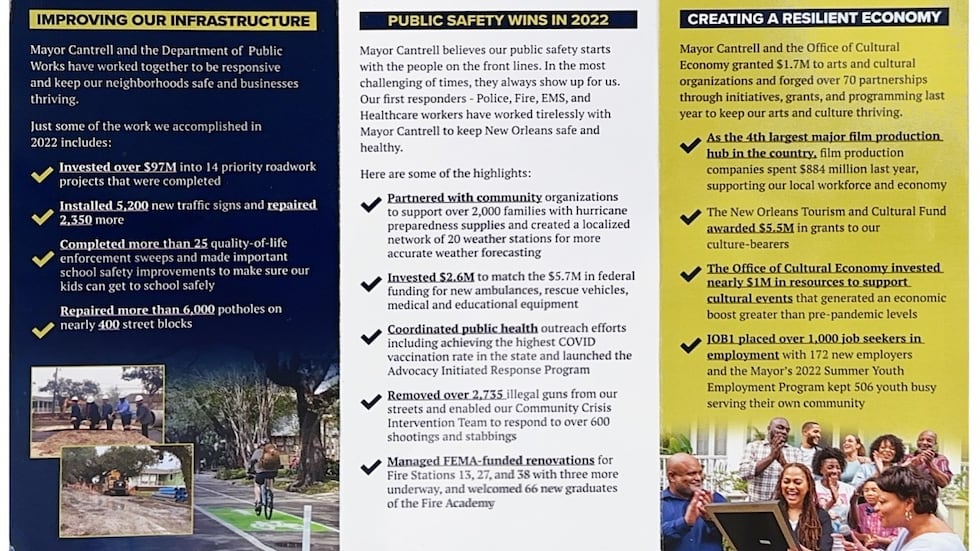 "It is illegal. It breaks a couple of statutes which basically say when you're using taxpayer money you can't put your face or your name on it," he added.
According to two opinions by the state Attorney General's office, "advertisement" includes informational and factual publications.
"Both of these opinions came out of politicians attempting to put something out of a similar nature, but not as egregious, it would appear, as [Cantrell] did," said Raspanti.
The flyer has attracted the attention of the New Orleans City Council.
"Myself and Councilman Morrell sent a request or inquiry as to, 'wait how much did this cost? Who did it go to?'," Council Vice President Helena Moreno said. "We personally had not received the information back. We saw how much that costs and who it went to from Fox 8."
Moreno says the mailouts are concerning.
"The way that this particular mailer is displayed and the way it talks about Mayor Cantrell and her accomplishments and what she's done," Moreno continued. "It's very political and that is very much prohibited in the state constitution and state law."
The mailers were sent at a time when an effort to recall the mayor is in its final weeks, trying to gather 15,000 more signatures by Ash Wednesday to trigger a recall election.
"It appears to be sort of a counter-campaign piece to counteract the recall campaign," Dillard University Public Policy Professor Dr. Robert Collins said.
RELATED STORIES
96% of NoLaToya Recall's contributions come from one New Orleanian
Organizers: 15K signatures needed in final month to trigger Mayor Cantrell recall vote
Recall effort against Mayor Cantrell begins airing television ads, announces direct mail campaign
It also appears this is the first time Cantrell's administration has ever sent out a yearly recap mailer like this.
Fox 8 asked the city of New Orleans for documents related to "End of Year Recap" mailers from prior years. They told us none existed.
That means in 2018-2022, the Cantrell administration never sent out similar mailers. Only in January of 2023.
The mayor's office did not respond to questions about why the pamphlets were sent out.
"It is interpreted as self-promotion on the taxpayer's dime and that is not allowed," said Raspanti. "This is something that is a criminal violation or could be interpreted as such."
See a spelling or grammar error in our story? Click Here to report it. Please include the headline.
Copyright 2023 WVUE. All rights reserved.