EBRSO arrest man for $40K worth of fentanyl, other charges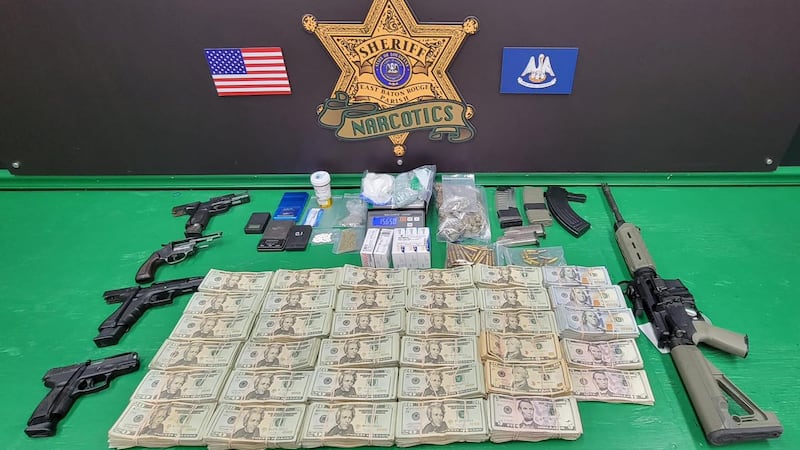 Published: Feb. 1, 2023 at 6:26 PM CST
BATON ROUGE, La. (WAFB) - East Baton Rouge Sheriff's Office has arrested a man for the distribution of fentanyl, other charges.
Frank Beauchamp, 57, is charged with PWITD sch. II (Fentanyl), poss. of a firearm by a convicted felon, poss. of a firearm with drugs, poss. of a stolen firearm, poss. of drugs in the presence of a juvenile, poss. of drug paraphernalia, money laundering, affidavit warrant for distribution of schedule II (Fentanyl), and 2 counts of distribution of counterfeit narcotics.
According to officials, agents purchased drugs from Beauchamp three times before obtaining a search warrant.
Investigators seized 1 lb. of Fentanyl, 7.6 ounces of Marijuana, 210 Suboxone strips, 16 dosage units of Lyrica, and $149,536.
Officials said they also seized a stolen Glock .40 caliber handgun, a Taurus 9mm caliber handgun, a Rossi .38 special handgun, a Smith and Wesson 9mm handgun, and a Stag Arms A-15 rifle.
The 1 lb. of Fentanyl is worth $40,000 street value which is over 1,000 fatal doses, investigators explained.
This is the third case EBRSO Narcotics has completed on Beauchamp since 2019, officials added.
Click here to report a typo.
Copyright 2022 WAFB. All rights reserved.