Council accepts resignation of officer involved in police chase crash that killed 2 teens
Published: Feb. 1, 2023 at 6:13 PM CST
|
Updated: Feb. 1, 2023 at 10:36 PM CST
ADDIS, La. (WAFB) - The Addis Town Council met on Wednesday, Feb. 1, and passed a motion to accept the resignation of officer David Cauthron, who was involved in a deadly crash during a police chase.
The mayor of Addis, along with council members and the police chief, went into executive session to start the meeting. When they came back, Police Chief Richard Anderson made a recommendation to council members that they accept Cauthron's resignation as of January 9. Members of the town council unanimously approved the motion, and therefore, Cauthron will no longer be on the force.
Cauthron was the officer involved in that deadly multi-parish police pursuit on New Year's Eve, where investigators say he sped through a red light during the chase killing Brusly High students Caroline Gill and Maggie Dunn, and badly injuring Maggie's brother Liam.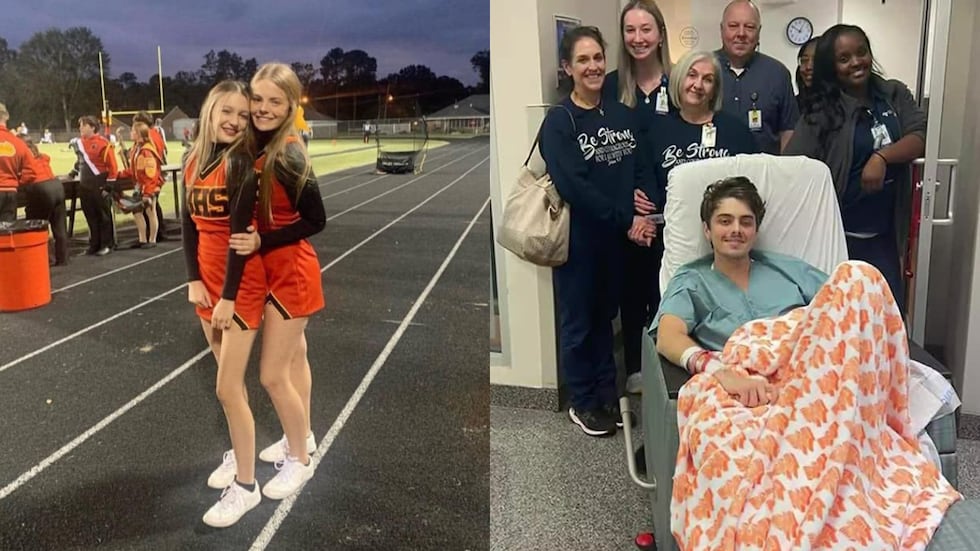 The decision by the town council Wednesday night was upsetting for the siblings' mom.
"For them to just let him (Cauthron) take the cowards way out, and for them to just take the cowards way out is bull sh**," said Erin Martin, the mother of Maggie and Liam Dunn.
After the crash, Officer Cauthron was booked by the West Baton Rouge Parish Sheriff's Office on two counts of negligent homicide and one count of negligent injury. According to jail records, David Cauthron bonded out of jail on Sunday, Jan. 8. The bond was set at $100,000.
"Oh, I think it's crap. I mean first of all, just to be able to resign and be able to do this somewhere else is crap. I think he should of been terminated that day," said Martin.
At the last council meeting in January, Addis Mayor David Toups says Chief Anderson recommended that Cauthron be placed on leave without pay, pending an investigation.
When WAFB spoke with Mayor Toups about whether the officer will get benefits after resigning, he referred us to Chief Anderson.
"I - again, I'm the one to ask on any of that kind of stuff," said Mayor Toups.
Chief Anderson then tried to wave WAFB, saying we've already done enough stories.
"We're done," said Chief Anderson.
"Well, we can't just talk a little about just his benefits or anything?" questioned WAFB's Lester Duhe'.
"Nope, we're done," said Anderson.
"Nothing on that," questioned Duhe'.
"Nothing on what," asked Anderson.
"Nothing on the benefits or..." said Duhe'.
"I don't control that," said Anderson.
"I will say this is the first time I've actually laid eyes on Ricky Anderson since this happened, and I think that's crap. I think he should've had the decency to come and talk to us at some point since the wreck happened. Not one person from Addis has spoken to any of us, and I think that's wrong. I feel like the way we've been treated during this whole thing has just been wrong. I feel like our daughter deserves more dignity that that, his daughter deserves more dignity than that," said Martin.
"If you could say something to David Cauthron what would it be," questioned WAFB's Lester Duhe'.
"Nothing you can say on tv. I hope he feels remorse. I hope he realizes when he gets to tuck his babies in at night, what he took from us," said Martin.
The deadly collision was the jumping-off point for local and state leaders to pursue greater oversight of police pursuits.
State Representative Edmond Jordan says he'll introduce legislation that helps families file civil lawsuits against law enforcement agencies involved in pursuits that end in injury or death.
18th Judicial District Attorney Tony Clayton called for law enforcement officers to "stop the damn pursuit" when a chase puts human life in danger.
Clayton said he plans to convene a grand jury in Cauthron's criminal case.
Martin says her son Liam is doing much better recovering now that he is home from the hospital.
Click here to report a typo.
Copyright 2022 WAFB. All rights reserved.