Georgia election probe report to remain secret for now
Published: Jan. 24, 2023 at 5:30 AM CST
|
Updated: Jan. 24, 2023 at 5:40 PM CST
ATLANTA (AP) — A judge said Tuesday that a final report produced by a special grand jury tasked with investigating whether then-President Donald Trump and his allies broke the law as they tried to overturn his 2020 election defeat in Georgia will remain under wraps for now.
Fulton County Superior Court Judge Robert McBurney said he was considering whether to release the report after hearing arguments from prosecutors, who urged it be kept secret until they decide whether to file any charges, and a coalition of media organizations, which pressed for its release.
He said he would further reflect on the parties' arguments and would reach out with any questions before making a final decision. He also said he anticipated his eventual decision would be appealed.
The report is expected to include recommendations for Fulton County District Attorney Fani Willis on possible criminal prosecution. If McBurney decides to disseminate the report, as the special grand jury urged, he must also determine whether any parts of it should be redacted.
The investigation is one of several that threaten potential legal consequences for the Republican former president as he seeks reelection in 2024. Over a period of roughly seven months, the special grand jury heard from dozens of witnesses, including high-profile Trump allies, such as attorney Rudy Giuliani and Sen. Lindsey Graham of South Carolina, and high-ranking Georgia officials, such as Secretary of State Brad Raffensperger and Gov. Brian Kemp.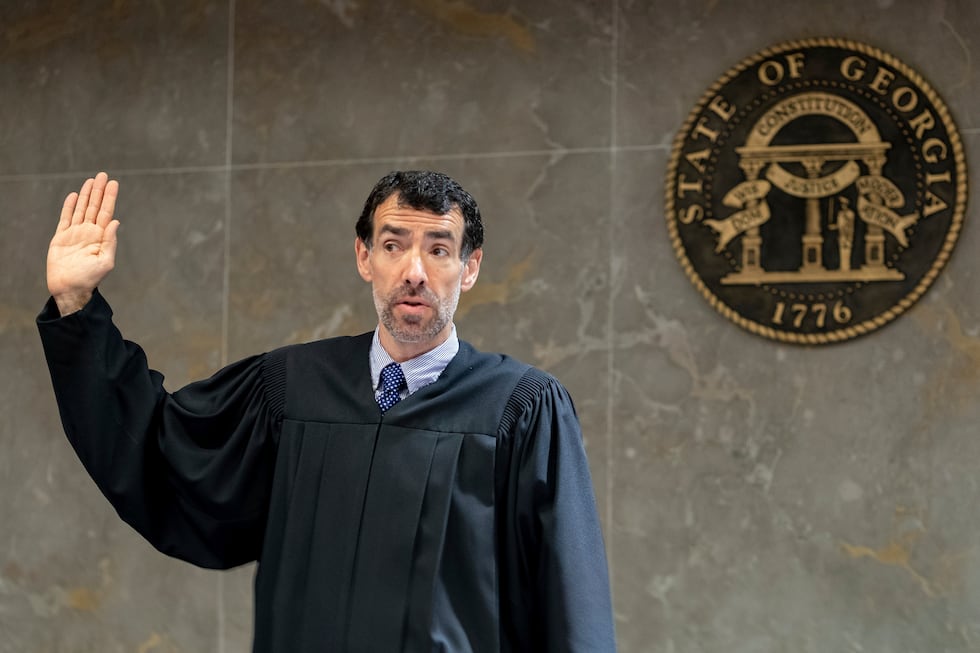 Willis began investigating shortly after a recording of a January 2021 phone call between Trump and Raffensperger became public. In that call, the president suggested that the state's top elections official, a fellow Republican, could "find" the votes needed to overturn his loss to Democrat Joe Biden.
"I just want to find 11,780 votes, which is one more than we have," Trump had said. "Because we won the state."
A coalition of news organizations, including The Associated Press, argued in favor of releasing the report in full, saying public interest in the report is "extraordinary." Attorney Tom Clyde, representing the news media, said arguments for keeping the report secret would typically be a case involving minors or highly private information.
"It doesn't typically involve public officials who are involved in activities following a national election," Clyde said.
Willis argued Tuesday that disclosing the report now could violate the rights of potential defendants and could negatively affect the ability to prosecute those who may be charged with crimes.
"We want to make sure that everyone is treated fairly and we think for future defendants to be treated fairly, it is not appropriate at this time to have this report released," Willis said.
The district attorney's office is not opposed to the eventual public release of the report, added prosecutor Donald Wakeford, but "it is opposed to it right now."
Trump's legal team in Georgia said in a statement Monday that it would not participate in the hearing.
"To date, we have never been a part of this process," Drew Findling, Marissa Goldberg and Jennifer Little wrote, noting that the former president was never subpoenaed or asked to come in voluntarily as part of the investigation.
"Therefore, we can assume that the grand jury did their job and looked at the facts and the law, as we have, and concluded there were no violations of the law by President Trump," they wrote.
Trump defended his actions in several posts Tuesday morning on his social media platform, Truth Social. Referring to his call to Raffensperger, he wrote: "It was PERFECT, nothing done or said wrong."
The original order granting Willis' request for a special grand jury authorized the panel to "make recommendations concerning criminal prosecution as it shall see fit."
It's unclear just how specific those recommendations will be. The special grand jury did not have the power to issue indictments, and it will ultimately be up to Willis to decide whether to seek indictments from a regular grand jury.
While the special grand jury's work took place in secret, as required by law, related public court filings provided a glimpse of investigative threads that were being pursued. Those included:
— Phone calls by Trump and others to Georgia officials in the wake of the 2020 election.
— A group of 16 Georgia Republicans who signed a certificate in December 2020 falsely stating that Trump had won the state and that they were the state's "duly elected and qualified" electors.
— False allegations of election fraud made during meetings of state legislators at the Georgia Capitol in December 2020.
— The copying of data and software from election equipment in rural Coffee County by a computer forensics team hired by Trump allies.
— Alleged attempts to pressure Fulton County elections worker Ruby Freeman into falsely confessing to election fraud.
— The abrupt resignation of the U.S. attorney in Atlanta in January 2021.
___
Associated Press writer Michelle L. Price in New York contributed to this report.
Copyright 2023 The Associated Press. All rights reserved.