Attorney says video disputes rape allegations involving LSU student hit by a car on Burbank
Published: Jan. 23, 2023 at 10:48 PM CST
|
Updated: Jan. 23, 2023 at 10:51 PM CST
BATON ROUGE, La. (WAFB) - Deputies with the East Baton Rouge Parish Sheriff's Office say LSU student Madison Brooks was raped before she was hit and killed by a car on Burbank Drive more than a week ago on January, 15.
But the attorney representing two of the people behind bars for the alleged incident says a video shows a whole different story.
Deputies charged both Kaivon Washington, 18, of Walker, and an unidentified minor with third-degree rape. The minor is 17 years old.
Everett Lee, 28, of Pine Grove, and Casen Carver, 18, of Denham Springs, were both charged with principle to third-degree rape.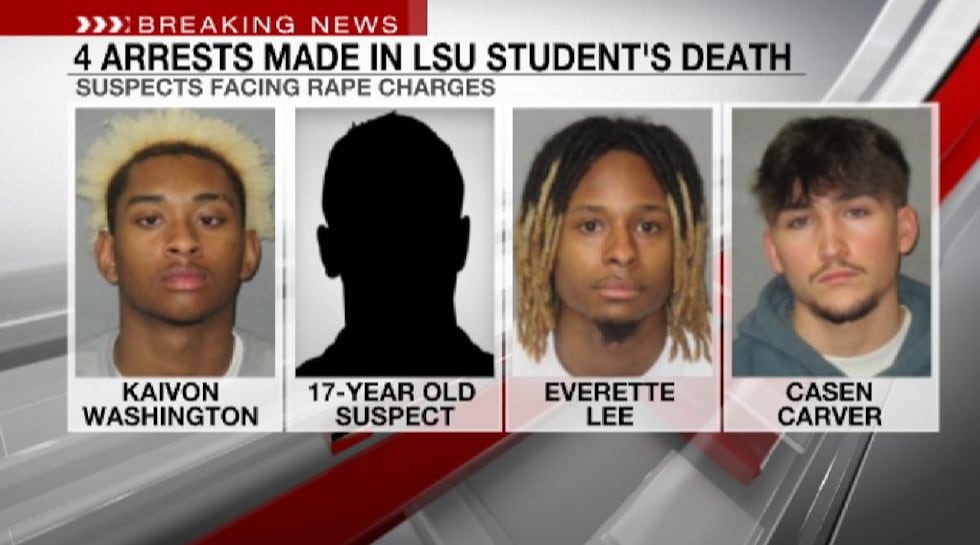 Investigators believe they've pieced together the moments leading up to the tragedy.
Deputies arrested those four men who they say were seen leaving with Madison Brooks in a car from Reggie's Bar in Tigerland. Detectives say this was after a night of drinking.
"She (Brooks) willfully got into the car, said that her rides had left her, and she got in.
After that point in time, there were consensual sexual acts done in that car with her and two other individuals at two separate times," said Attorney Ron Haley.
Investigators charged the men with what's called third-degree rape, which basically means the victim was too intoxicated to consent to sex.
"Absolutely not a rape. Listen this is a tragedy, definitely not a crime," said Haley.
He says a video taken during the incident shows Madison Brooks was in a coherent state and knew what was happening the entire time.
"Can you tell, that she was intoxicated, yes. To the point under the law that you say you're in a drunken stupor, to the point that you cannot lawfully give consent or answer questions, absolutely that was not the case," said Haley.
Haley says an argument took place between Brooks and the driver of the vehicle after they traveled around to multiple locations after the bar.
"Based on a disagreement, she got out of the vehicle. She indicated she was getting an Uber. I want the public to know, these young men or really the driver of the vehicle and the young men that were in there, did not put her off on the side of the road," said Haley.
Arrest documents say that the driver thought the girl was too drunk to consent, telling deputies, 'I guess she was.'
Brooks' blood alcohol level when she got to the hospital was nearly four times the legal limit.
But Haley believes the video evidence from inside of the car will acquit his clients fully, and the real blame needs to be on the bars selling to underage drinkers.
He plans on turning over that video to investigators and the district attorney's office.
Click here to report a typo.
Copyright 2022 WAFB. All rights reserved.