USPS announces Ernest J. Gaines forever stamp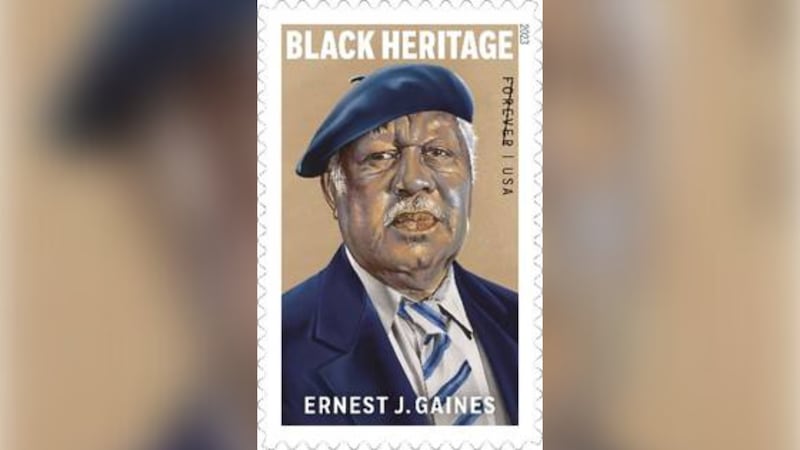 Published: Jan. 23, 2023 at 11:50 AM CST
LAFAYETTE, La. (WAFB) - The United States Postal Service has revealed a forever stamp to honor the life of author Ernest Gaines.
Gaines is best known for his novels "The Autobiography of Miss Jane Pittman" and "A Lesson Before Dying." He lived in Pointe Coupee Parish before his death in 2019.
The new stamp was unveiled during a ceremony at the University of Louisiana at Lafayette and makes Gaines the 46th honoree in the Black Heritage Stamp Series.
"Dr. Gaines brought worldwide attention to generations of men and women who asserted their human dignity in the face of racial oppression and violence," said Donald Lee Moak, a member of the USPS Board of Governors, who served as the dedicating official. "His novels would shine a light on individuals who were too often overlooked and remind us of the dignity present in every human being, especially those being oppressed. That is just one reason the United States Postal Service is privileged to honor him with this new stamp."
Gaines was born in Oscar, Louisiana on Jan. 15, 1933, in former slave quarters that his family had lived in for several generations.
During Gaines' teen years, his family moved to California because he couldn't attend high school or junior high school in his hometown. He went on to attend San Francisco State College (now San Francisco State University) and then Stanford University for his Master of Fine Arts.
Gaines spent time as a professor at the University of Louisiana at Lafayette.
"Ernest J. Gaines was — and remains — an iconic figure at the University of Louisiana at Lafayette, and we are deeply honored that the U.S. Postal Service has chosen to commemorate his literary legacy through this beautiful stamp," said E. Joseph Savoie, president of the University of Louisiana at Lafayette. "It captures the grace, strength, and character he displayed through his life and through his words. For a quarter century, as a professor and writer-in-residence at the university, Dr. Gaines entreated aspiring writers to remember the inherent commonality of people and the obligation we have as individuals to treat each other with dignity and respect. His genius and influence made them better and made our university better, and we are forever grateful for his enduring example."
According to the USPS, the new stamp features an oil painting of Gaines and is based on a 2001 photograph. The stamp was designed by Mike Ryan with art by Robert Peterson.
The new stamp will be sold in panes of 20.
Click here to report a typo.
Copyright 2022 WAFB. All rights reserved.