Heart of Louisiana: Curole House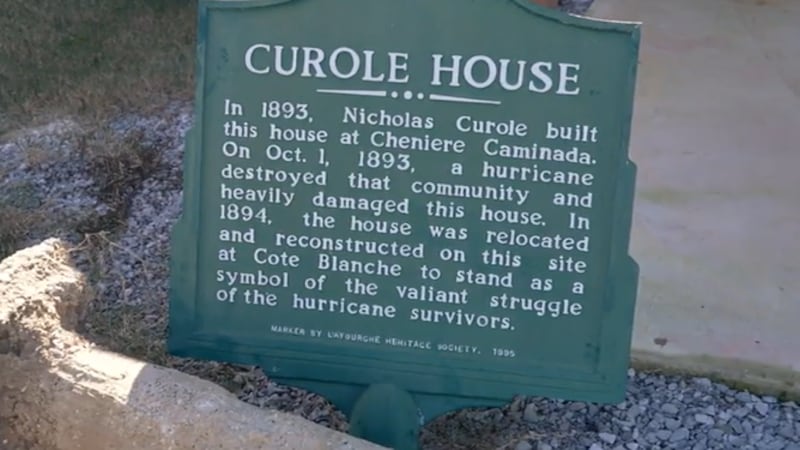 Published: Jan. 15, 2023 at 7:58 PM CST
BATON ROUGE, La. (WAFB) - An old house that has survived 130 years of hurricanes in southeast Louisiana is getting a facelift and a new home.
This old house is on the move again. The first time was 130 years ago, the house was built of cypress timbers by Nicholas Curole for his family at Chenier Caminada near Grand Isle. That community was wiped out by a hurricane in 1893.
"We lost more people in that storm than any storm that ever hit Louisiana. Over 2000 people died at Chenier Caminada, so 1893 was a pretty large community of 1500 people. Half the population died," Windell Curole said.
Wendell Curole's great ancestors, all lived at Chenier Caminada. He is a great-great uncle Nicholas Curole built this house.
"My great-grandfather survived with his wife. My grandfather was born February 1893, he was one of the few babies to survive," Curole said.
The Curole house was one of only a few structures that survived the hurricane. Curole moved the family home to higher ground at the cut-off.
"It was knocked off its pillars, but the house stayed together. The doors were taken off in the front, but it was still intact and, and my understanding is then he took it apart. Three different loads were brought up to cut off," Curole said.
But Hurricane Ida in 2021 damaged the old house again, that violent storm ripped off part of the roof.
"I've always admired the house. It's been around my whole life. I grew up down here and it's an awesome house, it's my privilege to bring it back together," Natalie LaFont said.
Natalie Lafont, a New Orleans real estate broker is restoring the old Curole house. The house was cut in half. First, the front portion and later the add-on rear portion were loaded on a trailer and moved a mile away to the rear of the home where Lafont grew up. As you began to look at the structure and the construction of this house, what were some of the interesting things you noticed and how it was put together?
"The architectural elements are outstanding. The beadboard, french glass, the wavy glass, the doors, the board, and batten doors, all of those things are gonna be my objective is to perfectly restore it," LaFont said.
You can still see the square iron nails that originally held this house together. They've worked well. Lafont will mill these cypress logs to replace missing boards. Do you ever wonder if these walls could talk here?
"Oh, definitely. Houses have energy and the more we prepared it for the move, emptying out our possessions. It's got great energy. it just seemed to get happier and happier as we went along," LaFont said.
Natalie Lafont plans to share in that happiness after a total restoration of the old house, she plans to retire here. She'll live in a home that has been a symbol of this community's resilience for well over a century.
Click here to report a typo.
Copyright 2022 WAFB. All rights reserved.