Sean Payton schedules first in-person interview with Denver Broncos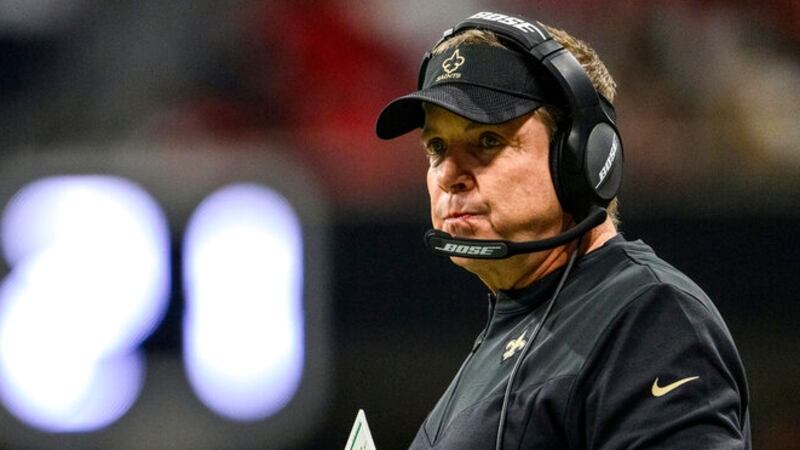 Published: Jan. 12, 2023 at 12:06 PM CST
NEW ORLEANS (WVUE) - The Sean Payton sweepstakes are heating up.
The Denver Broncos are scheduled to be the first team to have an in-person head-coach interview with Sean Payton, according to NFL Insider Adam Schefter.
The Broncos will meet with the former New Orleans Saints head coach as soon as NFL rules allow - first thing in the morning on Tues., Jan. 17 in Los Angeles.
The Broncos requested and received permission from the Saints to interview Payton earlier this month.
Payton is under contract with the Saints through 2024, so if he elects to coach elsewhere, his new team will have to compensate New Orleans.
Saints analyst Jeff Duncan says the Saints' reported asking price is a first-round pick in the upcoming NFL Draft.
Denver owns the San Francisco 49ers' first-round pick in 2023, no. 29 overall, through a trade with the Miami Dolphins, as well as back-to-back third-round picks, one of which is coming from the Indianapolis Colts.
Two other teams with highly valuable draft picks, Houston and Arizona, both of which parted ways with their head coaches on Monday, have also been granted permission to interview Payton.
The Houston Texans currently possess two first-round picks in the 2023 draft - second and twelfth overall, as well as round two pick no. 34 and round three picks 66 and 74. They also have two first-round picks in the 2024 draft.
The Cardinals have the third overall pick in the 2023 draft, second-round pick no. 35, and third-round pick no. 67.
Recently on Fox Sports, Payton said the chances of him returning to his job as an analyst were "7″ out of 10.
Read more
Sean Payton floats idea of teaming up with Lamar Jackson
Duncan Commentary: Dennis Allen's job is safe with the Saints
Deuce McAllister and Sean Fazende recap the Saints biggest offseason questions
The future of Jameis Winston, Andy Dalton, and Mike Thomas with the Saints
"It's really about the triangular relationship - ownership, front office, head coach," Payton said. "When we went to New Orleans ... the quarterback was unsettled at that time. So I think ownership and the functionality of the front office is most important."
"Here's what I do know: Payton is not going to take a job just to take a job. He wants to coach again. But if an appealing situation doesn't present itself, he's fine sitting out another year and seeing if a better market develops," Duncan said.
"If Payton does take a coaching job, don't be surprised if he takes a few coaches on the current Saints staff with him. He has assembled a wish list of assistants he wants to hire for his staff, and some current Saints assistants are among them. Saints assistant general manager Jeff Ireland could also be a target."
See a spelling or grammar error in our story? Click Here to report it. Please include the headline.
Copyright 2023 WVUE. All rights reserved.