New Orleans Saints light Superdome in Bills colors for Damar Hamlin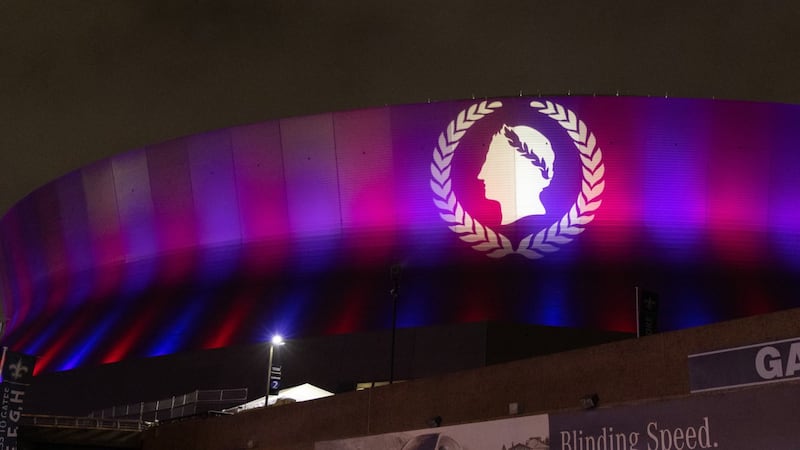 Published: Jan. 4, 2023 at 10:31 AM CST
NEW ORLEANS (WVUE) - Caesar's Superdome in New Orleans was lit in blue and red in honor of Buffalo Bills safety Damar Hamlin, who collapsed on the field during Monday night's game.
The New Orleans Saints, after joining the rest of the league in changing their profile picture to a "Pray for Damar" graphic, tweeted the display Tuesday (Jan. 3) evening.
"For Damar Hamlin and the Buffalo Bills family," the organization tweeted.
Hamlin remains sedated on a ventilator at the University of Cincinnati Medical Center, WXIX reports.
Hamlin's uncle, Dorrian Glen, told CNN that doctors have Hamlin on his stomach to help take pressure off of his lungs.
The 24-year-old Buffalo Bills safety is listed in critical condition after his collapse at Paycor Stadium Monday night.
"He's healing right now. Like I said, they sedated him just to try to give him a better chance to continue to heal better. Just taking it day by day, and it seems like he's trending upwards in a positive way, and thank God for that," Glen said.
He said Hamlin's cardiac arrest was a complete surprise, adding that he did not have any preexisting heart issues that he knew of.
Glen said Hamlin died and was resuscitated twice, first on the field and again at the hospital.
Read more: Damar Hamlin 'trending upwards' in Cincinnati, uncle says
Hamlin's toy drive fundraiser has brought in more than $6 million in donations.
See a spelling or grammar error in our story? Click Here to report it. Please include the headline.
Copyright 2023 WVUE. All rights reserved.