'Stop the damn pursuit:' DA releases statement after 2 teens killed in crash during pursuit; officer bonds out
Published: Dec. 31, 2022 at 1:06 PM CST
|
Updated: Jan. 9, 2023 at 8:52 AM CST
BRUSLY, La. (WAFB) - District Attorney Tony Clayton has released a statement after a crash involving a police officer during a pursuit that claimed the lives of two high school teenagers.
David Cauthron, 42, with the Addis Police Department was arrested on Sunday, Jan. 1, in connection with the crash that resulted in the deaths of Maggie Dunn, 17, an 11th grader; and Caroline Gill, 15, a 10th grader, who were both cheerleaders at Brusly High School. Maggie's brother, Liam Dunn, a student at the University of Louisiana at Lafayette, was still in critical condition on Jan. 3.
The crash happened on LA 1 near North Vaughn Drive in Brusly on Saturday, Dec. 31.
Cauthron was booked by the West Baton Rouge Parish Sheriff's Office on two counts of negligent homicide and one count of negligent injury. According to jail records, David Cauthron bonded out of jail on Sunday, Jan. 8. The bond was set at $100,000.
"My office will conduct a thorough investigation of the case, including analyzing all police unit dash camera and officer camera footage, communication with the officer, and interviews with witnesses; and will present the case to a grand jury," said Clayton.
"We will follow the facts of the case, but I cannot understand why the officer was driving at such a high rate of speed through a red light. Sirens and police vehicles do not give an officer the authority to cut through a red light. They must slow down or come to a complete stop when human life is in danger. In this case, evidence appears to show that the officer was grossly negligent, and the lives of these young people would not have been taken had he exercised common sense," explained Clayton.
"If it involves putting human life in danger, stop the damn pursuit. It's just not worth the risk. This is a tragic case that has impacted many families and an entire community, and ended the lives of young people with a promising future ahead of them. It's very sad," he added.
Cauthron was arrested following a deadly crash during a police chase through several parishes. Officials said the chase began in Baton Rouge and made its way into West Baton Rouge Parish before coming to an end on the interstate back in Baton Rouge.
RELATED STORY: Brusly community mourns loss of 2 teens killed during New Year's Eve pursuit, crash
Clayton said Addis Police Chief Richard Anderson told him the officer is currently on administrative leave. Clayton also plans to convene a grand jury at the end of the month to look into the officer's actions.
"To celebrate this New Year with my family, and for those families not to be able to celebrate with those kids, it's just despicable. And whoever will be held accountable for it, will be held accountable for it, period," said Clayton.
Attorney Jarrett Ambeau said he is representing the Gill family. He said he's looking for accountability.
"I spent time with the family today, and they're just profoundly sad and in a state of shock," Ambeau said. "This is the kind of thing that takes maybe even a lifetime to understand and figure out, and so, right now, there's a lot of shock, a lot of sadness, a lot of profound loss, and hopefully were able to step in there and help out in some way."
According to the Baton Rouge Police Department, the pursuit was the result of a home invasion that occurred in the 3200 block of Blackwell Drive in Baton Rouge. That's where Tyquel Zanders, 24, reportedly broke into a family member's home and stole their car.
Arrest documents reveal that officers later tried to pull Zanders over during a traffic stop on River Road in Baton Rouge. The documents said that when Zanders refused to stop, the chase began. Zanders is accused of running several red lights and reaching speeds of 110 miles per hour on the interstate, according to the arrest documents.
Authorities said the pursuit ended on I-10 at Dalrymple.
Arrest documents said Zanders was taken into custody after his car stalled.
Officials confirm Zanders has been booked into the East Baton Rouge Parish Prison. He is facing charges of home invasion, auto theft, and aggravated flight. WBRSO later added that he is also being charged with two counts of manslaughter.
"He is facing well over 100 years in prison and we plan to fully prosecute him," said District Attorney Tony Clayton.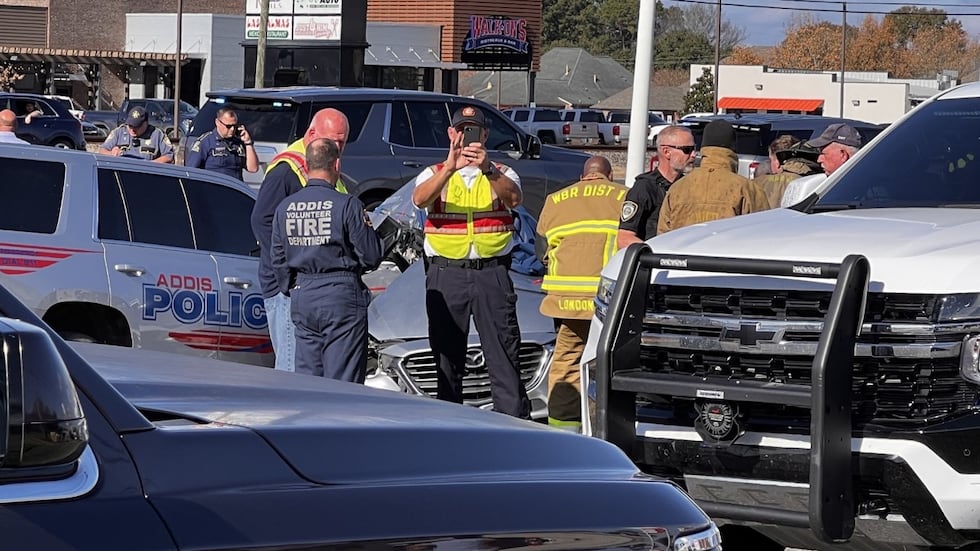 During the deadly crash in Brusly, the backseat passenger also received critical injuries, authorities said. It was later learned that Dunn and the backseat passenger were siblings, according to WBRSO.
A source tells WAFB it appears the officer from the Addis Police Department was attempting to catch up to the pursuit when that officer crashed into another vehicle, causing the deadly wreck. The vehicle that was hit was not part of the pursuit.
According to a spokesperson with BRPD, their officers called off the pursuit when the suspect got off the Mississippi River bridge and entered into WBR Parish, as they do not have jurisdiction to go into other areas.
"I have some serious questions about his actions. I just believe that police officers have to exercise common sense, to know that if you're chasing a guy from stealing a car from his parents, that it doesn't entail you chasing across parish lines and traveling up to 100 miles per hour, that's absurd," said Clayton.
District Attorney Clayton confirms to WAFB he has instructed investigators to bring him evidence from the Addis police officer's vehicle.
"Because I find this to be just horrible. So, I want to know why and under what theory he was operating under that he felt like he had to blow through several red lights to end up endangering human lives. So I have serious issues with that, and we will do it efficiently, effectively and swiftly. And I plan to convene a grand jury at the end of this month to look into his actions, if I have all of the evidence, and he will be charged appropriately," said Clayton. "In the meantime, I think Tuesday we are going to retrieve all the data from the officer's vehicle and the data from the children's vehicle. Although I watched the video tape, the kids did everything legally. I mean they were the seventh or eighth car going through the intersection, I don't know why he (the officer) didn't see that," said Clayton.
The Addis Police Department released the following statement to Facebook:
The Addis PD is deeply saddened by the tragic accident that occurred. We wish to offer our sincere condolences to the Dunn and Gill families.
Click here to report a typo.
Copyright 2022 WAFB. All rights reserved.