Pelicans soar to sixth straight win in first of two weekend matchups against Suns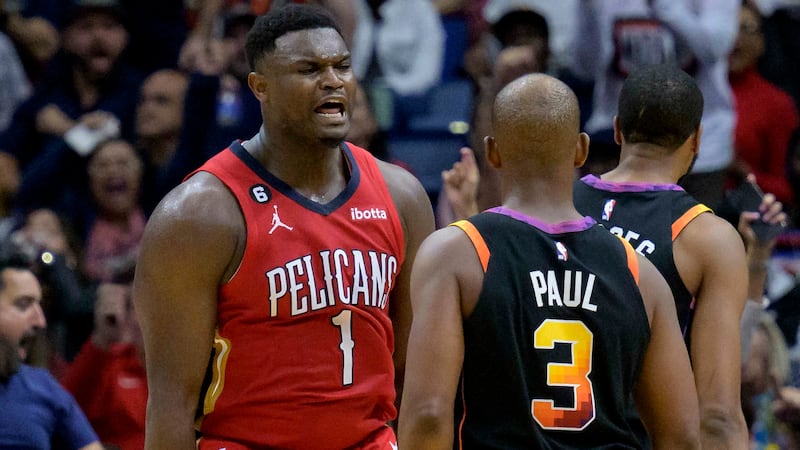 Published: Dec. 9, 2022 at 10:35 PM CST
NEW ORLEANS (WVUE) - Zion Williamson put on a show Friday night (Dec. 9) for the hometown crowd as the New Orleans Pelicans soared to their sixth straight win with a 128-117 victory over the Phoenix Suns.
The generational first-overall pick put an exclamation mark on the win in the final seconds of the game after the Pelicans had secured the victory with a 360 windmill dunk that flared tempers and cleared benches.
Cooler heads prevailed and the scene calmed almost as quickly as it escalated.
Williamson powered the Pelicans with 35 points, seven rebounds, and four assists.
Jose Alvarado, who was questionable to play, erupted for 20 points off the bench.
For the first time this season, the Phoenix Suns have lost three games in a row.
Devin Booker struggled to put up 14 points on 5-of-17 shooting. The bulk of Phoenix's scoring came from the duo of Chris Paul and Deandre Ayton, who combined for 49 points.
Phoenix shot an even 50% in both field goal and three-point percentages.
The Pelicans dominated in the paint, outscoring the Suns 72-38, despite only shooting 29.6% from beyond the arc.
The New Orleans bench ultimately made the difference, as three players finished with 14 points. Only one bench player for the Suns scored double digits.
Both teams will have a day off before going back at it in the Blender. Tip off Sunday is at 2:30 p.m.
See a spelling or grammar error in our story? Click Here to report it. Please include the headline.
Copyright 2022 WVUE. All rights reserved.