3 dead, 2 injured in shooting at UVA; suspect captured in Henrico
Published: Nov. 13, 2022 at 11:18 PM CST
|
Updated: Nov. 14, 2022 at 12:23 PM CST
CHARLOTTESVILLE, Va. (WWBT) - The man suspected of shooting and killing three UVA football players late Sunday was captured in Henrico County.
The shooting happened around 10:30 p.m. Sunday on Culbreth Road at a parking garage behind the Drama building. Police say the shooting happened as students returned from a field trip.
"Where they'd been for the day enjoying a school activity, having a meal together and coming back to our grounds, and someone amongst them chose to do an act of violence, and we found them dead inside that bus," said Chief Tim Longo, University of Virginia Police Dept.
UVA officials said the suspect, 22-year-old Christopher Darnell Jones Jr. is a student at the university. During a press conference on Monday morning, officials announced that Jones was arrested.
"Although we do not have a full understanding of the motive and circumstances surrounding these events, police are investigating," said Jim Ryan, University of Virginia President.
According to police, shortly after 11 a.m. on Monday, an officer spotted the car Jones was believed to be driving. It was seen in the 5700 block of Edgelawn Street in the county's east end.
Jones was taken into custody without incident.
He was listed as a member of the UVA football team in 2018. Before attending UVA, Jones attended Petersburg High School in the 2017-2018 school year. He previously attended Varina High School.
UVA officials confirmed Monday that football players Devin Chandler, Lavel Davis Jr., and D'Sean Perry were killed in the shooting. The identities of the two people injured have not been released.
"When I see our students, I see my own kids. And I cannot imagine anything worse for a parent than to lose a child," said President Ryan.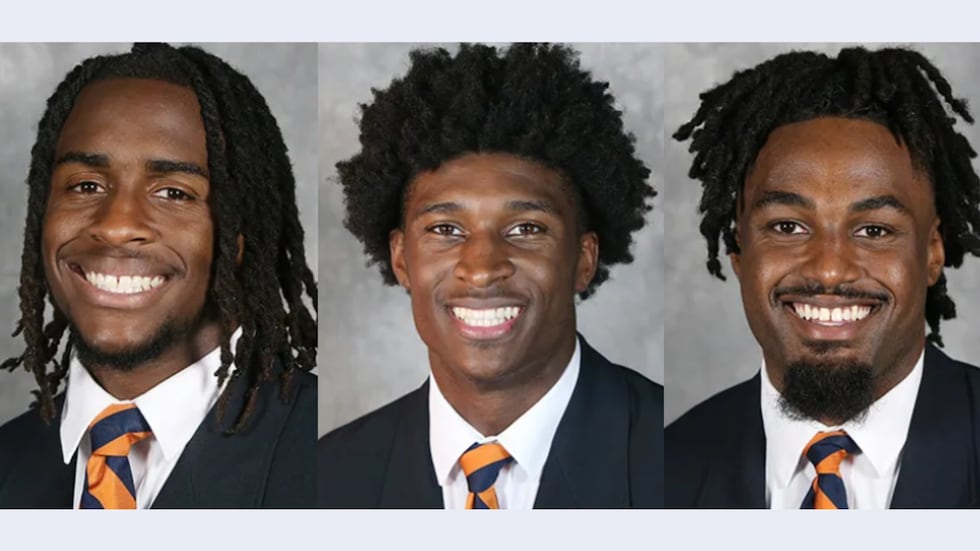 Multiple law enforcement agencies assisted in looking for Jones. He's facing several charges, including three counts of second-degree murder.
At a news conference, police said Jones was known to both the university and the police.
In September 2022, a third party told a threat assessment team that Jones had made a comment about having a gun. Police say they were never able to speak with Jones. Police also say Jones had a prior criminal incident from February 2021 over a concealed weapon violation that was never reported to the university.
"What's interesting about that case is he's required as a student at the University of Virginia to report that. And he never did. And so the university has taken appropriate administrative charges through the university judiciary committee," said Chief Longo.
Longo added that process was still unfolding.
UVA President Jim Ryan released a statement to the UVA community early Monday morning after the shooting:
Gov. Glenn Youngkin released a statement sending his thoughts and prayers to the UVA community.
Classes for Monday were canceled, and everyone was asked to shelter in place during a manhunt. That order was lifted shortly after 10:30 a.m.
Out of an abundance of caution, Charlottesville City Schools and Albemarle County Public Schools also canceled classes Monday.
UVA will also not have any classes or formal activities on Tuesday, Nov. 15.
A hotline has been established for family and friends regarding the shooting at 877-685-4836.
A Family and Community Assistance Center was set up at UVA to provide mental health services for the UVA community on the corner of Edgemont and McCormick at 505 Edgemont Road.
Copyright 2022 WWBT. All rights reserved.