Livingston Parish president urging library officials to reclassify books with 'questionable sexual content'
Published: Aug. 24, 2022 at 9:12 PM CDT
|
Updated: Aug. 25, 2022 at 10:38 PM CDT
LIVINGSTON, La. (WAFB) - Livingston Parish President Layton Ricks will be sending a letter to officials at the parish library to reclassify certain books that contain 'questionable sexual content.'
Members of the parish council unanimously approved the resolution at their meeting Thursday night.
The item was titled, 'Discussion and possible resolution of support for the reclassification of certain books in the Livingston Parish Public Library.'
This comes after a book called "Dating and Sex: A Guide for the 21st Century Teen Boy" was apparently discovered in the young adult section of a public library in Livingston Parish, prompting concern from parents and other organizations.
In front of a packed room in the parish's council chambers, Livingston's Parish President made his plea.
"As first of a Christian, as parish president of Livingston Parish, as a father and grandfather, and a concerned citizen," said Layton Ricks.
He pleaded for the council to pass a resolution giving him their approval to send a letter to Livingston Parish library officials, expressing his concern about certain books.
"So I understand the need to have books. But we can at least ask them, and I am asking them to put these books in a place within the library, more in an adult type section that can be monitored by library personnel. Or at least make sure a child has a parent or guardian that's okay with them for whatever reason to view those books," said President Ricks.
"Should books like that be in a taxpayer-funded institution?" questioned WAFB's Lester Duhe'.
"Well if you ask me my personal opinion, no. But as parish president, I understand I don't have that right to ban a book," said Ricks.
The three-page letter urges library officials to take action, so children don't stumble onto books that contain what he calls "questionable sexual content."
"Now if a parent goes in there with a child and wants them to look at that, it's up to the parent," said Ricks.
Michael Lunsford with the conservative group called Citizens for a New Louisiana was the first to sort of stir the pot about some controversial books found in the library.
"Well I'd like for them to review the entire section and make sure that there's nothing else in there. But I think if it's reclassified it's moved away, where the kids aren't going to stumble across it, that's a reasonable accommodation for me," said Lunsford, the executive director of Citizens for a New Louisiana.
"We're telling our kids that you know what, ignorance is bliss. Ignorance is not bliss. Ignorance gets them hurt," said Lori Callais, a Denham Springs resident.
But some people believe reclassifying the books is going too far.
"And I think that when we start that road to censorship, we open a door that we can't go back on," said Callais.
Republican State Representative Valarie Hodges, district 64, says she's been getting calls and e-mails from concerned constituents as well.
"I was very proud of him (Ricks) for drafting a letter to the library asking them to simply to move the books from the children section to the adult section. These books are designed for adults and so they should be in the adult section. That's all we're asking the library to do. We're not asking the library to censor or to ban or to remove them. We're simply saying to put them in the correct section of the library which is the adult section. And so our parish president did that tonight, the parish council voted with him tonight, and I was very proud of them. And I think my constituents and the citizens of Livingston Parish will be proud of them as well," said State Rep. Hodges.
"I think they're (library officials) willing to work with us. I think they will," said Ricks.
"And if they're not?" questioned WAFB's Lester Duhe'.
"Well, we'll see what we have to do after that," said Ricks.
Read the letter below: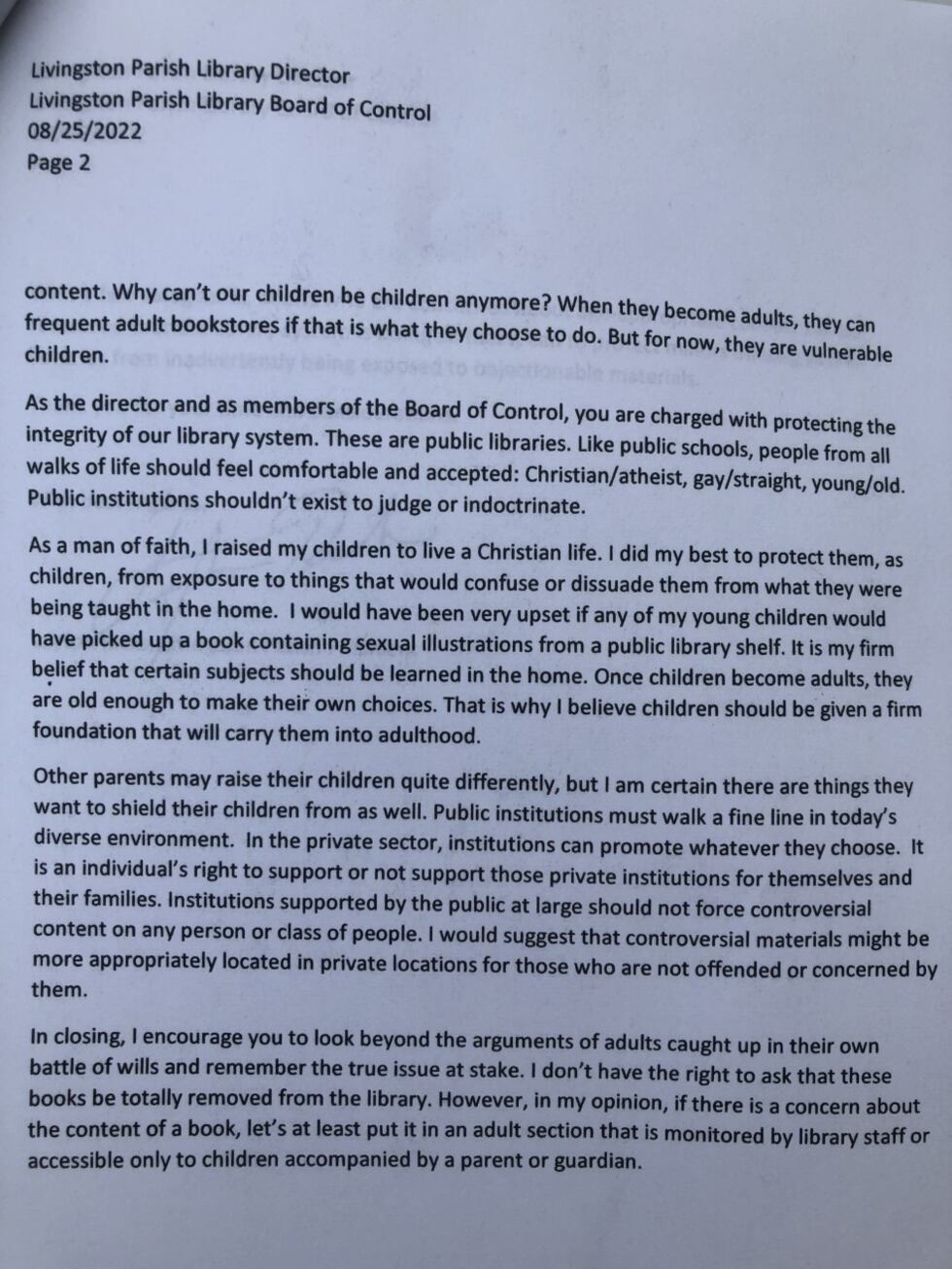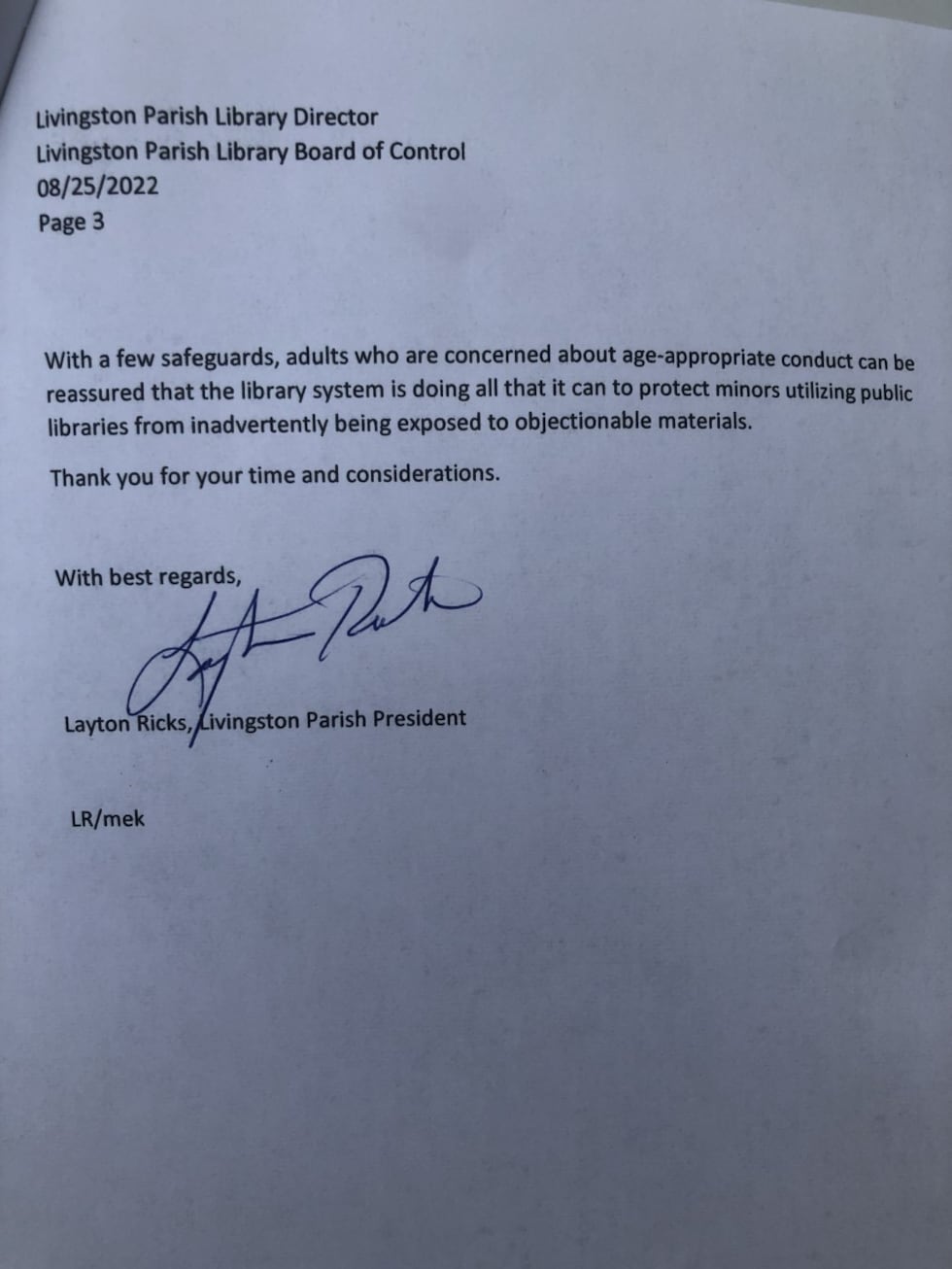 Click here to report a typo.
Copyright 2022 WAFB. All rights reserved.