Rain chances will slowly fall through rest of workweek while heat, humidity creep upward
Published: May. 31, 2022 at 6:17 AM CDT
|
Updated: May. 31, 2022 at 6:42 PM CDT
BATON ROUGE, La. (WAFB) - Increasing moisture moving inland from the Gulf of Mexico will lead to somewhat better rain chances today.
Look for a 40% chance of showers and thunderstorms into the afternoon, with highs near 90 degrees. The threat of severe weather is minimal but isolated heavy downpours are possible in any stronger storms. Heat index values will also be a bit higher today and could climb to around 100° in some areas.
Gulf moisture will keep summer-like humidity in place through the workweek. Baton Rouge metro area morning starts will be around 70° to the low 70°s with afternoon highs in the low 90°s through Friday. Peak afternoon heat index values are likely to reach the mid and upper 90°s for most of the WAFB region. Set rain chances at 30% for Wednesday and 20% for Thursday and Friday.
The forecast looks even drier for the upcoming weekend with highs in the low 90°s. The extended outlook calls for the heat to continue to build, with mid 90°s possible for some WAFB communities early next week.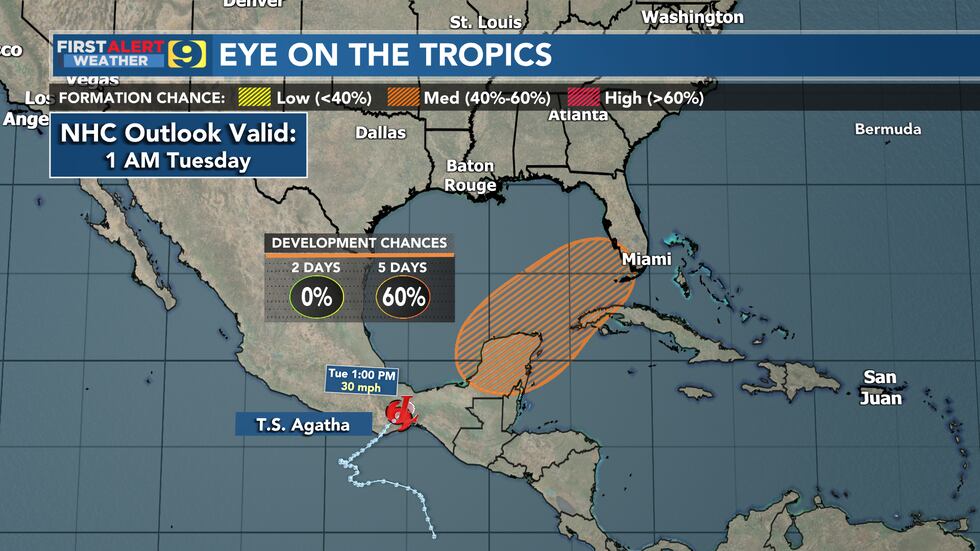 In the tropics, the remnants of the eastern Pacific's Agatha will slip into the southwestern Gulf. The National Hurricane Center expects that area of low pressure to track to the northeast and slowly develop over the next five days, possibly becoming Alex by, or even before, we reach the weekend. At this stage, any tropical threat is likely to be a concern for Cuba and the Florida peninsula: the Central Gulf Coast is out of play.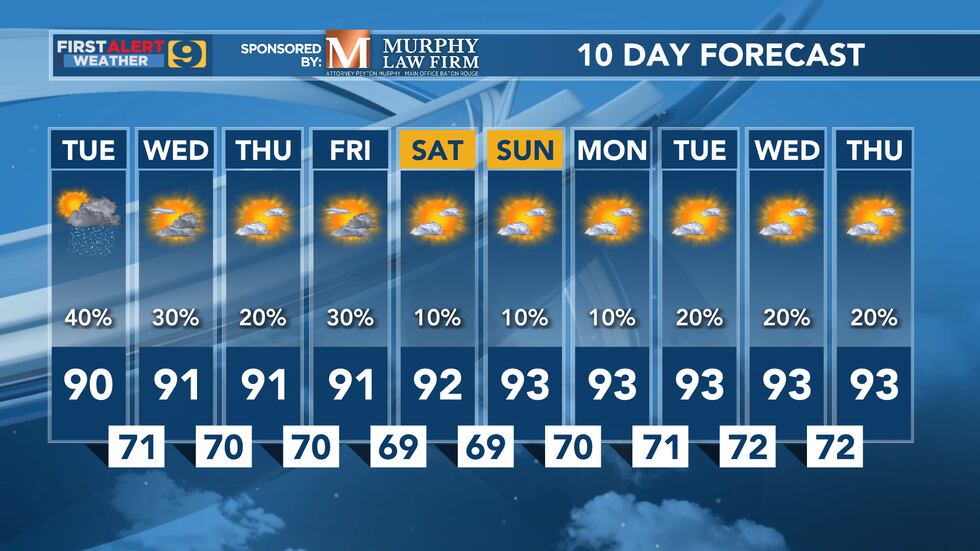 Click here to report a typo.
Copyright 2022 WAFB. All rights reserved.