Local support for Louisiana grandparents raising grandkids
Published: Nov. 10, 2021 at 4:36 PM CST
|
Updated: Nov. 11, 2021 at 10:34 PM CST
BATON ROUGE, La. (WAFB) - Baton Rouge native Frances Cain, 69, thought her years of parenting were over, but in 2008 her life changed.
"I was in a position where a state worker called to pick the kids up," Cain said.
Cain says the state of Louisiana was moments away from gaining custody of her two grandsons.
Cain's son, who is the father of her grandchildren, and the kid's mom are both in prison, and the other grandmother decided she didn't want them.
"I just begged because it's my son's kids and he and the mom are not married, and I couldn't let them go because the kids would never know us," Cain said.
That led to a seven-year battle in court, where Cain finally gained full custody.
That also led to Cain taking in her great-granddaughter who's special needs.
"Emotionally it's like, will it ever happen? Mentally it's like sometimes you might cry when you know you're doing the best you can and it just seems like nothing is working, but you can't give up," Cain said.
Kathy Coleman from the Grandparents Raising Grandchildren Information Center of Louisiana says the number of grandparents raising their grandkids has been on the rise over the past three years.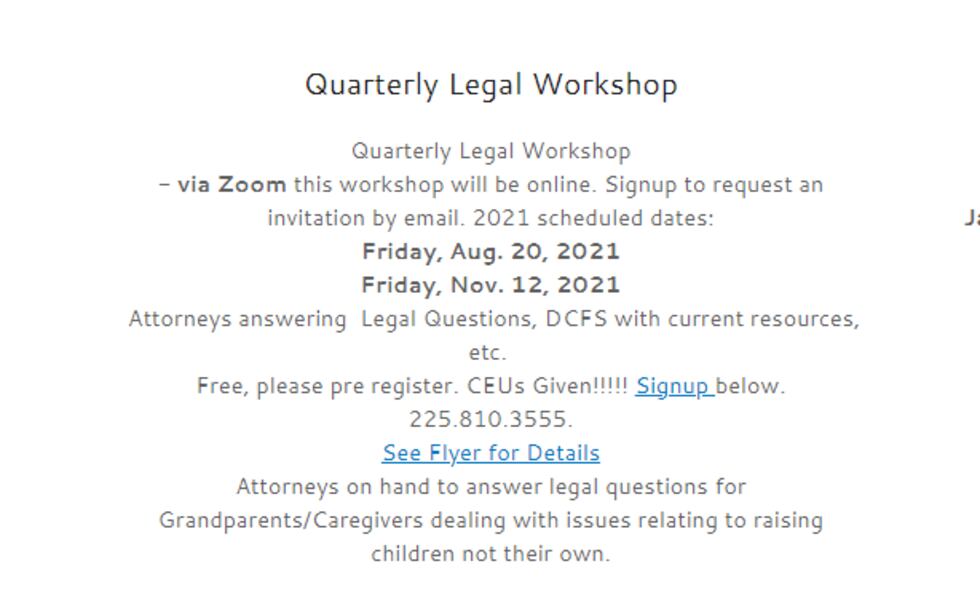 Coleman says one in 11 children are being raised by a grandparent in Louisiana. According to the US Census Bureau, Louisiana currently ranks seventh in the nation.
"Every single family is different, even in our support groups, there are no two families with the same circumstances," Coleman said.
GRG is a non-profit that offers mental, emotional, and financial support for people who decide to raise their grandkids.
Their current mission is to get the state to give these grandparents a stipend, similar to what a foster parent would get.
"If someone calls in with a unique set of circumstances and they need energy assistance, or childcare, or applied for kinship care and didn't get a callback, we have enough people that we take that on and we go to every department we need to make sure we get help for these families," Coleman said.
That help is life-changing, just ask Ms. Cain."When I did get custody of the two boys from that boy, they didn't call me 'maw maw', they called me mom," Cain said.
If you find yourself in those same shoes as Ms. Cain, she says, "Never turn your back on your kids, your grandkids or whatever, because it's always something regardless of your age that it's something you can do to help that kid."
On Friday, November 12, at 10 a.m., the group is hosting virtual workshop grandparents can take part in.
According to the group, they'll have attorneys on hand to answer any legal questions and grandparents available to give advice, but you have to sign-up beforehand to get the link.
Click here to join the meeting on Friday, November 12.
Click here to report a typo.
Copyright 2021 WAFB. All rights reserved.