Ida now a tropical storm as it moves into Mississippi
You can listen to WAFB's coverage on 103.3 FM & 106.5 FM
Published: Aug. 28, 2021 at 10:18 AM CDT
|
Updated: Aug. 30, 2021 at 6:35 AM CDT
UPDATE (4 A.M. MONDAY, AUG. 30):
Ida continues to weaken and is down to a tropical with winds at 60 mph as of 4 a.m. The center of circulation is located at 31.0 North, 90.8 West. It is moving north at 8 mph. The minimum central pressure is 990mb.
The Ascension Parish Sheriff's Office reported the first death related to Hurricane Ida. Officials said deputies received reports around 8:30 p.m. of a person possibly injured from a fallen tree at a home off LA 621 in Prairieville. Deputies confirmed the victim died from the incident. The Louisiana Department of Health reported the victim was a 60-year-old man. The victim's name has not been released.
RELATED: 1 death attributed to Hurricane Ida, widespread damage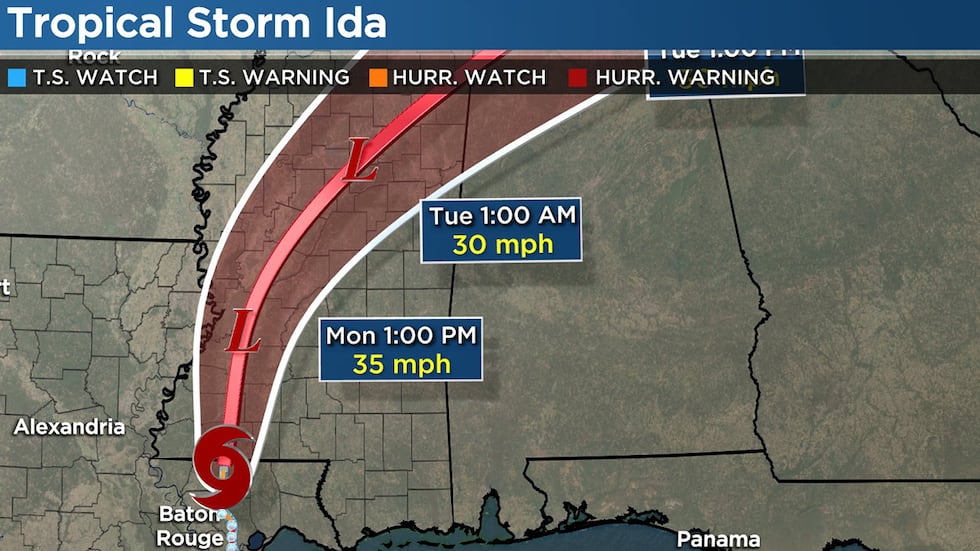 WINDS
Ida's strongest wind will be on the east side of the circulation. Gusty winds will remain on the west side but hurricane force sustained winds are likely to be on the east side. That means eastern portions of our viewing area including portions of Livingston, St. Helena, East Feliciana, Tangipahoa, St. Tammany, and Washington parishes and portions of Amite, Pike, and Walthall counties could still feel the brunt of Ida. Hurricane force sustained winds on the order of 75-85 mph with isolated gusts as high as 100 mph. Winds for areas along and west of metro Baton Rouge are likely to remain of tropical storm force with sustained winds of 40-55 mph and isolated gusts of 65 mph. The worst of the wind within these areas will occur late tonight into predawn Monday. Winds will begin to decrease area wide below tropical storm force by noon Monday.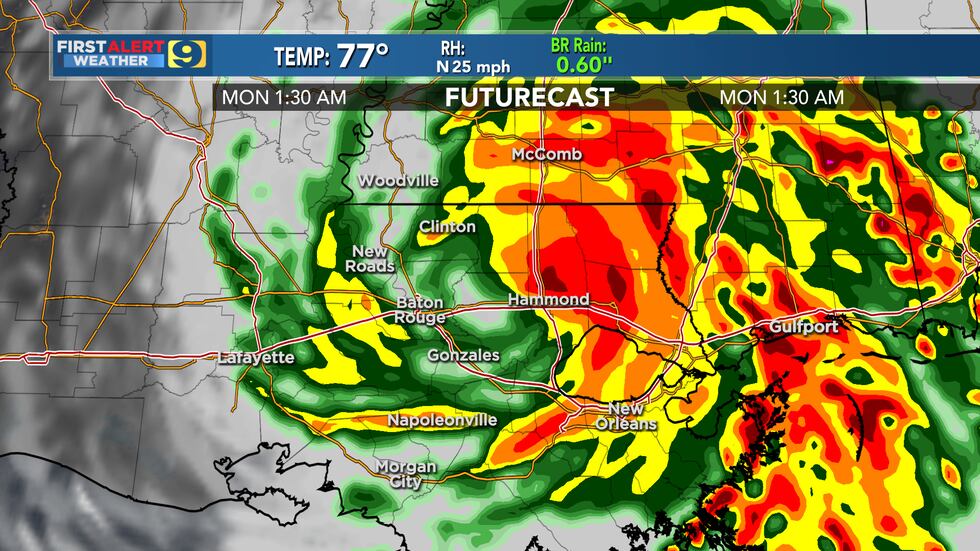 RAINS
Persistent heavy rain bands will continue to drop rain on the east and north side of Ida's circulation. Rainfall estimates have decreased slightly for the local area based on the latest Weather Prediction Center forecast through Tuesday afternoon. The forecast calls for average totals of 10-15″ for areas along the I-55 and I-59 corridors. Around metro Baton Rouge, rain totals through Tuesday afternoon will average 5-10″ with totals increasing from west to east. As you go farther west towards False River and Acadian, rainfall estimates drop to 1-3″. Rain could continue to be problematic for recovery efforts Monday and Tuesday because of feeder bands on the far southside of the storm's circulation. These feeder bands have a tendency to move over the same area over a prolonged period causing localized bullseyes of significant rain amounts. The threat for heavy rain will begin to come to an end late Tuesday.
STORM SURGE
Initial storm surge estimates thankfully have been lower than NHC estimates, but we still have large numbers over a broad area of SE Louisiana. Storm surge will begin to lessen in the coming days as Ida continues to push inland. Lake Pontchartrain has seen storm surge of 2-3 feet and Lake Maurepas has seen storm surge of 1-2 feet. Additional storm surge of 1-3 feet remains possible across our tidal lakes. This will cause a backup of area rivers (Amite, Tickfaw, Tangipahoa) as they try to drain into these tidal lakes.
AREA RIVERS
Speaking of area rivers, the track shift of Ida means positive news for area rivers. River basins won't see as significant rain accumulation. This will likely reduce the threat for moderate type flooding except for down along the lower reaches of these area rivers due mainly the surge in the tidal lakes. Upper reaches of the Comite and Amite Rivers are still likely to move into minor flood. The Tickfaw River and Tangipahoa Rivers remain close enough to the heavy rain threat that those forecasts will need to be monitored closely. We expect a new release of forecast data from the Lower Mississippi River Forecast Center Monday morning.
SEVERE WEATHER THREAT
A tornado watch remains in effect for areas along and east of the I-55 corridor until 6 AM Monday. A Tornado Watch means conditions are favorable for the production of tornadoes. The severe threat for metro Baton Rouge remains low.
BOTTOMLINE
The heaviest rain and strongest wind are likely to occur late tonight into predawn Monday. Make sure to have a way of being alerted in the event severe weather warnings are issued for your location. We still expect power outage issues tonight. Make sure you are running generators correctly and safely.
STORM HISTORY
Hurricane Ida made a double Louisiana landfall, first at 11:55 a.m. near Port Fourchon as a Category 4 storm, with winds up to 150 mph. The second landfall occurred at 2 p.m. in coastal Terrebonne Parish near Houma, again as a Category 4 storm.
Flood Watch continues area-wide into Tuesday morning, with a Tornado Watch box east of Hammond for this evening. The expected storm surge on the coast is upwards of 10-15 feet, as we've already seen the Grand Isle area almost submerged.
The rain totals are still on the high end east of Baton Rouge, between 10-15 inches, while in the downtown area, we should see four to six inches. Wind gusts could reach as high as 95 mph overnight into early Monday morning for Baton Rouge, however, sustained winds will be much lower, closer to 60 mph. Stay tuned to WAFB for more updates.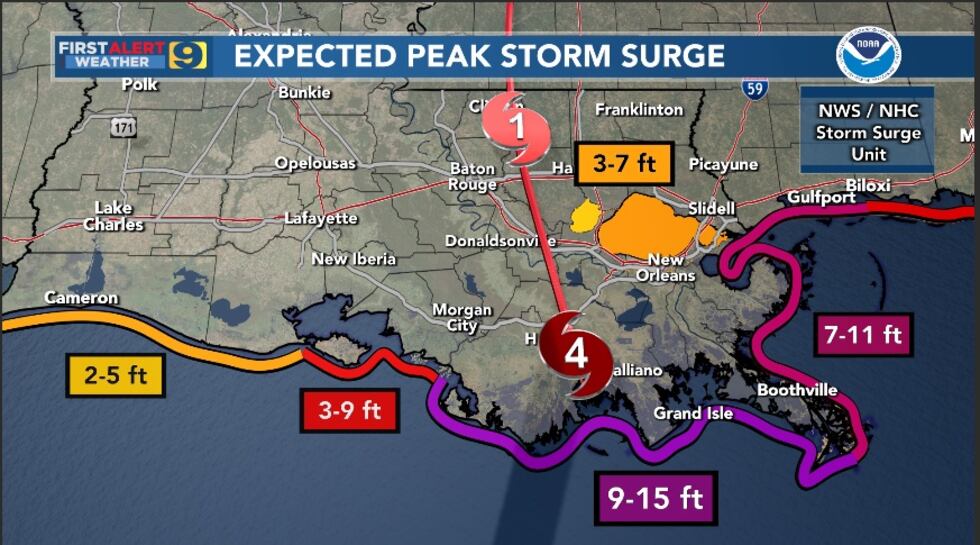 RELATED RESOURCES:
Stay with WAFB and the First Alert Storm Team for continuing updates through the duration of this weather event.
Click here to report a typo.
Copyright 2021 WAFB. All rights reserved.