FIRST ALERT WEATHER: Drier this afternoon, but more storms ahead
Updated: May. 10, 2021 at 5:39 PM CDT
BATON ROUGE, La. (WAFB) - A much drier afternoon is ahead after widespread storms impacted the area overnight and this morning with locally heavy rainfall. Rain chances for the remainder of today will run 20%-30%, with highs topping out in the low 80s.
Unfortunately, we are just at the front end of what will be another extended stretch of rainy weather around the area. Additional rounds of showers and thunderstorms can be expected on Tuesday and Wednesday as a cold front remains stalled across south Louisiana.
Rain could be heavy at times and a few strong storms will also be possible. NOAA's Weather Prediction Center currently shows the area picking up an additional 1″ to 4″ of rain on average through Thursday morning, with locally higher amounts possible, if not likely.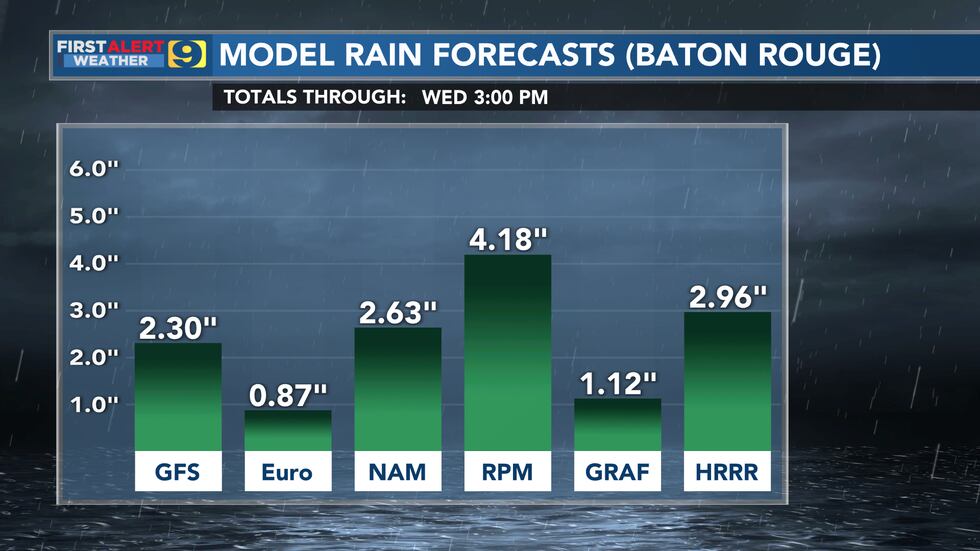 The cold front should finally get a push into the northern Gulf of Mexico by early Thursday, bringing an end to our rainy pattern. High temperatures will initially run a bit below normal for the first part of the week due to clouds and rainfall, but cooler and drier air will filter in behind the front for the latter part of the week. Thursday's highs are only expected to reach the mid 50s, even with returning sunshine, and morning lows could hit the upper 50s on Friday and Saturday mornings.
The good news in our forecast is that we should get to enjoy a nice weekend. Mainly dry weather is expected from Thursday afternoon through Sunday, with temperatures generally running a bit below normal. Warmer, more humid weather returns early next week, along with a chance of rain.
Click here to report a typo.
Copyright 2021 WAFB. All rights reserved.