FIRST ALERT FORECAST: Sunshine in the morning, clouds this afternoon, rain likely tonight
Updated: May. 9, 2021 at 9:36 AM CDT
BATON ROUGE, La. (WAFB) - Happy Mother's Day to all the great moms out there, hoping to dial up a decent weather day, and it looks like we'll do just that.
Today, we'll have a mixture of sun and clouds, more sun in the morning, more clouds in the afternoon, with warm highs in the mid to upper 80s.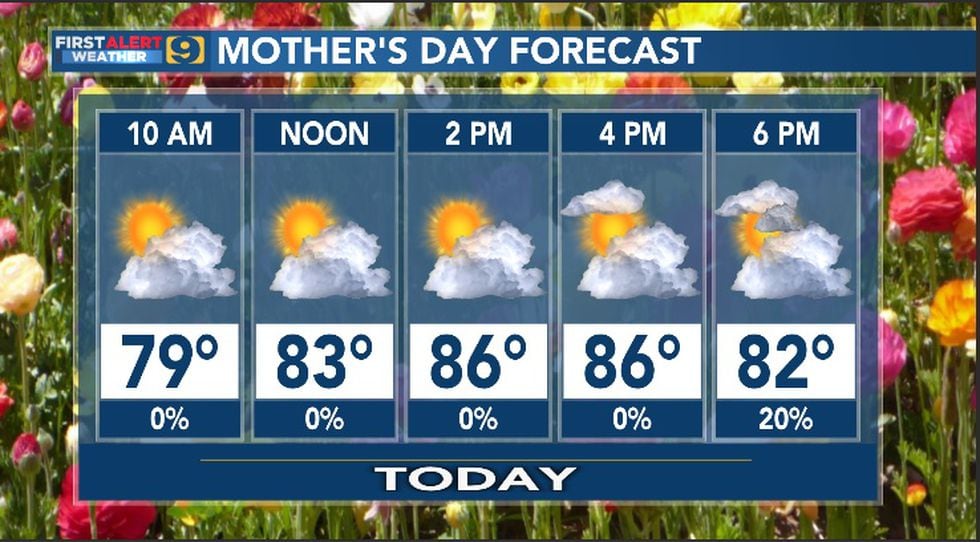 As for the next low pressure system and associated cold front, that won't move into our viewing area until late Sunday night into Monday morning. This means that the chance of showers and storms will hold off until Sunday evening.
We'll introduce a 20% chance of showers around 6 p.m., and increase it to 70% at midnight. The best chance of precipitation will be from 10 p.m. Sunday night through Monday. However, the front will stall out in our vicinity, keeping in rain chances through Wednesday.
We are expected to see one to three inches of rain between Sunday night through Wednesday, with a small chance, marginal risk, of strong to severe storms Sunday night into Monday.
At this time, it doesn't appear to be a major threat, but the primary risk will be damaging winds.
The higher threat will be northwest of East Baton Rouge Parish.
Keep the umbrella handy through midweek, then we will see quieter, nicer weather from Thursday into next weekend.
Take care and have a great Mother's Day!
Click here to report a typo.
Copyright 2021 WAFB. All rights reserved.