What you need to know ahead of Saturday's Bayou Classic in Shreveport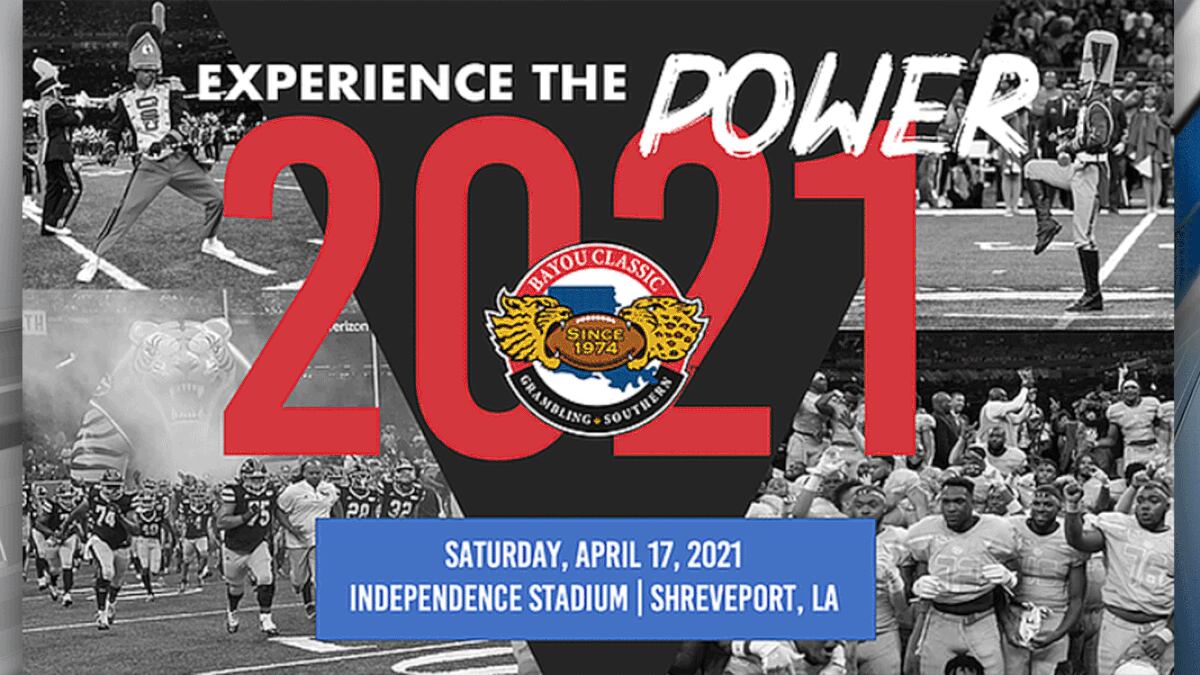 Updated: Apr. 13, 2021 at 10:59 AM CDT
SHREVEPORT, La. (KSLA) - The 47th Annual Bayou Classic will be played in Shreveport Saturday, April 17 at Independence Stadium.
Grambling University and Southern University will face off in the highly anticipated matchup. Below is info you need to know before the big game.
Ticket Sales
Ticket sales for the 47th Annual Bayou Classic are still available. Great seats still available throughout Independence Stadium. Tickets can be purchased by visiting www.mybayouclassic.com. There will be no onsite tickets sales, so all tickets must be purchased in advance of gameday.
Bayou Classic Rankings
The Bayou Classic series is tied between the Grambling State University Tigers and the Southern University Jaguars – each with 23 wins in the Bayou Classic.
Bayou Classic Telecast
The 47th Annual Bayou Classic will be televised live on NBC Sports Network starting at 1:30 p.m. on Saturday, April 17. The Bayou Classic has been nationally televised since 1991.
Bayou Classic Radiocast
The 47th Annual Bayou Classic will be televised live on SiriusXM channel 84, ESPNU radio starting at 12:30 p.m. on Saturday, April 17.
National Anthem
The national anthem for the 47th Annual Bayou Classic will be performed by Casmè, who was on Season 19 of NBC's The Voice, as a part of John Legend's team. Casmè was born and raised in New Orleans with seven other siblings, six of which were girls. Her parents would often take the family into poverty-stricken areas where they would sing and help feed the hungry. Coming from a largely female family that was heavily involved in their community, Casmè felt inspired to give back by promoting girl power. She's the founder of an all-girls club and runs a magazine that features inspiring young women.
Halftime Show
The Halftime show for the 47th Annual Bayou Classic is presented by Procter & Gamble and will be a retrospective of Bayou Classic highlights and the best moments from the halftime shows over the past five years at Bayou Classic – 2015 to 2019. SWAC regulations limit all travel for SWAC member institutions' bands to ensure an optimal health and safety environment for the Spring 2021 football season. This includes games designated as classics, along with games identified as neutral site contests, to be played with no bands in attendance from either team.
COVID-19 Safety
All attendees of the 47th Annual Bayou Classic are required to wear masks unless actively eating or drinking at their assigned seat. Six-feet social distance is required in all public spaces of Independence Stadium. All attendee groups will have socially distant seats from other groups. Attendance will include one COVID-monitor per 50 attendees.
Clear Bag Policy
Fans attending the 47th Annual Bayou Classic are encouraged to arrive early to the stadium and not to bring bags into Independence Stadium. If bags must be carried into the stadium, fans will be asked to adhere to a clear bag policy. Fans will be able to carry the following style and size bag, package, or container into the stadium: – Bags that are clear plastic, vinyl or PVC, and are no larger than 12″ x 6″ x 12″ – One-gallon clear plastic freezer bag (Ziploc or similar) – Small clutch bags no larger than 4.5″ x 6.5″ can be taken into the stadium in addition to the clear plastic bag – Small clutch bags, with or without a handle or strap, that do not exceed 4.5″ x 6.5″ (approximately the size of a hand) – An exception will be made for medically necessary items after proper inspection at a gate designated for this purpose Bags will be monitored at locations set up around Independence Stadium. Fans may still bring items such as binoculars and cameras, provided they are not in cases, as well as smart phones into Independence Stadium. For full information on the clear bag policy, visit Independence Stadium's website at https://myspar.org/371/Independence-Stadium.
Additional Information
For more information, follow Bayou Classic on social media or visit www.mybayouclassic.com.
Copyright 2021 KSLA. All rights reserved.