Lessons from the pandemic to apply to global environmental awareness
Updated: Apr. 1, 2021 at 3:33 PM CDT
BATON ROUGE, La. (WAFB) - Let's face it, society is a weird and confusing place. The world we humans created, and the natural world are so different. When you place the two side-by-side, it's hard to imagine they are connected.
How do we find harmony? Because, let's face it, a world without toilets, air conditioning, and refrigerators is not an option.
The best natural resource available to humanity is creativity. That is what it's going to take coming up with innovations to move our society forward in a sustainable way.
One person does not a society make, which means we will have to employ the second-best natural resource we have available, numbers. The world is a big place and the damage we're seeing is on every corner of it. Truly, this is a global issue.
After seeing the consequences of a global issue in action during the pandemic, 2021 seems prime for initiating a global call to action. In fact, behavioral changes due to the pandemic has already made a bit of an environmental impact.
In the early months of 2020, when lockdowns started, there was a sudden drop in travel, which led to a short-term improvement of air quality. This eye-opening view of air pollution gave us a look at what is possible.
Air pollution includes smog, soot and other things you certainly do not want to breath. According to the Environmental Protection Agency (EPA), pollutants that contribute to poor air quality include particulate matter (PM), nitrogen oxides (NOx), and volatile organic compounds (VOCs).
Transportation accounts for more than half the nitrogen oxides in the United States. Thus, less people traveling resulted in less air pollution.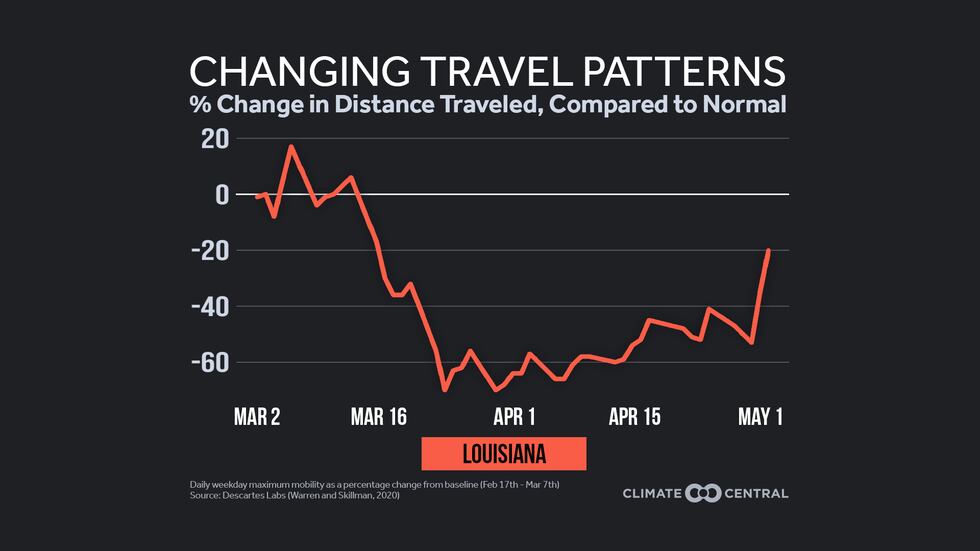 When it comes to the bigger issue of volatile changes to the Earth's atmosphere, the key factor to track there is greenhouse gas emissions. That's because greenhouse gas traps heat in the atmosphere.
Carbon Dioxide (CO2) is the driving force behind greenhouse gas emissions. In the United States, transportation contributes to about 28 percent of the greenhouse gas emissions.
Although we can see the benefits, the level at which travel was reduced during the lockdowns is not sustainable. What is possible, however, is an increased reduction in daily travel.
RELATED: Energizing Louisiana's economy with clean fuels for a healthy future
Another key moment in the pandemic could provide some assistance. In the early months of the crisis, there was a mad dash for pandemic-appropriate recreational activities. Gardening centers were cleared out. You couldn't find yeast or flour due to all the baking. Getting your hands on a new bicycle was almost impossible.
Bicycle sales were up more than 120 percent. People were out riding through neighborhoods, and parks with trails were seeing more activity than they had in years.
Taking a bike for short trips rather than driving is one behavior change that could have a dramatic impact on the environment if done on a mass level. Large scale efforts are what it will take to make any change regarding the current climate projections.
Ultimately, transportation is only one small fraction of the CO2 emitting pie. Electricity generation makes up an equally sized portion, and industry makes up a slightly smaller, but still large portion.
If you combine the commercial, residential and agriculture sectors, you will have a portion that is equivalent to industry. Meaning, if everyone's personal consumption was cut in half, it would still be less impactful than if industry cut down a third of its emissions.
This is where government comes to focus. In Louisiana, Governor John Bel Edwards established Louisiana's Climate Initiatives Task Force. The goal is to get the state to net zero by 2050. This is an aggressive, but average timeline being set by most states.
From individual actions to governmental intervention, it's going to require action from many different sides to attack the beast that's damaging the planet. The good news is nature is resilient and can repair itself once action has been taken to reduce harm.
Additional resources used in this article
https://medialibrary.climatecentral.org/resources/travel-and-air-pollution-during-covid-19
https://www.epa.gov/transportation-air-pollution-and-climate-change/smog-soot-and-local-air-pollution
Click here to report a typo.
Copyright 2021 WAFB. All rights reserved.