Local social media expert weighs in on Trump's Facebook ban
Updated: Jan. 7, 2021 at 10:54 PM CST
BATON ROUGE, La. (WAFB) - For the first time since Wednesday, we heard from the President of the United States via this video on Twitter.
Trump was essentially put in Twitter jail for hours after what went down at the Capitol Wednesday.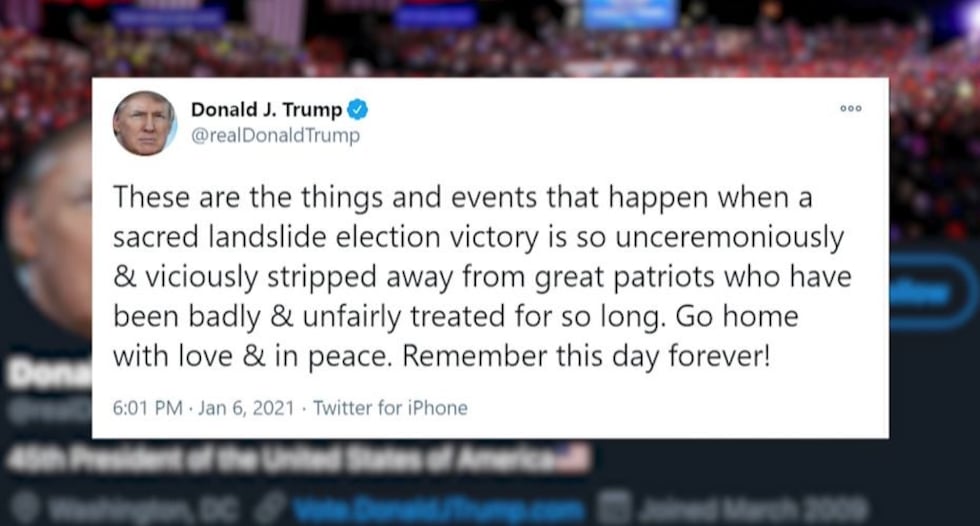 "I would like to begin by addressing the heinous attack on the United States Capitol," said Trump.
RELATED: Social platforms lock down Trump accounts, some indefinitely
The President posted the video on Twitter, acknowledging that his presidency will end soon.
"A new administration will be inaugurated on January 20," said Trump.
Following the attack on the Capitol, Trump tweeted more allegations about the integrity of the election, prompting Twitter to lock his account.
Twitter Safety said he broke their Civic Integrity Policy, that "You may not use Twitter's services for the purpose of manipulating or interfering in elections or other civic processes. This includes posting or sharing content that may suppress participation or mislead people about when, where, or how to participate in a civic process. In addition, we may label and reduce the visibility of Tweets containing false or misleading information about civic processes in order to provide additional context."
"I think that they both [Trump and Twitter] have profited from the president's sort of provocative content to this point. And I suppose storming the Capitol was the breaking point," said Lance Porter, Interim Associate Dean at LSU's Manship School of Mass Communication.
While Facebook and Instagram have apparently banned the president until he leaves office.
Many folks on WAFB's Facebook page, commented about Trump essentially being put in what many call Twitter or social media jail.
One of our viewers Stephen commenting, "Direct violation of the First Amendment."
While Lillian said, "Removing him from these platforms does not mean he doesn't have freedom of speech. It just means they will not post his speech."
"Free speech is about government censorship. And private citizens and private companies can do whatever they want with expression. And so, they have a right to choose whatever they want to express," said Porter.
Porter says the social media channels are essentially not breaking the law by doing this.
"Even though the president is putting his content on these social media platforms, they actually own that content, and they can do whatever they want," said Porter.
RELATED: Trump finally concedes -- amid talk of ouster from office
Facebook's CEO Mark Zuckerburg said in a post, "Over the last several years, we have allowed President Trump to use our platform consistent with our own rules, at times removing content or labeling his posts when they violate our policies. We did this because we believe that the public has a right to the broadest possible access to political speech, even controversial speech. But the current context is now fundamentally different, involving use of our platform to incite violent insurrection against a democratically elected government.
We believe the risks of allowing the president to continue to use our service during this period are simply too great. Therefore, we are extending the block we have placed on his Facebook and Instagram accounts indefinitely and for at least the next two weeks until the peaceful transition of power is complete."
"But what social media's allowed him [Trump] to do is bypass gatekeepers, and speak directly to his audiences, and these bans are going to hamper these capabilities for him," said Porter.
Click here to report a typo.
Copyright 2021 WAFB. All rights reserved.