Orgeron talks about what still needs to improve; keys to beating Florida
LSU Football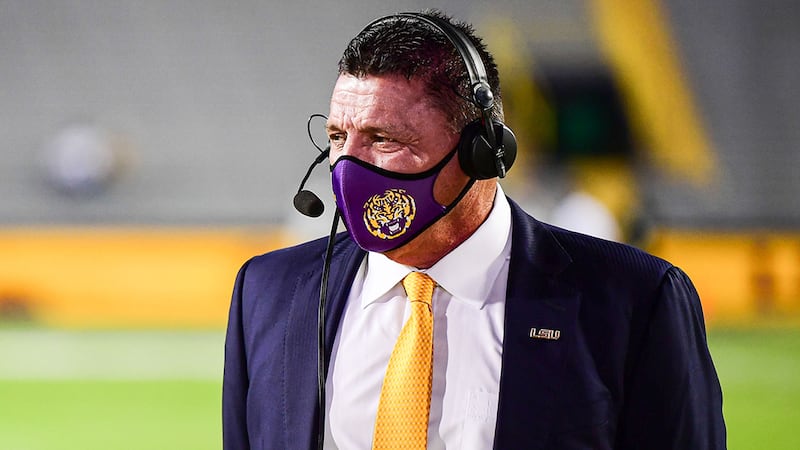 Updated: Dec. 7, 2020 at 10:19 PM CST
BATON ROUGE, La. (WAFB) - LSU head coach Ed Orgeron met with sports journalists via Zoom to recap the loss to No. 1 Alabama and preview the upcoming matchup in "The Swamp" against No. 6 Florida.
LSU (3-5) fell 55-17 to the Tide (9-0), while Florida (8-1) is coming off a 31-19 win at Tennessee (2-6).
Coach O credited Alabama for playing a great game but added the Tigers now have to bounce back and get ready for Florida. He reiterated some things he's been saying pretty saying all season. He said the defense still needs to work on stopping explosive plays and get a better pass rush.
Orgeron said he will "give consideration" to starting Max Johnson at quarterback. He said he thought Johnson looked his best against Alabama and played his best game of the season. He added he threw the ball well, can scramble, and has been tough. Johnson was 11-of-17 for 110 yards. TJ Finley started his fifth game. He was 14-of-28 for 144 yards and a touchdown before being taken out in the third quarter.
RELATED STORIES:
Orgeron also talked again about getting stopped short on fourth-and-inches early in the game, saying a quarterback sneak should have been run instead of trying to hand the ball to running back Ty Davis-Price. The Tigers were obviously outmatched in the contest but it was a huge loss of momentum, as getting the first down would have extended the drive to put points on the board and possibly tie the game at 7-7.
The head coach said Alabama has a very explosive offense with a great quarterback in Mac Jones but he was surprised LSU couldn't get a pass rush on him. He said they wanted to get Derek Stingley Jr. on DeVonte Smith more but couldn't because of certain alignments. He said Stingley had a slight injury in the second quarter but will be fine and is practicing Monday.
He explained that in order to beat Florida, LSU will have to play its best football. The Tigers need to eliminate explosive plays, score more points on offense than they have the two previous games, and play better on special teams. He spoke highly of Florida quarterback Kyle Trask, who is currently leading the SEC in passing yards (3,243) and touchdowns (38). He has only thrown three interceptions. He added the thing that separates Trask from other quarterbacks is his toughness. He also said the success Florida has had on offense is a combination of a great quarterback and great play caller.
He said LSU will also have to know where tight end Kyle Pitts is and keep up with him. Pitts is leading all tight ends in the SEC in receiving yards and touchdowns. He has 36 catches for 641 yards and 11 touchdowns.
Kickoff for the LSU-Florida game is scheduled for 6 p.m. The game will air on ESPN.
Click here to report a typo.
Copyright 2020 WAFB. All rights reserved.