SPORTSLINE PLAYERS OF THE WEEK: Parkview QB Roman Mula and Catholic Pointe Coupee A Matthew Langlois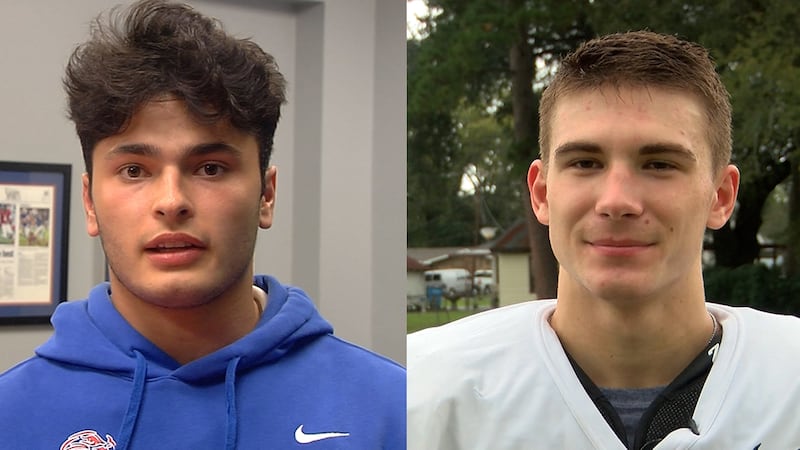 Updated: Oct. 28, 2020 at 10:55 PM CDT
BATON ROUGE, La. (WAFB) - Week 4 did not provide the best elements for high school football but it did end with a couple of big-time performances around the area.
Parkview Baptist showed it continues to get more comfortable in its spread offense, as the Eagles rolled West Feliciana, 45-27. All of their six touchdowns were generated by senior quarterback Roman Mula. Four of those were through the air, while the other two were on the ground, to go along with nearly 300 total yards.
SPORTSLINE FRIDAY NITE: Week 4 Scoreboard
"I was kind of going back through the game in my mind on the bus ride home and as I was breaking down the film, it was like completion, completion, completion, not a whole lot of incompletions, he went 14-for-16," said head coach Stefan LeFors. "One was a drop, so he could have really been 15-for-16 and the one incompletion was a slight overthrow right on the goal line. So, played pretty darn well. Then, of course, running the football is a strength for him with his speed and athleticism.
"All the hours of practice and all the time we spent on the field running, just all the workouts and everything just paid off for us last week and we finally showed everyone what we can do offensively," added Mula.
RELATED: Matthew Langlois de-commits from Kansas St., commits to LSU
And what a week it has been for Catholic High of Pointe Coupee's Matthew Langlois. Langlois flipped his commitment on Monday, Oct. 26, from Kansas State to the hometown LSU Tigers.
Three days prior to that, the senior athlete filled the stat sheet with 10 carries for 192 yards, 16 tackles, and three touchdowns. His final score was a 65-yard walk-off interception return to give the Hornets a 28-22 win over Sacred Heart - Ville Platte.
"I was really just trying to run away from people and get past them," said Langlois. "Just trying to score for six. I broke three or four tackles, something like that. I do not think they really expected me to return it, even my coaches were telling me to kneel it."
"If someone was telling him to kneel it, it was not me because I know what he is capable of," said head coach David Simoneaux. "So, I was certainly glad he gave us the opportunity to get in there and score."
WAFB is proud to present this week's Sportsline Players of the Week honors to Parkview Baptist quarterback Roman Mula and Catholic Pointe Coupee athlete Matthew Langlois.
Click here to report a typo.
Copyright 2020 WAFB. All rights reserved.