Father, daughter survive tree falling on top of them during Hurricane Delta
Updated: Oct. 13, 2020 at 5:39 PM CDT
BAKER, La. (WAFB) - Coral Anne Dunn sheds tears of joy while hugging her sister and neighbor. They're all thankful she and her father survived a tree crashing through her home in Baker during Hurricane Delta.
"God is so good because there's no reason we should be alive in here. God put his hand down and said, 'Baby, it's not your time to go yet,'" she said.
Two reclining chairs are covered in debris. That's where Coral and her father were sitting when the roof crashed in, trapping them both.
"The next thing that I knew, the tree was on top of us," said Coral's father, U.S. Navy veteran, Thomas Dunn, who says he spent the next few terrifying moments screaming to get his daughter's attention.
"I knew I was okay, but then my daughter sitting right beside me and I couldn't hear her for a while," he said.
Coral says she blacked out briefly and woke up to one of the scariest sights of her life: her father buried under rubble.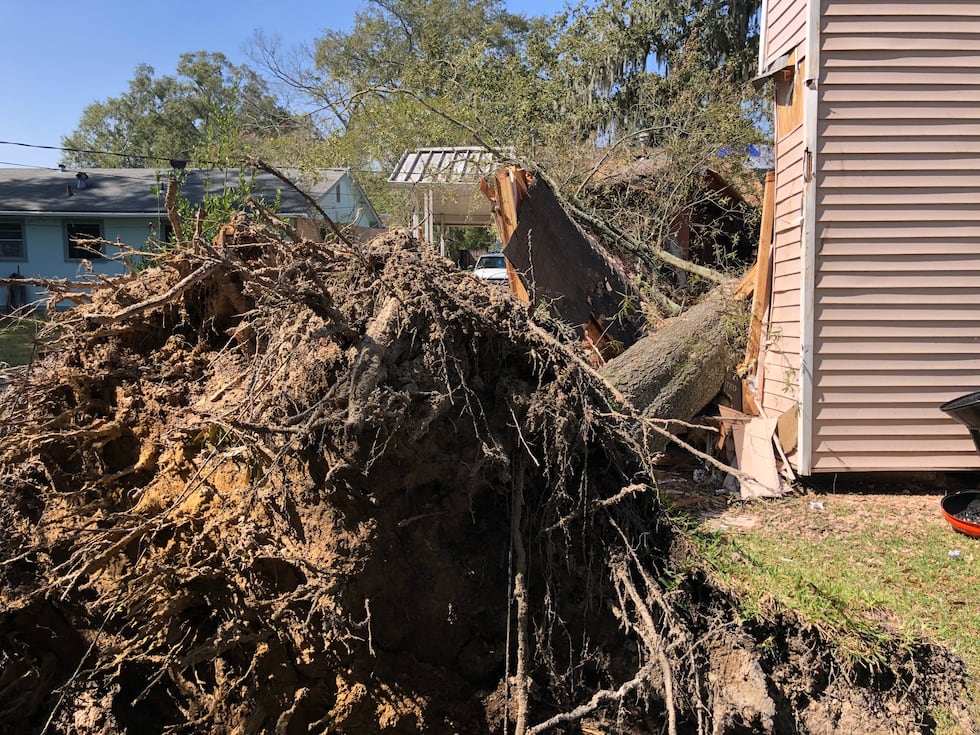 "I'm not ready to lose my dad and I thought I had, and I really thought he was dead," she said.
Coral's daughter, who was also in the home, was able to call 911. Emergency crews were quickly dispatched to their home.
"They come in and got us out with the jaws of life and what have you to get us out of here," Thomas said.
"They got me out and we're safe. This could happen to anybody, you just don't think it's going to happen to you," Coral explained.
Fortunately, the two walked away with minor injuries and are receiving medical treatment. Coral says they've also walked away with an even greater impact: an outpouring of support from the community.
"There are good people in the world and the world is still a good place because people we don't know have helped even a little bit, and that means so much and it means our world is going to be okay," she said.
The Dunns are currently staying in a hotel and paying those expenses out of pocket as they wait for assistance, like so many others after Hurricane Delta. They say the most important thing is they have each other.
If you would like to help support the Dunn family, click here to view their fundraiser.
Click here to report a typo.
Copyright 2020 WAFB. All rights reserved.