No. 19 Louisiana-Lafayette rallies to get past Georgia St. in OT; improves to 2-0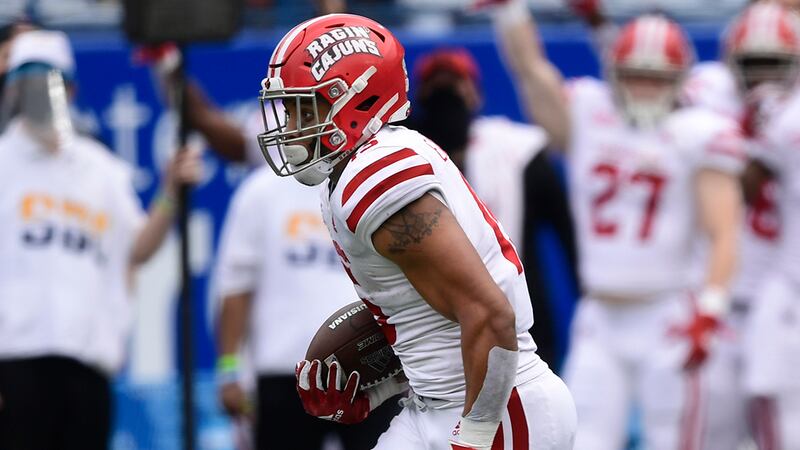 Updated: Sep. 19, 2020 at 11:57 PM CDT
ATLANTA (WAFB) - After earning a spot on the AP Top 25 Poll for the first time in more than 75 years, Louisiana-Lafayette started out slowly in its conference-opener against Georgia State but the Ragin Cajuns showed the moxie of a ranked team and pulled out the win.
The Cajuns (2-0, 1-0 Sun Belt) were down 14-0 early in the second quarter but, in the end, prevailed 34-31 over the Panthers (0-1, 0-1 Sun Belt) in overtime. It was the team's first OT win since 2005.
RELATED: No. 19 Louisiana-Lafayette holds off Georgia State in OT
Elijah Mitchell had 16 carries for 164 yards and two touchdowns, including the game-winner, a 12-yard dash around the edge in which he outran the Georgia State defense.
Fellow running back Trey Ragas had eight carries for 44 yards and a touchdown. His plunge into the end zone from two yards out put Louisiana up 28-21, its first lead of the game, with just under 12:00 remaining.
Quarterback Levi Lewis, out of Scotlandville High in Baton Rouge, was 21-of-37 for 279 yards and two touchdowns. He also threw two interceptions. He was sacked once. His main target on the day was wide receiver Dontae Fleming, who finished with four catches for 81 yards.
The first touchdown toss went to Chris Smith from 18 yards out that capped a 9-play, 80-yard drive to give the Cajuns their first score of the game. Kyren Lacy caught the second TD in the end zone on a throw by Lewis rolling to his left from the four-yard line.
The defense for the Vermilion and White intercepted Panther quarterback Cornelious Brown once and sacked him twice. The Cajuns had six tackles for loss. They also recovered a Georgia State fumble.
ULL will finally get to enjoy the confines of Cajun Field when it hosts Georgia Southern next Saturday.
Click here to report a typo.
Copyright 2020 WAFB. All rights reserved.