Orgeron talks scrimmage, recruiting, and more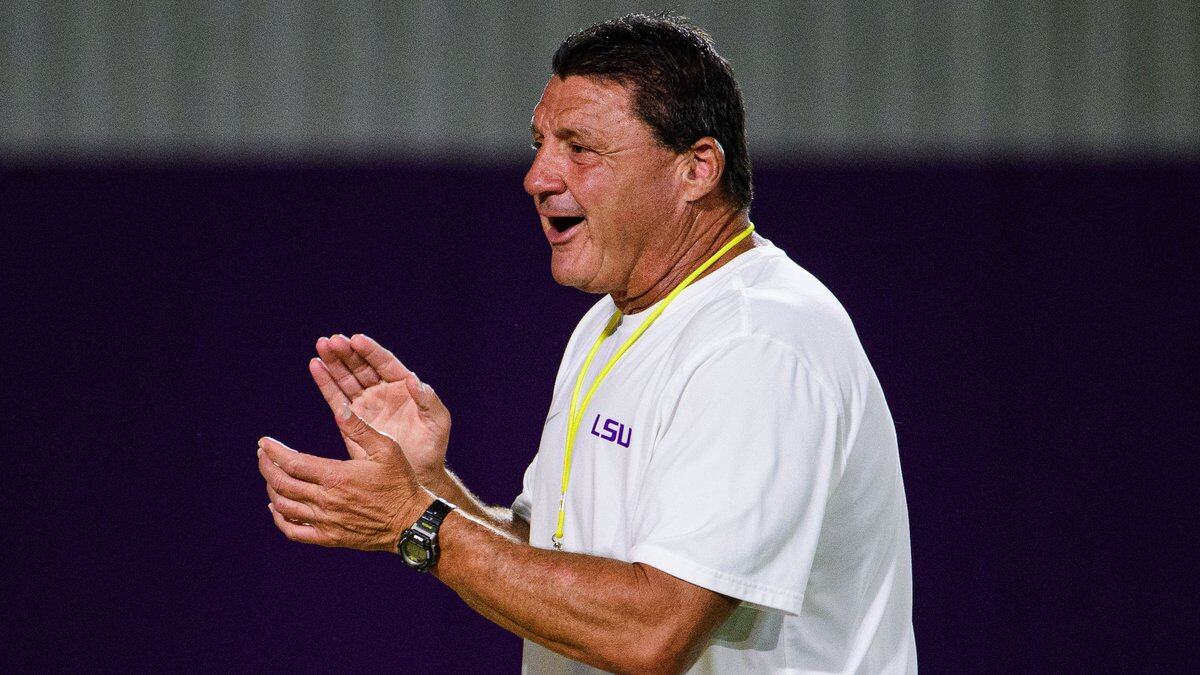 Updated: Sep. 8, 2020 at 12:03 PM CDT
BATON ROUGE, La. (WAFB) - LSU head coach Ed Orgeron held his weekly Zoom meeting with sports journalists on Tuesday, September 8 to discuss the latest happenings with the Tigers.
Orgeron started off talking about the scrimmage, which he called Preseason Game 1, that was held Friday in Tiger Stadium. He said he thought the team played well on both sides but the defense got more pressure than usual and had several "would have been sacks," but the plays were blown dead so the quarterbacks wouldn't get hit. He said true freshman tight end Arik Gilbert looked phenomenal on a couple of big-time plays and quarterback Myles Brennan played well.
Overall, the staff is very pleased with Brennan, according to Orgeron. He added there are areas that still need improvement. His command of the offense, pocket presence, seeing the field a little better, quicker decision-making, and knowing where to go with the ball presnap are some of the next steps they are looking at in his development but all of those things take experience, Orgeron added.
On the topic of recruiting, Orgeron said some great leaders have already committed and some other outstanding players are thinking about signing with LSU. Recruiting remains in an official dead period, so no one with the LSU program can have contact with high school players while they are on a visit. Over the weekend, 14 highly-touted prospects arranged to visit the campus together. Orgeron said he learned the group did lots of great things together and he thinks it was beneficial, from what he's hearing. He added there is more work to do because he still doesn't know if recruits will be able to attend games or if he and other coaches will be able to go see prospects play. LSU currently has 18 commitments, with seven more to go. The early signing period is still in December.
Because of all the losses from last year's team, many analysts are not giving LSU much of a chance to repeat as champions. However, Orgeron thinks this group of Tigers is being underestimated and he uses the rankings and predictions as motivation. He said he believes this team is talented but it will have to go out and prove it.
"Ten SEC games - buckle up, it's going to be fun," said Orgeron.
RELATED STORIES:
Coach O was once again asked about what he is doing to try to prepare players for a likely much different Tiger Stadium atmosphere than normal. He said it starts with having lots of energy in practice and he has told them they will have to create their own energy. He added there is no way to duplicate the energy that the fans provide.
Orgeron said Terrace Marshall Jr. is the Tigers' No. 1 receiver and Racey McMath is No. 2. He added it looks like true freshman Kayshon Boutte will step in at the No. 3 spot. The 6-foot, 185-pounder out of Westgate High in New Iberia will look to join the starting receiver ranks to help fill the void left by Ja'Marr Chase opting out for the season. Coincidentally, Boutte will wear No. 1, which was Chase's jersey number last season before Chase was given the honor to wear No. 7 for this season. Orgeron added Gilbert will also be a pas,s-catching threat. He added another freshman receiver, Koy Moore, has been coming along very fast but he has been hampered a little by a hamstring injury.
Orgeron said they plan right now is to use a running back by committee approach. He said he sees using all three backs - Tyrion Davis-Price, Chris Curry, and John Emery Jr. - at the beginning of the season. He added a fourth back may even join the rotation. He said they will use the best back in a particular situation but if one guy gets hot, he will stay in the game. He said Emery has made tremendous improvements and has not had the same types of ball security issues as when he first arrived in Baton Rouge. Emery has been catching the ball out of the backfield and doing well in pass protection, according to Orgeron.
The Tigers practiced in just shorts and jerseys on Monday. They will be in full pads for Tuesday and Wednesday practices. They are off Thursday. Then, they will play their second scrimmage of fall camp Friday.
Kickoff against Mississippi State for the season-opener is September 26. The Tigers will host the Bulldogs in Tiger Stadium.
Click here to report a typo.
Copyright 2020 WAFB. All rights reserved.