Visitation policies impacted by COVID-19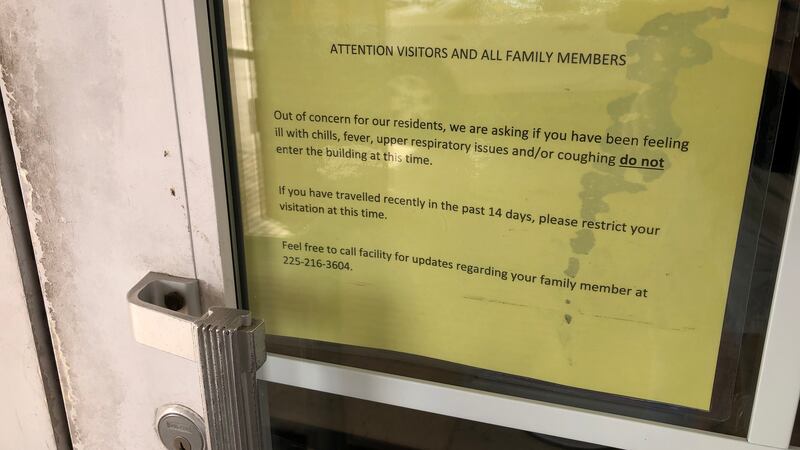 Updated: Mar. 23, 2020 at 3:56 PM CDT
BATON ROUGE, La. (WAFB) - Changes have been made to visitation policies at various state-run facilities. Those changes are being instituted statewide. Some privately-funded organizations have made changes to visitation policies as well.
Before visiting anyone who is considered to be part of a high-risk group, please contact the facility for instructions regarding any specific guidelines.
RELATED: Public asked to avoid visiting Louisiana nursing homes until further notice
The Louisiana Department of Children and Family Services (DCFS) has decided to provide customer service only by phone, email and online, starting today (Tuesday, March 17), until further notice.
To limit potential exposure, DCFS will reschedule or conduct by phone any face-to-face appointments with clients scheduled in the immediate future.
Louisiana residents may continue to access services and program information through the usual channels:
To report child abuse, call Louisiana's child abuse hotline at 1-855-4LA-KIDS (1-855-452-5437), or for mandatory reporters, click here.
To access SNAP, FITAP, KCSP or Child Support, apply online via the CAFÉ Self-Service Portal or get information about the services online at www.dcfs.la.gov/page/family-support or by calling the LAHelpU Customer Service Center at 1-888-LA-HELP-U (1-888-524-3578).
Those specifically looking for a SNAP application can text GETSNAP to 898211, email LAHelpU.DCFS@la.gov or call 1-888-LA-HELP-U (1-888-524-3578).
DCFS will continue to monitor the developments and safety recommendations related to COVID-19 and provide updates.
The East Baton Rouge Housing Authority has canceled all one-on-one appointments and doing business via drop-offs, phone and mail due to virus. Office hours remain the same.
Effective Thursday, March 12, the Louisiana Department of Health (LDH) is requiring all licensed healthcare facilities in the state to restrict visitors to only essential personnel. The prohibition will be in place until April 10, unless otherwise extended.
Any visitor who meets the criteria of a "restricted person" will not be allowed to enter. That includes someone who:
Has signs or symptoms of a respiratory infection, such as fever, cough, shortness of breath or sore throat as assessed by the facility

In the last 14 days, has had contact with someone with a confirmed diagnosis of COVID-19, or is under investigation for COVID-19 or has been or is currently ill with respiratory illness

Has been on international travel within the last 14 days to countries with sustained community transmission of COVID-19

Is residing in a community where community-based spread of COVID-19 is occurring
East Baton Rouge Council on Aging
In an abundance of caution and to ensure the health and safety of senior participants and staff members, effective Thursday, March 19, EBRCOA will be discontinuing the drive thru meal system at its senior centers. The council will transition to home delivery of meals to all senior participants.

Effective Thursday, March 19, the drive-thru meal system will be discontinued at senior centers. Meals will be delivered at home. Each recipient will get two weeks worth of meals, including bread, fruit, and snacks.

Effective Monday, March 16 through Monday, March 30, there will be no activities or congregations at EBRCOA's 18 senior centers. Homemaker and Respite Services have been suspended. Dumas House will no longer accept visitors at this time. Lotus Rides will be unavailable for pickup services during this time as well. The Lotus Pantry will be closed until March 30.

For more information, call the Council on Aging at 225-923-8000
NOTE: Hospitals are frequently changing their visitation policies, so click on the name of the one you are looking for to see the latest guidelines.
All contact visits to the Ascension Parish Jail have been halted until further notice. Visitors may still visit inmates through our video visitation and visitation through glass partitions.

All visitation to the Tangipahoa Parish Jail has also been suspended until further notice

The Louisiana Department of Corrections has suspended all prisoner visitation, tours, and volunteering opportunities for 30 days at the state's eight prisons. The Angola Rodeo has also been postponed indefinitely.

Visitation is suspended at West Baton Rouge Parish Jail for 30 days, effective Thursday, March 12

Visitation at the East Baton Rouge Parish Prison is suspended until further notice

U.S. Immigration and Customs Enforcement (ICE) has temporarily suspended social visitation in all of its detention facilities. Non-contact legal visitation, to include the Legal Orientation Program, will continue to be permitted. Members of Congress, Congressional member delegations and Congressional staff delegations will continue to have access to the facility for the purpose of conducting oversight.
This list will be updated as soon as any new or additional announcements are made. Check back frequently.
Catholic Diocese of Baton Rouge
All Diocesan office buildings at the Catholic Life Center will close to the public effective March 23, 2020. Although the buildings are closed we remain open to help you during this difficult time. The Catholic Life Center (225-387-0561) and Catholic Charities (225-336-8700) employees will work remotely during this period; you may continue to call or email for assistance.

All non-sacramental events at parishes should continue to be suspended postponed or cancelled until further notice. No firm commitments should be made for any new or rescheduled events until further notice from me.

Bishop Michael Duca of the Diocese of Baton Rouge has announced the suspension of public celebrations of Sunday and daily masses in all parishes and Catholic institutions in the diocese effective Tuesday, March 17. The suspension, taken due to the dangers of the COVID-19 coronavirus pandemic, is in effect until further notice.
The next regular Sunday service will be changed into one 10 a.m. service meeting exclusively for small groups. This full-length service will be broadcast live over Bethany's website and on its cable station, WLFT.
Click here to report a typo.
Copyright 2020 WAFB. All rights reserved.