New food stamp work requirements take effect April 1
Roughly 10,000 could be impacted in Baton Rouge area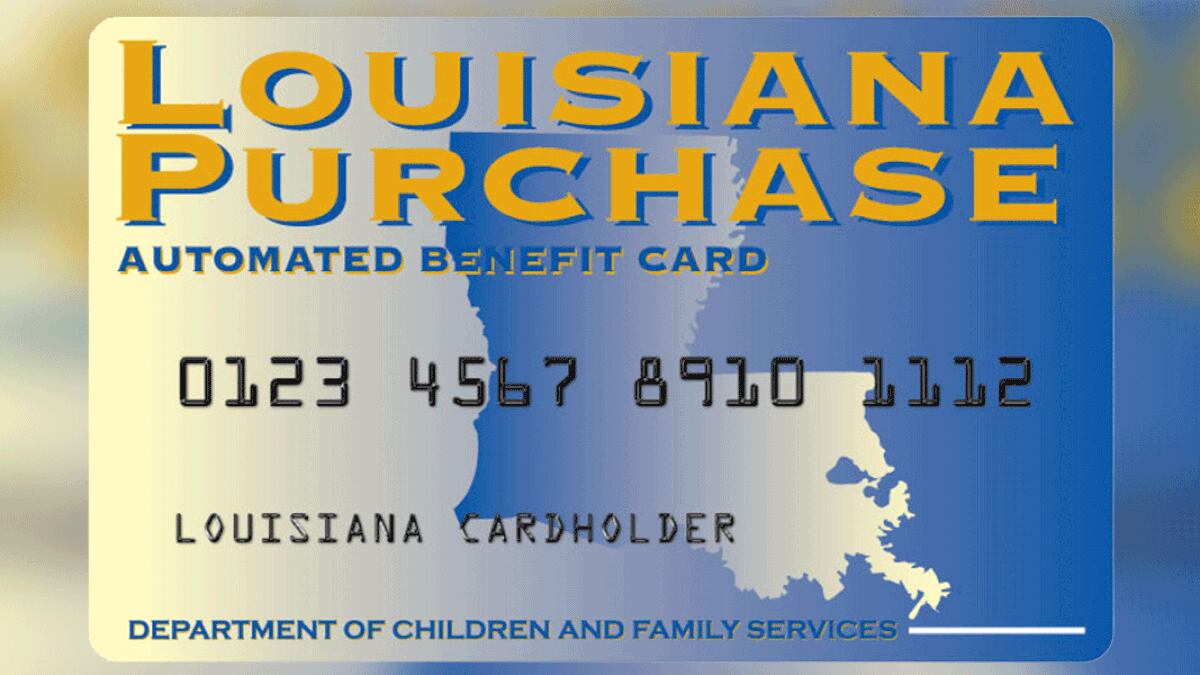 Updated: Mar. 5, 2020 at 5:47 PM CST
BATON ROUGE, La. (WAFB) - A new federal rule that takes effect April 1 will require some recipients of the Supplemental Nutrition Assistance Program (SNAP) to meet certain work requirements to continue receiving assistance.
Essentially, adults between the ages of 18-49 who do not have children and are not disabled will have to work at least 80 hours monthly to qualify for federal assistance. There are roughly 10,000 of these able-bodied adults without dependents in the capital region, according to October 2019 data provided by the Department of Children and Family Services.
SNAP recipients who fall in this category and do not meet the work requirements will only be allowed to collect benefits during three months over the next three years. These work requirements have been in place since 1996, but the entire state of Louisiana has been exempted from the policy.
Recipients can satisfy the 80-hour requirement with any combination of time spent working a paying job, volunteering, or participating in workforce development training.
After a recent federal change, 14 of Louisiana's 64 parishes will be exempted entirely from the change.
Those parishes are:
Assumption

Catahoula

Concordia

East Carroll

Franklin

Madison

Morehouse

Richland

St. Landry

St. Mary

Tensas

Vernon

West Carroll

Winn
There are additional exemptions for pregnant women, people participating in drug or alcohol treatment, students, and people taking care of an incapacitated person.
With the waiver, and with other SNAP recipients qualifying for federal exemptions, the Louisiana Department of Children and Family Services (DCFS) estimates the number of La. residents affected by the rule change will be about 31,000, which is 3.8% of the state's 810,000 SNAP recipients.
PREVIOUS STORY>>> How does the new food stamp rule affect Louisianans?
Later in March, DCFS will mail notices and fact sheets to SNAP recipients who will be affected by the rule change, outlining options for meeting the work requirement and continuing to receive assistance.
"We want to help SNAP recipients understand whether this rule applies to them and what they need to do to keep their benefits. We also want to help direct them to the many career and educational opportunities that currently exist and are in development," said DCFS Secretary Marketa Garner Walters.
Options for meeting the ABAWD work requirement include:
Working in a job (for pay, for goods or services, or as a volunteer) for at least 80 hours per month

Participating in an employment and training program for at least 80 hours per month

Working or participating in any combination of the above for a total of at least 80 hours per month
DCFS is currently expanding career opportunities for SNAP recipients through the SNAP Employment and Training Program (SNAP E&T). For more information about SNAP E&T, visit www.dcfs.la.gov/page/snap-et.
Recipients may be exempt from the work requirement and time limit for receiving benefits if:
Their SNAP case includes a child under 18 (even if the child is not theirs)

They are responsible for the care of a child under age 6 or an incapacitated person

They receive disability benefits or veterans disability benefits (at any percentage)

They have a physical or mental disability that makes them unable to work at least 80 hours per month

They have experienced physical or psychological trauma from domestic violence and are unable to work at least 80 hours per month

They are receiving unemployment benefits

They are regularly participating in a drug or alcohol treatment program

They are pregnant (at any stage)

They are attending school
SNAP recipients who meet the ABAWD description and who believe they qualify for one of these exemptions must contact DCFS by emailing LAHelpU.DCFS@la.gov or calling 1-888-LA-HELP-U (1-888-524-3578) to verify and document their exemption.
For a sample official notice, a fact sheet, frequently asked questions and other information about the rule change, visit www.dcfs.la.gov/ABAWD.
Click here to report a typo.
Copyright 2020 WAFB. All rights reserved.