NAACP cites WAFB interview in formal complaint against judge with Supreme Court
Updated: Feb. 24, 2020 at 9:32 PM CST
Editor's Note: WAFB has blacked out the last four digits of the phone number and the three instances where the "n-word" appears in snapshots of the alleged text messages.
CLICK HERE TO SEE PHOTOS OF THE TEXTS
BATON ROUGE, La. (WAFB) - The NAACP has submitted a formal complaint against 23rd Judicial District Judge Jessie LeBlanc with the State Supreme Court following her admission to sending a string of racist text messages in an interview with WAFB.
"I admit that I used that word," 23rd Judicial District Judge Jessie LeBlanc said during an exclusive interview with WAFB. "I profusely apologize for that. I should have never said it. It was uncalled for. I was angry. I was upset, but it's no excuse."
Her comments in the WAFB report form the basis of the complaint, which was submitted Monday, Feb. 24.
Local NAACP president Eugene Collins says he felt it was vital he and others act, days after calling for the judge to resign. The NAACP has also created a petition calling for the judge's removal.
"She should be removed from the bench," Collins told WAFB's Scottie Hunter. "Essentially, we thought it was very important to formally get that complaint out there to send the message that we are going to be diligent about this and to ensure that Judge Jessie LeBlanc does not get to continue in her current position with her clear disregard for African Americans."
The move comes just days after the racist messages were made public and the group first called for her to step down.
"She's a racist," Collins said. "She used the n-word and we're still going to hold true to our position that she should be removed from her current position."
HER WORDS: Verbatim of Judge LeBlanc's interview with WAFB
Asked if she had ever used the slur before, the judge seemed to stumble over her own words.
"Not in a – no - not – no – not in a – no - I have not used that racial slur in the past," the judge replied. "This was in a moment of a heated exchange that was private between Bruce and one that I never dreamed would have come out to the public."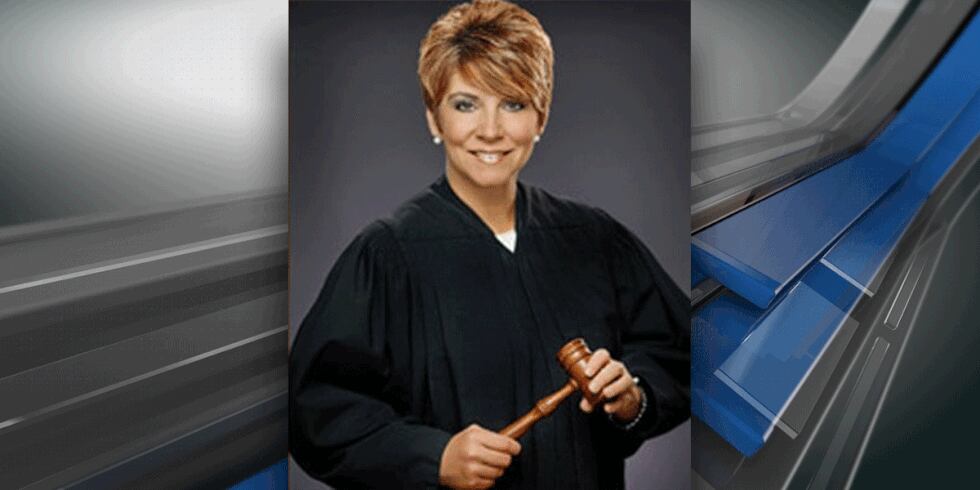 The judge tells WAFB she sent the messages in a heated argument when she and then Chief Deputy of Assumption Parish Bruce Prejean called it quits on their eight-year affair. The messages show where she referred to a deputy and a court clerk as the n-word. While she has apologized for her language, LSU law professor, Ken Levy, says the damage is already done.
"What she said was clearly reprehensible, horrible, and inexcusable," said Levy.
He believes LeBlanc's actions are not only cause for concern, but he calls it a huge blow to her credibility. WAFB's Scottie Hunter asked Levy if he thinks there's cause for African Americans from this point forward to use the situation and say the judge cannot do her job effectively.
"Yes," said Levy. "We don't want or expect that of our judges. We hold them to the highest standard and she clearly fell well below that. We want her to be perfectly unbiased and it's very difficult to see how she could be certainly with African American defendants, but I think actually with all defendants."
LeBlanc stands firm behind her work on the bench and says she has no plans to step down. In fact, she even plans to run for reelection when her current term ends in December. Levy believes that will be tough based on everything that has now surfaced.
"I think it might be helpful for everyone if she stepped down and then tried to repair her reputation and the harm that she's caused others in some other way, but I don't think she can do that on the bench," said Levy.
Levy doubts the complaint alone will be enough to cause the Louisiana Supreme Court to remove her, but he does believe she could be punished for the long-term affair if it affected any of her cases.
"She could definitely be punished, reprimanded anywhere from a censure all the way to possible removal or even disbarment for the conflict of interest, but because her racist text messages were sent privately and they weren't said in the courtroom, for example, I don't know that she can be punished for that," he added.
The judge maintains her personal and professional lives never crossed paths and says her judgement was never affected by her affair.
"Never once did this interfere with my job," said LeBlanc. "I never signed a warrant for Mr. Prejean. He never testified in a trial before me in his capacity as a sheriff's deputy and I don't believe any of this would warrant any new trials in Assumption Parish."
As for her use of the n-word, LeBlanc says she has never used the slur before and says she apologizes to those she may have offended.
"I made a horrible decision in using those slurs towards those people. I ask for forgiveness," said LeBlanc.
"I hope that she can get the forgiveness that she's seeking, but it won't come from the NAACP," Collins added.
The Council on American-Islamic Relations (CAIR), the country's largest Muslim civil rights and advocacy organization, is also calling for Judge LeBlanc's removal from the bench. CAIR National Communications Coordinator Ayan Ajeen released the following statement Monday:
"We call on Judge LeBlanc to resign because her use of racist and derogatory language would indicate that any judgement she makes could be colored by racial bias and that the law would not be applied in an equitable manner."
Copyright 2020 WAFB. All rights reserved.