No. 1 LSU defeats No. 3 Clemson in CFP National Championship
Joe Burrow and Patrick Queen named MVPs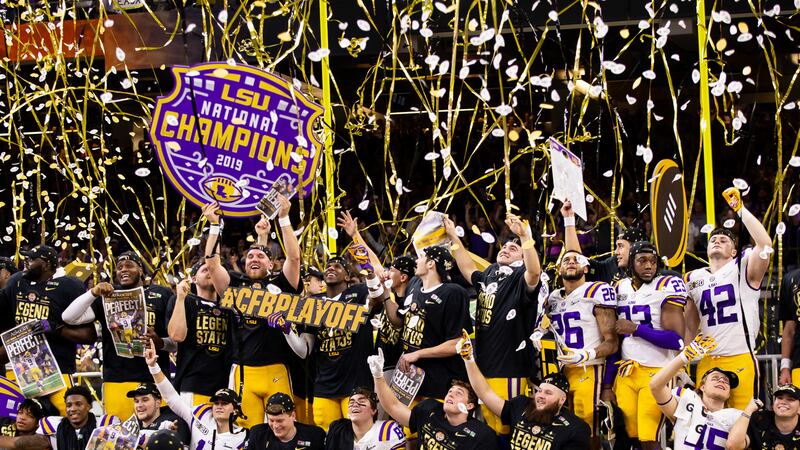 Updated: Jan. 14, 2020 at 7:59 AM CST
NEW ORLEANS (WAFB) - No. 1 LSU (15-0) won its fourth national title in school history with a 42-25 victory over No. 3 Clemson (14-1) in the College Football Playoff National Championship at the Mercedes-Benz Superdome in New Orleans on Jan. 13.
LSU ended Clemson's 29-game win streak. Clemson was defending its 2019 CFP National Championship win.
Clemson Quarterback Trevor Lawrence had not lost a game since high school until LSU handed him his first collegiate defeat.
Heisman Trophy-winning quarterback Joe Burrow went 31 of 49, throwing for 463 yards, five touchdowns, and no interceptions. He also rushed for a touchdown.
Burrow was named the game's offensive MVP and LSU linebacker Patrick Queen was named defensive MVP.
RELATED STORIES:
Ja'Marr Chase led LSU's receiving core, catching nine passes for 221 yards and two touchdowns. Justin Jefferson caught nine passes for 106 yards.
The LSU defense held Clemson to 234 yards passing and 160 yards rushing. Safety Grant Delpit forced a fumble of Clemson quarterback and was recovered by LSU Derek Stingley Jr.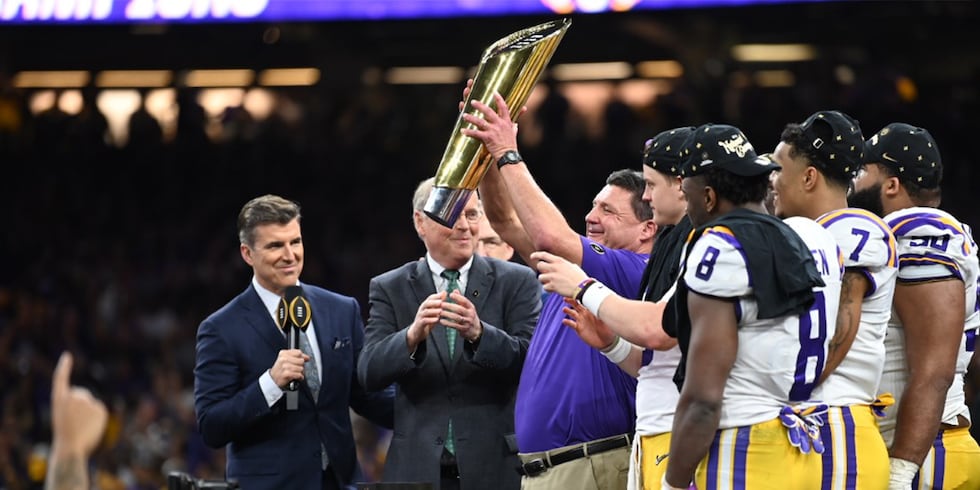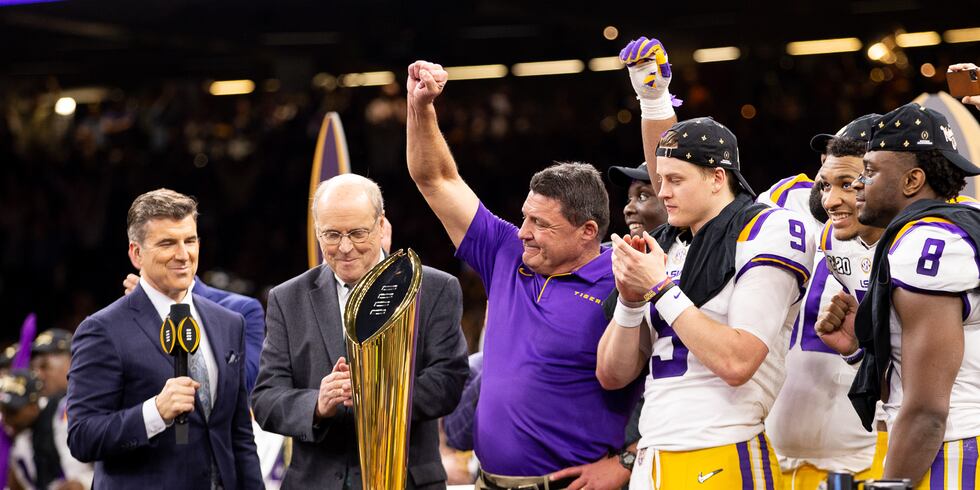 Clemson's first play from scrimmage was a play for no gain.
On the next play, Clemson quarterback Trevor Lawrence completed a 35-yard pass to wide receiver Justyn Ross. Lawrence then threw to Jennings, La., native Travis Etienne for the first time, for a 19-yard gain.
However, Clemson was not able to build on the early momentum and Grant Delpit's sack of Lawrence forced the first punt of the game. Clemson punter Will Spiers pinned LSU on their own 7-yard line.
On LSU's first play from scrimmage, Joe Burrow showcased the skills that earned him the Heisman Trophy by scrambling to evade a safety and found Thadeus Moss 38-yards downfield. However, the play was negated because LSU was penalized for having an ineligible player downfield.
Pinned back in their own enzone, Burrow and the LSU offense wasn't able to do much of anything with their first possession except successfully punt.
Clemson and LSU would trade punts before either got on the board. Lawrence led Clemson on a five-play, 67-yard drive, running in the touchdown himself from the one-yard line with 6:34 left in the first quarter. It was the first time LSU had trailed in a game since the second quarter against No. 9 Auburn on Oct. 26, 2019.
Terrance Marshall Jr. was the only bright spot on LSU's ensuing possession, catching a 15-yard pass. Burrow was sacked for the first time, on the following play and then threw two incomplete passes before LSU punted.
Clemson wasn't able to take advantage of a 15-yard defensive pass interference penalty committed by LSU cornerback Kristian Fulton. The penalty moved Lawrence and company from their own 25-yard line to the 40-yard line.
After the Clemson punt, Burrow would ignite the LSU offense with a 52-yard touchdown pass to wide receiver Ja'Marr Chase.
Kicker B.T. Potter gave Clemson the lead again, with an impressive 52-yard field goal, ending a drive that started with 2:20 left in the first quarter.
Burrow showed off his running ability with a 20-yard gain on first-down. Unfortunately, Burrow would throw three incomplete passes before a 44-yard punt from Zach Von Rosenberg that rolled to the Clemson 4-yard line.
Pinned deep in their own territory, Clemson flexed its offensive muscles moving 96 yards down the field in 4 plays and 1:32. Lawrence connected with Ross again for 24 yards and Etienne ran for 36 yards on two carries before wide receiver Tee Higgins found the endzone on a 36-yard reverse.
LSU responded by upping the ante and responded with 1″21, 5-play, 75-yard scoring drive. Burrow and Chase would connect on two back-to-back passing plays, the later for 56 yards to the Clemson three-yard line. Burrow snapped the ball from the shotgun and ran into the endzone when he quickly realized he had no open receivers.
On the following possession, Clemson failed to take advantage of another penalty from the LSU secondary. Safety Grant Delpit's face mask on Etienne's 12-yard run moved Clemson to the LSU 48-yard line. Lawrence would throw a pair of incompletions before a punt by Spiers pinned LSU deep.
LSU would start a statement drive on its own 13-yard line, going 87 yards in just over two minutes. Burrow ran for 10 yards before throwing for 77 yards on four-straight completions. Chase caught a 14-yard pass in the endzone to put the Tigers up 20-7 with 5:19 left in the half.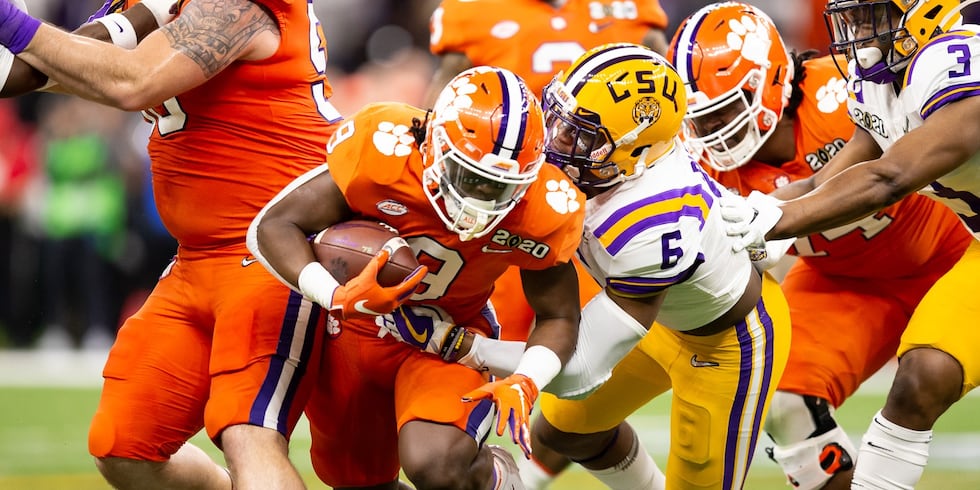 Etienne's 14-yard run was the only highlight on Clemson's attempt to answer the two LSU scores. Spiers pinned LSU deep again with a 58-yard punt.
Starting on their own five-yard line, the LSU offense would make the biggest statement of the game by going 95-yards in just under three and a half minutes to take an 11-point lead before halftime.
Running back Clyde Edwards-Helaire had one of his biggest runs of the night, for 25 yards, to get things started for LSU.
After Burrow was sacked for a nine-yard loss, Clemson cornerback Derion Kendrick was penalized for pass interference on Marshall Jr., moving LSU to midfield.
Jefferson caught a critical nine-yard pass on third down to keep the moment going in the drive. Two plays later, Burrow made a gusty 29-yard run to the Clemson six-yard line. Burrow connected with Moss for LSU's third-straight touchdown, with just 10 seconds left in the half.
Clemson kneeled the ball to send both teams into the locker room.
LSU received the second-half kickoff but went three and out, with Burrow getting sacked for seven yards on third down.
Clemson started their first drive of the quarter with excellent field position. Lawrence and company patiently engineered an answer to LSU's 21 points with a 6-play 50-yard drive in just over two and a half minutes.
LSU linebacker K'lavon Chaisson extended Clemson's drive with a critical face mask penalty while attempting to tackle Lawrence as he ran for seven yards. Etienne ran for 19 yards and a touchdown to narrow LSU's lead from 11 to five points.
Clemson's coaching staff decided to go for two in lieu of a field goal and Lawrence connected with wide receiver Amari Rodgers to put Clemson within three.
Both teams traded punts before either team would score again. With 7:32 left in the third quarter, Burrow would orchestrate a drive in which he would break the NCAA record for touchdown passes in a season. In six plays, LSU went 68 yards in just 2:26.
Burrow ran for 14 yards on two plays before connecting with Chase for 43 yards to take LSU into the red zone. Clemson linebacker James Skalski was ejected from the game on the following play for targeting Jefferson on a seven-yard pass. The penalty moved LSU to the Clemson four-yard line.
Moss caught Burrow's 59th touchdown pass of the season, breaking Hawaii quarterback Colt Brennan's record of 58 touchdown passes set in 2006.
Pass interference was called on Fulton for the second time on Clemson's ensuing drive. But Clemson offensive Tremayne Anchrum was penalized for a false start and Lawrence would throw three incomplete passes before Spiers punted the ball.
LSU would attempt to add to their lead and the drive started out on a very positive note with Jefferson catching a 35-yard pass to break the SEC receiving yards record.
Yet, the drive would end with Cade York missing a 45-yard field goal by Cade York from the left hashmark. Clemson's last drive of the third quarter would end in a punt.
With just 42 seconds left in the third quarter, LSU would start its sixth touchdown drive of the game.
Burrow would throw to five different receivers for 61 yards, with Marshall Jr. catching his first touchdown pass of the night.
Clemson and LSU would trade fumbles before Lawrence would fumble the football on Clemson's last drive, sealing LSU's fourth national championship victory.
RELATED: Empire State Building lit up in purple and gold after LSU national championship win
Copyright 2020 WAFB. All rights reserved.