How to watch, stream, listen to LSU-Clemson National Championship game
You can cheer on the Tigers no matter where you live!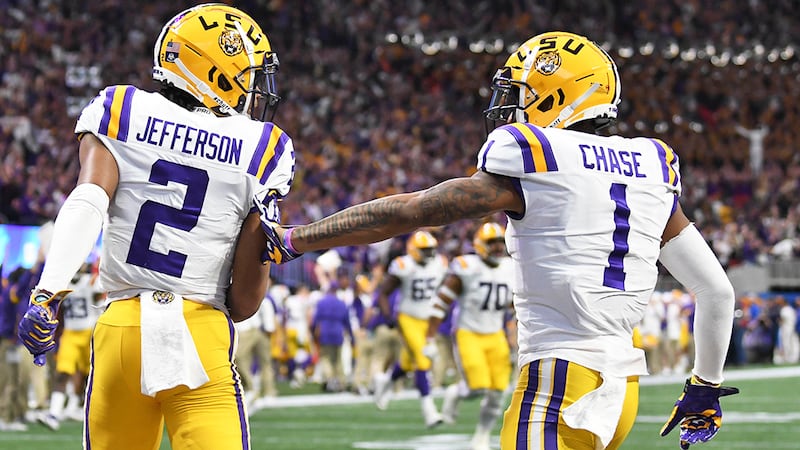 Updated: Jan. 13, 2020 at 4:55 PM CST
NEW ORLEANS (WAFB) - After an incredible regular and postseason, No. 1 LSU is pursuing its fourth national title in program history.
LSU will face No. 3 Clemson in the College Football Playoff National Championship at the Mercedes-Benz Superdome in New Orleans.
RELATED: EYE ON THE TITLE: 9Sports previews the chase for LSU's fourth national title
Kickoff is scheduled for 7 p.m. on Monday, Jan. 13, 2020.
Here is how you can watch the Tigers in the biggest college football game of the season.
The game will be televised on ESPN. Check with your cable/satellite provider for the channel number.
SIDE NOTE: ESPN will feature the live telecast of the with audio from the LSU Sports Radio Network on the SEC Network.
You can stream the games on your desktop at ESPN.com/watch and on your mobile device or smart TV with the ESPN app.
Both will require your cable or satellite provider login information.
ESPN is also available on the following streaming services:
Hulu With Live TV
Sling TV
AT&T TV Now
YouTube TV
If you do not have cable or satellite, both Hulu Live and YouTube TV offer free trials of their streaming services, which includes ESPN.
RELATED: LSU football watch party essentials
If you can't watch or stream the game you can still listen to it on the LSU Sports Radio Network. See the list for your local affiliate.
Alexandria - 970 AM & 96.9 FM
Baton Rouge- 98.1 FM (Spanish Audio - 830 AM)
Bogalusa - 92.9 FM
Conway/Little Rock, Ark.- 92.7 FM
Denver, Colo. - 104.3 FM or 1600 AM
Jackson, Miss.- 103.9 FM
Jena - 102.7 FM
Lafayette/Opelousas -103.7 FM
Lake Charles - 97.9 FM
Leesville - 93.5 FM
Natchez, Miss - 95.1 FM
New Orleans - 870 AM & 105.3 FM
Ruston -97.7 FM & 96.3 FM
Shreveport - 1130 AM
Tylertown, Miss. - 107.3 FM
Vicksburg, Miss. - 101.3 FM
Ville Platte - 1050 AM & 92.5 FM
You can listen online at LSU's athletic website by clicking here or by downloading the Radio.com app or TuneIn app and searching "LSU."
On SiriusXM tune into ESPN Radio for the away feed, ESPNU Radio for the home feed, or ESPN Xtra.
RELATED: LSU cancels classes on Jan. 13 and 14 for National Championship game
Don't feel like watching the game at home? No problem!
There are plenty of watch parties for the game throughout the state and across the country.
The Station Sports Bar and Grill
Celebrity Theatres Baton Rouge
Abita Brewing Company (Covington)
Dat Dog (All New Orleans locations)
If you live out of town you can attend a watch party in the following U.S. cities:
Asheville: Bonfire BBQ
Atlanta: Big Easy Grille and Atkins Park Tavern
Austin: Shoal Creek Saloon and Rustic Tap Beer Garden
Boston: Coppersmith
Charleston: JohnKing Grill & Bar
Charlotte: Big Ben Pub
Chicago: D.S. Tequila
Corpus Christi: Hardknocks Sports Lounge and Vernon's
Dallas: Dibs on Victory and II Brothers Grill & Bar
Denver: Stoney's Bar and Grill
Fort Walton Beach: Buffalo Wings & Rings
Greenville: Barley's Taproom and Pizzeria
Houston: Little Woodrow's Shepherd
Jackson: Capitol Grill
Las Vegas: PT's Ranch
Los Angeles: Torrance Tavern, Hyperion Public and Jameson's Pub
Louisville: Saints Pizza Pub & Sky Bar
Memphis: Railgarten
Nashville: Cajun Steamer
New York City: Legends
Oklahoma City: Brent's Cajun Seafood & Oyster Bar
Orlando: Froggers Grill & Bar and Hook & Reel Cajun Seafood & Bar
Pensacola: Shooter's Sports Bar at Cordova Lanes
Philadelphia: Field House
Phoenix: RT O'Sullivan's
Portland, Ore.: Katie O'Brien's
Raleigh/Durham: Sharky's Place
Richmond: Legends Grille
San Antonio: The Lost Cajun
San Diego: The Elbowroom
San Francisco: NorthStar Cafe
Seattle: Canterbury Ale House
St. Louis: OB Clark's
Syracuse, NY: Saltine Warrior Sports Pub
Tampa: Aviators Tavern
Washington, D.C.: Rhodeside Grill and The Brig
RELATED: Who has the best 'Coach O' impersonation?
The WAFB 9Sports team will be covering the CFP National Championship in New Orleans and will have LIVE reaction from LSU players and coaches after the game.
You can watch all of the LSU postgame coverage on WAFB-TV Channel 9, the free 9Sports app, and WAFB.com.
Follow 9Sports on Facebook and Twitter to get updates during the game.
RELATED: Here's how much LSU coaches will earn in bonuses for team's incredible 2019 season
Copyright 2019 WAFB. All rights reserved.