WARRICK DUNN FINALIST: Sam Kenerson - Central QB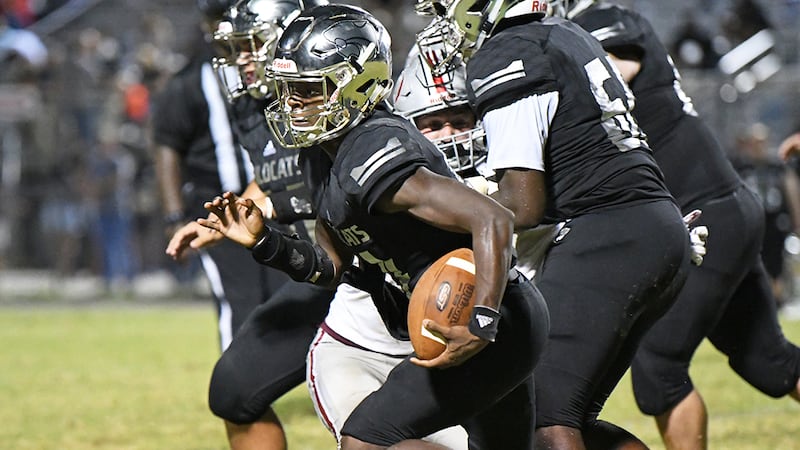 Updated: Dec. 25, 2019 at 7:49 PM CST
CENTRAL, La. (WAFB) - Warrick Dunn finalist Sam Kenerson has spent his Central career as one of the smallest guys on the field but the doubters, like those who predicted a 3-7 season for the Wildcats, can't underestimate a quarterback who produced seven straight wins and an 8-3 season.
Kenerson is listed at 5-foot-9, 170 pounds on Georgia Southern's December signee list, but after finishing just 28 yards shy of 2,000 in total offense, with 10 touchdowns rushing and 10 touchdowns passing, you can see why the Eagles signed him to run their option attack.
"I can make people miss, I can run past people, I want to say I can lower my shoulder every once in a while but I'm not the biggest," said Kenerson. "I know I'm not the strongest but I can get the job done. I just want the ball in my hands at every play."
"Sam is electrifying," added head coach Sid Edwards. "I mean, just anytime we have him in the football game, I feel we could win. And that's a great feeling to have for four years, you know. Extremely fast. As a matter of fact, he reminds me of another quarterback I coached - Warrick Dunn at Catholic High. Now, Sam's faster than Warrick - today, right now - now, I don't know about when Warrick played."
Like Dunn, Kenerson broke into the varsity starting lineup at an early age, toward the end of his freshman season. A second-round playoff touchdown against Parkway was a glimpse of things to come. Although, Kenerson says adversity later in the same game has been a driving force throughout his career.
"Yeah, I fumbled on the ... I want to say the six-yard line when we were about to punch something in to win. So, I've learned from that a lot," Kenerson reminisced.
"Sam was weighing about a buck-20. Little freshman and this big, 6-foot-5 guy picked him up in the air and three guys took the ball from him. So, it really wasn't a fumble. It was a burglary - a mugging on the field," Edwards explained.
Kenerson has been a fixture on the Central sports scene virtually his entire life. Whether it was sliding in or jumping in celebration with the Wildcats state baseball champs or at the football stadium under Edwards' watchful eye on Friday nights or part of Central's Saturday morning pee-wee program.
"I started playing football at the age of five. I was playing with our SLYFA [Southern Louisiana Youth Football Association] team, which is a little league team based out of Central. At first, I was actually a running back," Kenerson said.
"Sam has meant the world to our program and our community. I've been coaching him for four years, but the truth is he was our ball boy when he was seven and eight years old, so he's been running those sidelines in Wildcat Stadium quite a while," Edwards noted.
"We heard going into the season, 'Y'all are going to finish seventh out of six teams in the district, so ..." (shakes his head 'no')," Kenerson said.
"There was a lot of pride at stake and he was one of the leaders in that, 'It's not going to be how this ends,'" said Edwards.
Copyright 2019 WAFB. All rights reserved.