WARRICK DUNN FINALIST: Jaquelin Roy - U-High DT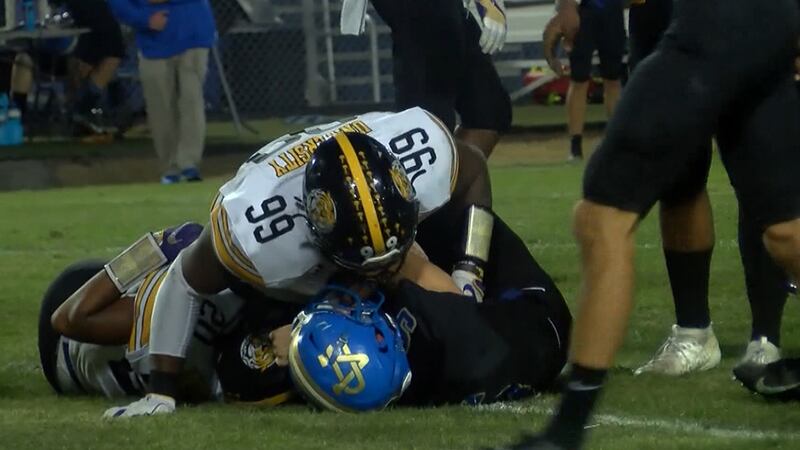 Published: Dec. 21, 2019 at 5:09 PM CST
BATON ROUGE, La. (WAFB) - Our fourth Warrick Dunn Award finalist, U-High defensive tackle Jaquelin Roy, signed with LSU on Wednesday, Dec. 18, following in the footsteps of former Cubs like Nick Brossette and Garrett Brumfield.
Roy is a large human being. As a matter of fact, he's been that way since he was a kid playing youth league.
"Just being bigger than everybody and playing in an age group higher than me just pushed me to keep going," said Roy. "They didn't want me to tackle them ... well, my parents didn't want me to tackle them to keep them safe."
Even entering his final season at U-High, Louisiana's top prospect still felt he was too heavy, so he made it an emphasis over the offseason to shed some of those pounds.
"He was about a little over 300 last year and wanted to get his weight down to about 290; wanted to get his weight down a little and bring it back up in a good way and he did that," explained head coach Andy Martin. "He got the weight down to 275 and brought it back up to 290."
"Just stopped eating fast food and started eating my grandmother's food and started working out a lot," Roy added.
Vegetables?
"Yes, sir," Roy replied.
What did your grandma make you?
"Pot roast, stir fry, pork chops, just home-cooked meals," Roy answered.
Roy went on ato have a productive senior season, racking up 96 tackles, with 17 registered as tackles for loss, and nine sacks. He wreaked havoc on offensive linemen and quarterbacks week-to-week.
"Not really paying attention to the guy in front of me. Just paying attention to the backfield, seeing where the ball is at all times and just trying to be around it," Roy explained.
"There are not many years where I have had defensive linemen have 96 tackles and just fill out every stat category between sacks and tackles behind the line of scrimmage. I think he did a great job. Offenses plan for him and they had to prepare for him and he rose to the occasion," Martin added.
Though his career as a Cub is over, Roy will remain on campus as he heads off to LSU, but with a power-five scholarship and two state championships under his belt, there's still one question left unanswered.
What would this 6-foot-4, 290-pounder be doing if he did not play football?
"I probably say a bouncer. No, I am just playing. But probably something with my hands, building stuff. I like to build a lot and cut grass," Roy said.
"He might try to be a rapper or something like that but I don't know how well that would go for him," Martin said.
"Yeah, I like to have the music bumping ... NBA YoungBoy, Kevin Gates, and Boosie," Roy added.
"It wouldn't take him very far. I think football is going to take him farther than his rapping career would (laughs)," Martin explained.
Copyright 2019 WAFB. All rights reserved.