LSU completes perfect regular season; gets ready for SEC championship game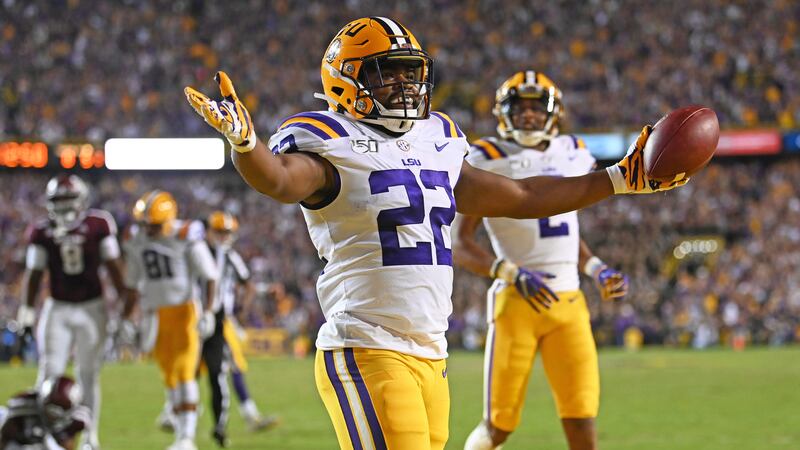 Updated: Dec. 1, 2019 at 9:09 PM CST
BATON ROUGE, La. (WAFB) - The 2019 LSU Tigers have given fans of the program and everyone involved with it quite the gift this season, finishing the regular season undefeated after Saturday night's 50-7 win over Texas A&M.
RELATED STORIES:
After what happened last year in College Station, there was some concern that LSU would perhaps go into the game too emotional. But that wasn't the case. There was no pushing and shoving.
"Yeah, I was worried about it, too," said quarterback Joe Burrow. "But once we got on the field, it was business as usual. Take care of business. Obviously, last year was an emotional game. But we took care of business like we always do."
"That's all we had on our minds," added wide receiver Ja'Marr Chase. "Not biting into the shenanigans or anything like that. We just focus on playing our game."
"Coach O told us all week - no stupid penalties, nothing before the game," noted center Lloyd Cushenberry.
And it's hard to imagine a more dominant performance. At one point in the third quarter, LSU had outgained Texas A&M, 371-35.
"Yeah, I guess we were well hydrated and not cramping up this time," joked defensive lineman Breiden Fehoko. "We took that personal. We felt that was a shot at our conditioning staff, our nutrition staff. We felt we were the stronger and more physical. We had to come out and prove that."
Burrow heard the roar of the crowd when he ran over to the student section after the game.
"Obviously, I don't go to class. I take online classes. So, I just wanted to see those people and thank them for making this the best atmosphere in the country," Burrow stated.
RELATED: LSU fans can get a free slab of sod from Tiger Stadium
"Joe runs over; he gets everyone up," said offensive guard Damien Lewis. "He does this 'Whoooo!' He likes it. I enjoy it."
"Joe always gives us credit, even when people don't see it. He makes it known things start up front. We love him for it," Cushenberry explained.
The LSU Tigers are 12-0 for only the second time in program history. The other time was in 2011. Members of the squad have set numerous records during the course of the season.
Burrow now holds the LSU single-season passing yards (4,366) and touchdowns (44) records. He also broke Kentucky quarterback Tim Couch's SEC passing yards record (4,725) that was set in 1998 and tied Missouri quarterback Drew Lock's SEC touchdown passes record (44) set in 2017.
Chase is No. 1 on LSU's single-season touchdown receptions list. He is now No. 2 on the LSU single-season receiving yards list behind Josh Reed (1,740), who also holds the SEC record. Fellow wide receiver Justin Jefferson is now No. 2 on the LSU single-season list for receptions. He also trails Reed (94), who set the record in 2001.
LSU has now started preaching messages like, "Unfinished Business," "We Want More," and "Still Hungry."
"We want to jump over that hump. We're up there. No need to stop now. We need to keep it going," Lewis added.
LSU now looks to win its first SEC championship since 2011. There's going to be plenty of talk that LSU is in the College Football Playoff no matter what but the Tigers are having none of that.
"Yeah, we're not buying that; no," said head coach Ed Orgeron.
"We're not buying it. We want an SEC championship as bad as a national championship. We've worked hard for this," Burrow reiterated.
"That's the goal - get to where we want to go. Going to be great atmosphere," Cushenberry added.
"No days off. Weight room, practice field, come out with a chip on our shoulder to get where we want to go," said Lewis.
RELATED: WAFB to air 'Eye on the Title' special on Thursday, Dec. 5 at 6:30 p.m
It's LSU and Georgia in Atlanta next weekend for the SEC title. Of course, the Tigers beat the Dawgs, 36-16, in Tiger Stadium in 2018.
Kickoff is scheduled for 3 p.m. The game can be seen on CBS.
____________
Keep up with more LSU sports news, even when you're on the go.
Also, check out our Facebook Page for more football and other sports.
Like the WAFB Sports Facebook Page
____________
Copyright 2019 WAFB. All rights reserved.