Trip to Vietnam helps UL Lafayette student veteran find healing 50 years after service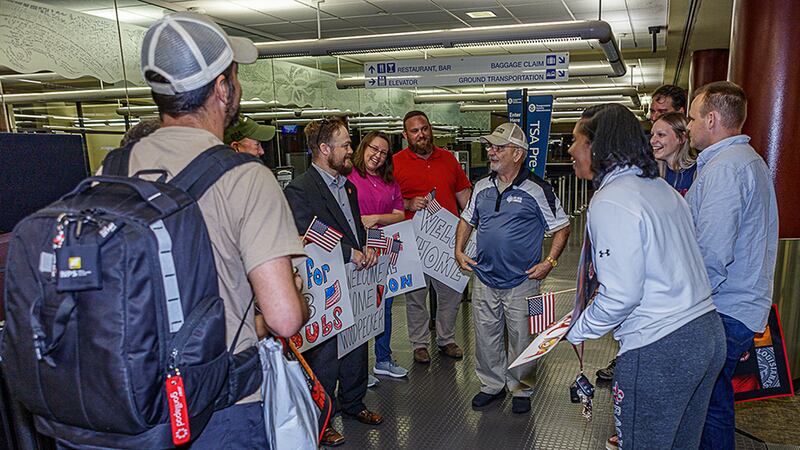 Updated: Nov. 11, 2019 at 11:32 AM CST
Information provided by the University of Louisiana at Lafayette:
Just after finishing his first semester at the University of Louisiana at Lafayette, veteran Gordon Eatley celebrated his 73rd birthday in Vietnam — a country he hadn't visited since he was piloting helicopters for the U.S. Army 50 years earlier.
A few months before his return trip to Vietnam, Eatley connected with the Wounded Warrior Project and unexpectedly enrolled in classes at UL Lafayette. Thanks to the community of veterans he found on campus, Eatley began to recognize and overcome the post-traumatic stress and depression that had plagued him for decades.
Returning to the country where spent his early 20s and confronting his experiences there — combined with the support he found on campus — helped Eatley let go of his past and find peace.
'I never got around to it'
Eatley is the only Vietnam veteran enrolled at UL Lafayette, and he's planning to graduate with a bachelor's degree in general studies after two previous attempts to complete his college education in the past 50 years.
Eatley enlisted in the U.S. Army in 1965 and was deployed to Vietnam in 1967 and in 1971.
After he returned home to Kentucky from his second deployment, he took courses at Sullivan Business College and the University of Louisville while working full time and serving in the Kentucky National Guard. He delayed completing his education when he moved to Lafayette in 1978 to become a pilot at PHI, Inc.
While flying for PHI, he joined a medical detachment unit for the U.S. Army Reserves. He retired from the reserves in 2006, but he volunteered to return to active duty. In 2008, he was deployed to Iraq.
After he returned from Iraq in 2009, Eatley retired from the U.S. Army; a year later, he retired from PHI. After 42 years in the military, his PTSD and depression became overwhelming.
In 2019, Eatley connected with the Wounded Warrior Project, which was hosting a breakfast at UL Lafayette's Student Union. There, he had a fortunate misunderstanding with Ryan Gonzales, the University's assistant director of Veteran Services.
Gonzales thought Eatley was on campus to enroll. Eatley was there for coffee.
"It's something I had in the back of my head for years and years: I wanna go back to school," Eatley said. "But I never got around to it. Next thing I know, I'm talking to all of these different nice people, signing paperwork, and — I can't even remember their names anymore, it was so fast.
"And the next thing I know, I was signed up for college."
Back in class
Eatley took his first class during the Summer 2019 semester: Philosophy 316 Professional Ethics with Dr. Micah Dugas, visiting instructor of philosophy.
Before his first day of class, Eatley was worried he'd be snubbed by his instructor or his classmates.
"I'm old enough to be the grandfather of everyone around me," he said. "I came back here really unsure of myself. I was unsure of how I'd be treated, if teachers were going to kind of look at me and say, 'What are you doing in my class? You're just taking up a seat.'"
But those fears quickly disappeared. Eatley and Dugas talked almost every day before or after class. He studied with classmates, and found support from other veterans on campus — all people who helped him realize, he said, "I came here, and I can do this."
And Eatley's experiences as a veteran spurred engaging discussions in and out of the classroom, Dugas said.
"We talked quite a bit in class — but much more in my office — about, sort of, personal choices and experiences. Ethics is not this abstract, conceptual, academic — it's about how we live our lives.
"And I suspect he might be able to see that a little clearer, having had those kinds of experiences — to really have to think about right and wrong in a very literally life-or-death kind of way."
Returning to Vietnam
With his first semester completed, Eatley traveled to Vietnam hoping to replace difficult memories. His son, Jeffrey Eatley, went along, too, and documented the 25-day trip.
One outing brought Gordon Eatley to the windy hilltop where he lost five friends in an aircraft crash. When he reached the top, he sat on a rock and the air became still.
He was there alone, but he could sense his friends' presence.
"There was something there," Eatley said. "It's quiet. And I felt four people … and then all of a sudden, the fifth person comes up. And I said, 'There's no way.'
"And I sat there and I lost it, I'll admit it," he said, remembering how he yelled in anger. "And I finally looked up and said (to them), 'Your job is done here. Go home.'"
The wind suddenly returned, drying the tears on Eatley's face, and "something went through me. I came home knowing that those guys had left — they went home."
'Welcome home'
When Eatley returned from his first deployment to Vietnam in 1968, a young woman in the airport caught his eye.
"She walks up to me, smiles ... and then spits in my face," Eatley recalled. "Calls me a 'baby killer' and other names I won't say."
It was a story he'd shared with his fellow student veterans at UL Lafayette, and Veterans Services' Gonzales could tell that it still bothered Eatley.
So, Gonzales texted Eatley's son Jeffrey: "We're going to welcome your dad home, but don't tell him. We want to surprise him."
At 10 p.m. on a Thursday night, UL Lafayette student veterans and Veteran Services staff congregated outside the security line at Lafayette Regional Airport.
The small but enthusiastic crowd pulled off the surprise as Eatley walked into the terminal. They cheered, waved flags, and carried signs that said "Welcome Home!"
"Gordon told us that we saved his life by doing that," Gonzales said. "He was finally able to put Vietnam behind him because he got the welcome home that he had never had before."
The next day, Eatley shared his reaction in a Facebook post: "Believe me when I say the tears came to my eyes and my heart almost burst. The memory of the greeting I shall carry to my grave, and the first story I'll tell in heaven, if I am so lucky, will be about those who greeted me in Lafayette on that September night and how they gave peace to my soul."
WAFB