Exclusive WAFB gubernatorial poll results released Monday
Updated: Nov. 11, 2019 at 11:54 AM CST
BATON ROUGE, La. (WAFB) - An exclusive WAFB news poll released just days ahead of the Louisiana gubernatorial runoff election reveals incumbent Democrat John Bel Edwards has a slim lead over Republican Eddie Rispone.
The poll of 625 registered Louisiana voters shows Edwards with 48% of the vote, while Rispone has 46%. With less than a week before the Nov. 16 election, 6% say they are still undecided.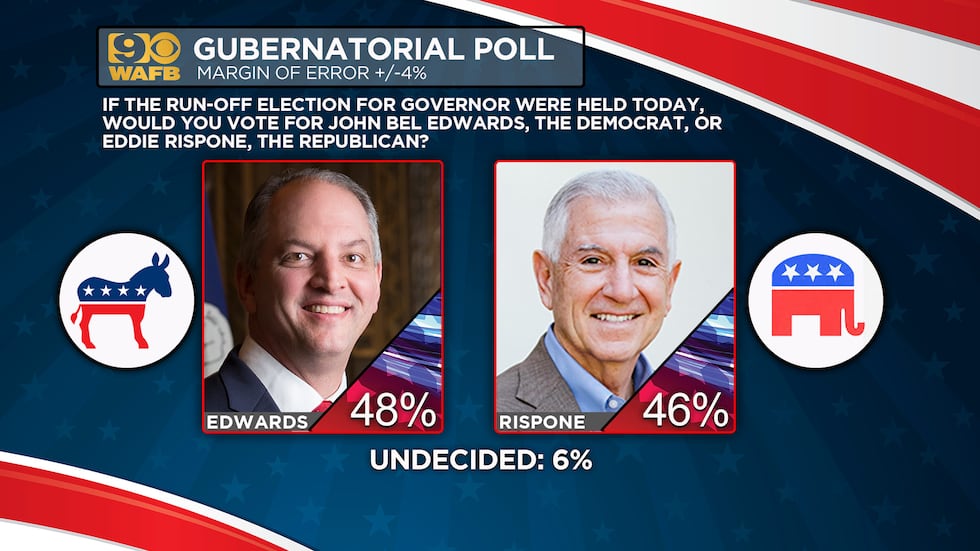 The race could come down to which candidate gets his voters to the polls and who Republican Ralph Abraham's voters in the primary will support.
Of those who voted for Edwards in the primary, 94% say they will back him again. Of those who voted for Rispone in the primary, 92% say they'll vote for him in the runoff. Of those who voted for Abraham in the primary, 85% indicate they will vote for Rispone, while 10% will back Edwards.
When it comes to those who didn't vote in the primary and say they will vote in the runoff election, Edwards holds a 47% to 44% lead over Rispone.
More: Attacks coming from both sides in final weeks of Louisiana Governor's race
While President Donald Trump has stumped in Louisiana for Rispone, the poll asked if you voted for Trump in the 2016 election who would you support in this race? 81% of Trump voters from 2016 say they will cast their vote for Rispone while 15% say they will cross party lines to vote for Edwards. Another 4% of those voters say they are undecided.
Support for Edwards is highest in the New Orleans and Baton Rouge areas, with 56% and 55% respectively. Rispone's strength is concentrated in south central and northern Louisiana, where 57% and 54% respectively say they will vote Republican.
The vote is split along racial lines, with 92% of black voters saying they will vote for Edwards, and only 2% for Rispone.
66% of white voters choose Rispone, with 28% behind Edwards

6% of white and black voters are undecided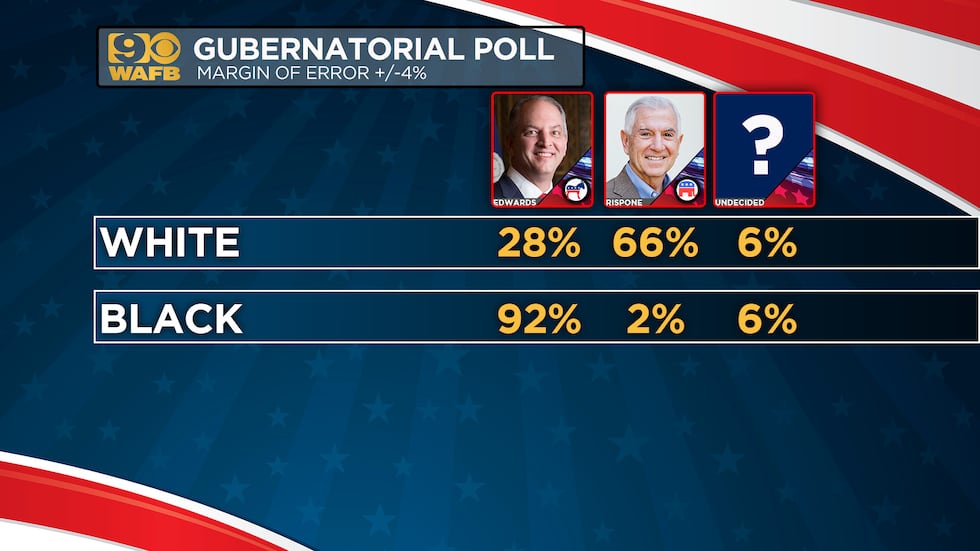 When it comes to gender, more men prefer Rispone to Edwards 51% to 44%, while women give Edwards a nine-point advantage, 51% to 42%.
On the question of Edwards' job performance as governor, 54% across the state say they approve, while 38% disapprove. When you break it down, it's again split along party and race.
39% of whites approve of Edwards' performance, while 53% disapprove, with 8% saying they were not sure

88% of blacks approve, while only 3% disapprove, with 9% not sure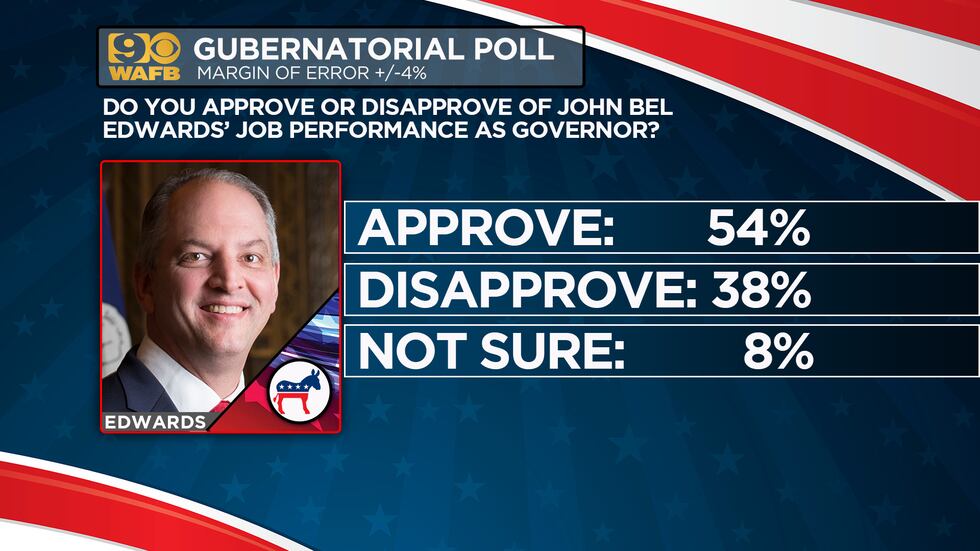 The poll, conducted by Mason-Dixon Polling and Strategy on behalf of the six Louisiana Gray Television stations, which includes WAFB, has a margin error of 4%.
Copyright 2019 WAFB. All rights reserved.