Candidates for La. governor face off in final debate
Updated: Oct. 9, 2019 at 10:46 PM CDT
SHREVEPORT, La. (WAFB) - On Wednesday, Oct. 9, candidates for Louisiana governor, Eddie Rispone, Ralph Abraham, and Gov. John Bel Edwards faced off in the final debate before Election Day on Saturday, Oct. 12.
Questions for the candidates were created by a group of panelists, as well as crowd sourced through social media. Candidates were also allowed to ask each other questions. Panelists were Jenifer Andrews with KNOE in Monroe, Cynthia Arceneaux with KPLC in Lake Charles, Steven Maxwell with KALB in Alexandria, Greg Meriwether with WAFB in Baton Rouge, and Sabrina Wilson with WVUE in New Orleans.
FULL DEBATE
Candidates answered questions ranging from everything from negative attacks ads to their stance on key issues like abortion, expansion of Medicaid, President Donald Trump's policies, economic development in Louisiana, and how to fix failing public schools.
Chavaza Brown Jr. from Lake Charles asked candidates how they'll ensure TOPS is fully funded. Rispone emphasized that TOPS must be fully funded, saying Edwards is the only governor in 16 years to cut TOPS and would've cut more if it wasn't for conservative Republicans. Edwards however, says he absolutely supports TOPS and the state needs to meet its obligations to students. When asked about cutting TOPS' budget, he says cuts had to be made across the board and he has to submit a balanced budget. Abraham also agreed TOPS needs to be fully funded, saying the state has got to have jobs waiting for those students when they graduate.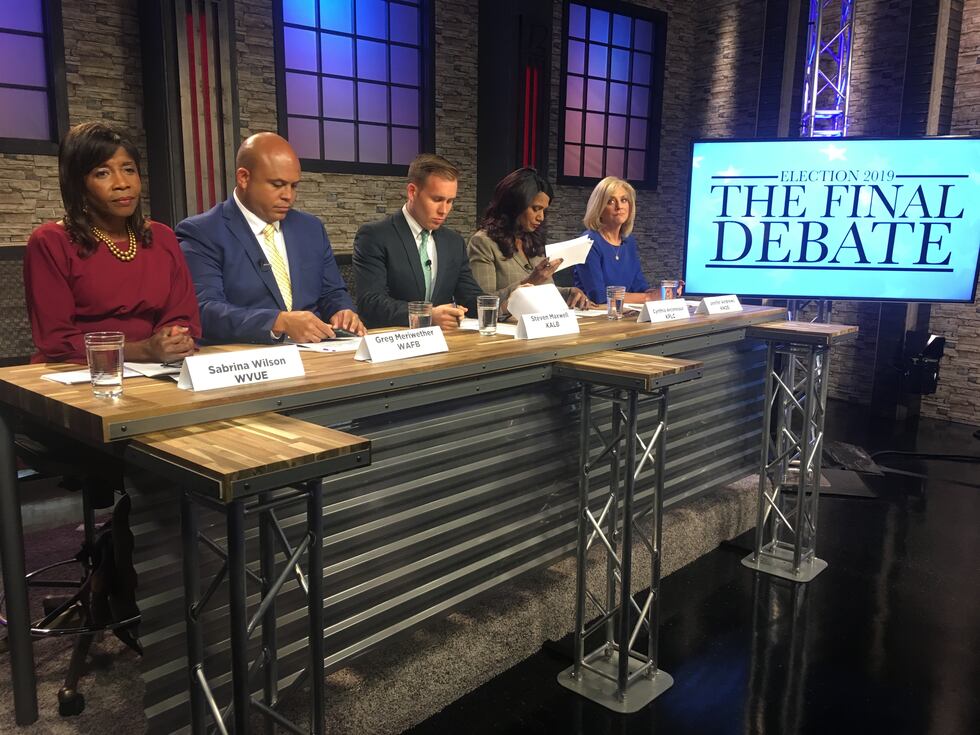 As it deals with abortion, all three candidates said they are pro-life and do not support any exceptions to that, including for rape or incest. When asked what they would say to a woman who has become pregnant through rape, the candidates all turned to prayer. Abraham and Rispone both said they would discuss with the woman what options she would have after giving birth and that they would pray with her. Edwards also offered his prayers, but said pro-life has to be more than pro-birth in that the state needs to make sure those children are given opportunity, saying that's why his administration has addressed improving foster care, mortality rates, and Medicaid expansion.
There have been many political ads this season, and many of them have been negative. The candidates were asked which ad in particular really gets under their skin. Abraham expressed unhappiness about the attack ads' effect on his family, saying they shouldn't have to go through that. He also mentioned that some attack ads against him say he has voted with Nancy Pelosi more than 300 times. He says those votes were on issues such as naming bridges. He said he will attack policy, but never personality or character.
Edwards says he has never run a negative ad and that the most irritating ones are the ones that can so quickly be proven false. Rispone responded, saying he doesn't pay much attention to the ads because they're exaggeration and lies.
The candidates were also asked questions in what was deemed the "lighting round," in which they were asked to answer questions very quickly with simple answers.
WOULD YOU BE IN FAVOR OF MORE SALES TAX EXEMPTIONS?
ABRAHAM: Absolutely, anything to lower taxes.
EDWARDS: No, I would lower the sales tax rate.
RISPONE: No, I would lower the sales tax rate.
DO YOU SUPPORT INCREASING A GAS TAX TO ADDRESS LOUISIANA'S MULTI-BILLION DOLLAR BACKLOG FOR ROAD AND BRIDGE PROJECTS?
EDWARDS: We'll work on this next year. Our resources are more constrained than we want. I'll work with the legislature on funding.
RISPONE: No, we have enough taxes.
ABRAHAM: We've gotta' reform the system first. A gas tax will be tax neutral.
DO YOU SUPPORT LEGALIZING RECREATIONAL MARIJUANA USE IN LOUISIANA?
All three candidates said no.
WOULD YOU SUPPORT COLLEGE ATHLETES PROFITING FROM ENDORSEMENT DEALS IN LOUISIANA?
EDWARDS: I don't know yet. I'm having my staff look into it.
ABRAHAM: No.
RISPONE: No.
RELATED STORIES:
Candidates were asked about how they would address failing schools in the state. Edwards first spoke about the recent pay raise for teachers, the first one in ten years. He touted his administration's work to fund early childhood education, as well as higher ed. Rispone however, says the governor has voted against education reform and that he's more about money than accountability. Rispone says he wants to give parents a choice in education. Abraham says he wants to make every effort to make failing schools good. He says he's a big fan of charter schools, vouchers, home schools, and tuition-based credits. He says he wants to let teachers teach and parents parent.
In terms of healthcare, candidates were asked what they would do to make sure those who receive Medicaid actually deserve it. Abraham said those people need to have jobs and that the waste, fraud, and abuse must be stopped. He says as a country doctor, he wants to make sure people have a safety net, but that when so many people who are ineligible for Medicaid are signed up, it takes away from those who truly deserve it. Edwards responded, saying Medicaid expansion was the easiest big decision he has made as governor. He says there is work to be done as far as rooting out those who are ineligible though. Rispone said the state needs to freeze eligibility to get rid of waste and abuse. He says things an unsustainable the way they're going. He says Medicaid can't keep expanding because then the people who really need it won't have it.
Copyright 2019 WAFB. All rights reserved.