Governor's debate not short on small jabs between candidates
Updated: Sep. 20, 2019 at 8:58 AM CDT
BATON ROUGE, La. (WAFB) - It wasn't quite the knock-down, drag-out that became familiar in 2015, but Thursday's first gubernatorial debate was not short on small jabs between candidates.
Representative Ralph Abraham launched the bulk of Thursday's attacks, all aimed at Governor John Bel Edwards. The congressman hit Edwards hard for his administration's management of the Medicaid program the governor expanded as his first act in office.
More: Edwards: Study shows Medicaid expansion improved care access
"Get those people that are ineligible off the roles so that those people who are on the roles get the care they need," Abraham said.
More: 30K removed from Louisiana Medicaid rolls, deemed ineligible
"I am 100 percent committed to program integrity, as well - which is why Louisiana is one of 8 states recognized by the Trump administration as implementing best practices to cut out fraud, waste, and abuse," Edwards rebutted.
More: Independent poll shows where Gov. Edwards stands against opponents
While those two went back and forth over health insurance, businessman Eddie Rispone seized an opportunity to look different.
"It's fun to watch two politicians go back and forth at each other. I'm just a business person," Rispone said, chuckling.
More: More on Eddie Rispone, Republican running for La. governor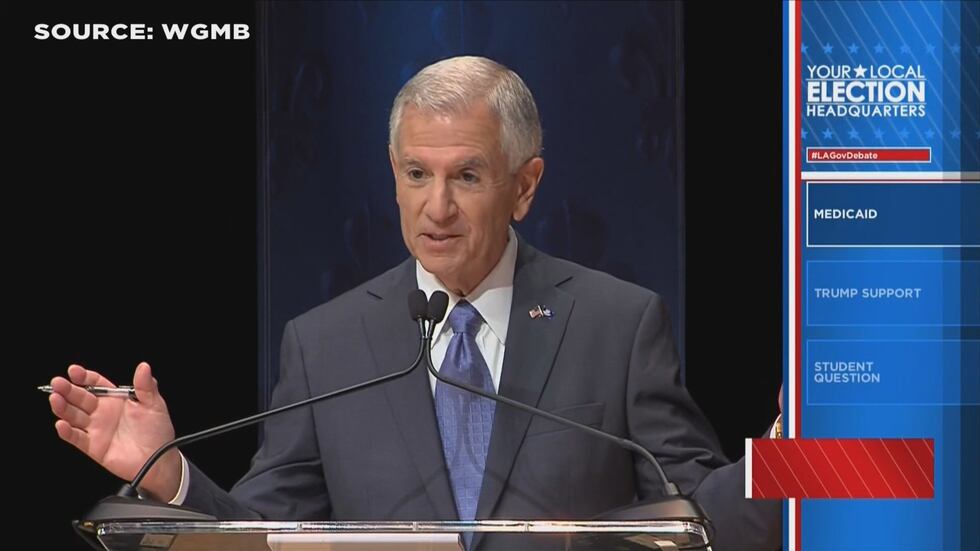 Rispone said he'd re-write the constitution to lower taxes and create high-paying jobs so that fewer people depend on the Government to pay hospital bills.
"I'd be bragging about getting them off Medicaid with better jobs and wages," Rispone said.
All three candidates committed to funding the TOPS program, none said they'd support banning semi-automatic weapons, and none would make an exception for rape or incest victims in legislation that limits access to abortions.
The sharpest difference between the three came as no surprise; their stance on taxes.
"How do you have a surplus when you raise taxes?" Rispone inquired.
"I don't agree that we should cut taxes until we know that we won't go into a structural budget deficit," Edwards said.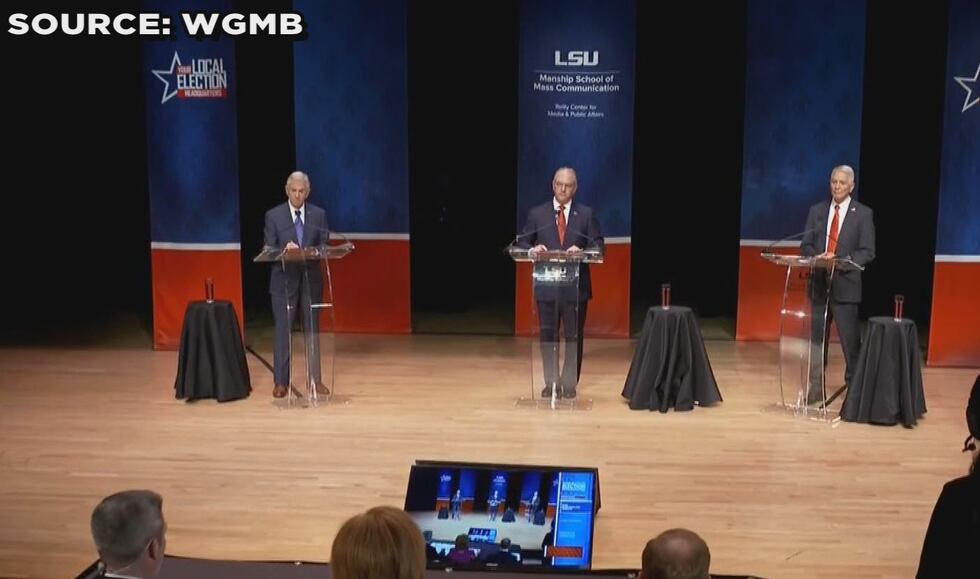 "Governor, you've said that raising the sales tax will kill the Louisiana economy. Congratulations governor, you've killed it." Abraham said.
Aside from a subtle shot from Rispone at Abraham over support for President Trump, the two republicans did not attack each other.
All three will meet again on Monday for an un-televised forum in Baton Rouge. Election Day is Oct. 12.
Copyright 2019 WAFB. All rights reserved.