Lawsuit claims SU 'repeatedly discriminated' against international deaf students
Updated: Sep. 17, 2019 at 7:46 PM CDT
BATON ROUGE, La. (WAFB) - Four international students who are deaf and attend Southern University came to the United States, learned American Sign Language (ASL) and thought they would be able to keep up with lectures just like all their peers. That wasn't the case initially, so now they're suing the school for failing to keep its word.
Sometimes there's a miscommunication between the deaf and the hearing world. "We're not asking for anything, more or less. We just want to have equal access," said Jimmy Gore, President of the Louisiana Association of the Deaf.
In the case of four international students at Southern University, the breakdown started during the fall semester of 2018.
Before the students enrolled in the undergraduate program, they met with a representative for the university's Office of Disability Services to request an American Sign Language interpreter,
A lawsuit filed on behalf of the students states American Sign language is their, "expressed, preferred, and most effective means of communication."
Gore says the school ensured the students they would be accommodated, however, for some reason those assurances fell through.
"They ignored it. They were aware of that fact. We have the proof of it," said Gore.
The lawsuit states, "Fall Semester classes began on August 20, 2018, the Southern University ODS had not contracted with a sign language interpreting agency to provide qualified ASL interpreters to provide interpreting services to Plaintiffs."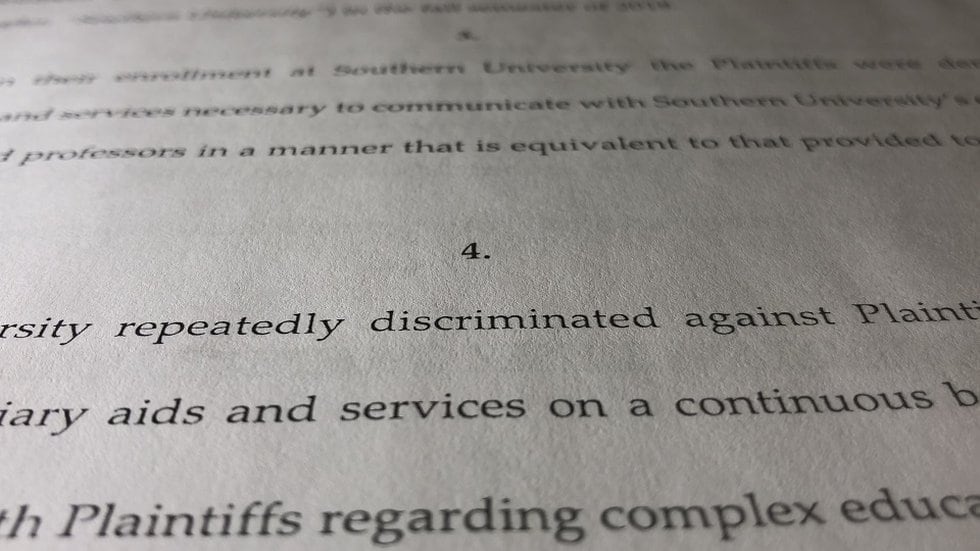 Gore says simply asking for accommodations mandated by law shouldn't be complicated.
"I finally met the Vice President of Administration and he said it wasn't in the budget, and I'm like why would you do that? And we're talking like a physics class and you're not understanding what going on. How would you have been about losing that information? You would feel stuck," said Gore.
That's when attorney Dominick "Rusty" Bianca stepped in and filed the lawsuit filed Aug. 20. The case is assigned to U.S. District Judge Brian Jackson.
"The first week went by, no interpreter showed up. The second week went by, no interpreter showed up," said Bianca.
The attorney says the international students' rights were violated under the American Disability Act, Section 504 of the Rehabilitation Act.
Bianca says the students are from Saudi Arabia and spent 2 years at Gallaudet University in Washington, D.C. learning ASL. So, when they enrolled at Southern, they fully expected to be accommodated. He says the students were repeatedly discriminated against, and as a result their grades suffered.
As international students, that's a risk when it comes to scholarship Bianca says.
"When they show up for class and there are no interpreters there, there's no reason for them to be there because they don't know what the teacher is saying. They can do the best they can and study on their own, but when the rubber meets the road," said Bianca.
Bianca says at some point the university started abiding by federal law and five weeks into the semester an interpreter came.
"That went on for a while and that was good, but then they stopped showing up," he said.
Bianca says one student reached out to the interpreting agency for answers.
"The interpreting agency said, 'Hey look. We can't keep sending interpreters out there because the university is not paying us, I'm sorry,'" said Bianca.
The good thing is, that issue was fixed. At some point, ASL interpreters came back to class, but when the 2019 school year rolled around, "They showed up for class...no interpreters, no interpreters," the attorney said.
The students faced a hurdle they thought they had overcome. Eventually, the undergraduates got an interrupter, but their question is for how long.
"We have to hold people accountable. We have to hold their feet to the fire and make sure that they follow the law," said Bianca.
In a recent email exchange, Bianca says, one of the students' instructors told an interpreter they did not want sign language interpreters in the class because "it was disruptive."
The attorney says even though the students currently have interpreters, they're moving forward with the lawsuit to make sure this doesn't happen again.
Gore says for him, it's about educating the community because that's the only way to see improvement.
"We work with the community and we need to work together. We're not wanting to work against each other. We want to be sensitive to each other and provide equal access to all," said Gore.
WAFB reached out to Southern University for more information. The university "We do not comment on pending litigation."
Copyright 2019 WAFB. All rights reserved.