KSLA News 12 employee, 33 others become U.S. citizens on Fourth of July
Can you pass the citizenship test? See how well you can answer some practice questions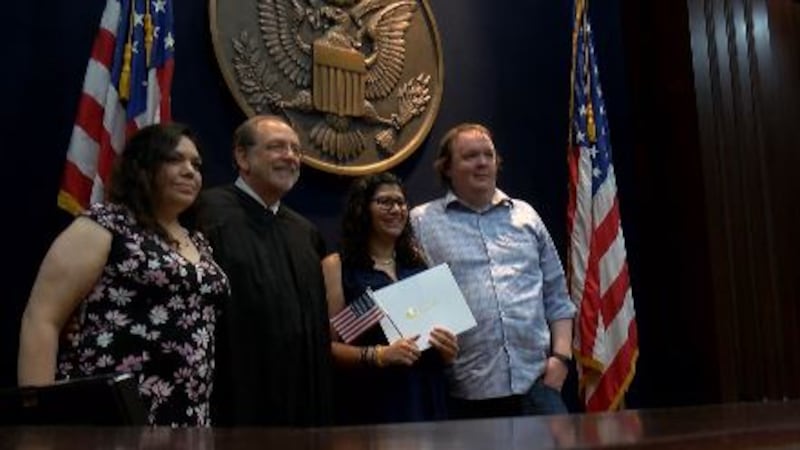 Updated: Jul. 4, 2019 at 5:05 PM CDT
SHREVEPORT, La. (KSLA) - This Fourth of July, many people are celebrating with relatives and friends.
But 34 people spent their morning becoming U.S. citizens.
Among them was KSLA News 12′s Marcela Tapia, who as a marketing producer is one of the many people who work behind the scenes at the TV station.
If Tapia is not flying drones, she's creating commercials and promotions highlighting KSLA News 12′s news team.
"I didn't want to be on TV ever. But behind the scenes, I just fell in love with it."
That all began back in high school.
At that time, Marcela was living in Mexico City.
She soon moved to Arkansas, went to college then began her career as a marketing producer.
But living in the States caused her to realize something.
"I've been wanting to be a citizen, but it's a whole process and it cost money."
Marcela's been able to live and work in the U.S. under a lawful permanent resident card or a green card.
But when January hit, she knew it was time.
"I've been waiting and this year I had the money and it's been 10 years. So I felt like it was the right time to just go ahead and do it."
Marcela submitted her application.
"It said it wasn't going to be done until July of 2020, so I was ready to start waiting. I've sent it, (so) I'm just going to wait and see what happens."
Luckily for Marcela, the process moved along quicker than she imagined.
She soon traveled to Dallas to get her fingerprints done. And by April, she was heading to Arkansas for her official interview and passed.
Fast forward to July 4, 2019, Marcela's road to citizenship finally has come to an end.
Thirty-three other people along with their friends and family members were all gathered in the courtroom.
And with so many different faces and stories, Marcela hopes others realize the road to citizenship isn't always the easiest for others.
"When people say things like 'Well, they should do it the right way,' they don't understand what the 'right way' means," she said.
"Sometimes the 'right way' means is waiting 10 years in your country without being able to come here before you are even allowed to start the process."
Now the Fourth of July is a day Marcela never will forget.
And while she celebrates with those she loves, she knows she'll be back at work Friday, July 5.
Only this time, creating a new journey for herself now as an American citizen.
Copyright 2019 KSLA. All rights reserved.