THE INVESTIGATORS: La. Dept. of Health's records show several violations at Iberville nursing home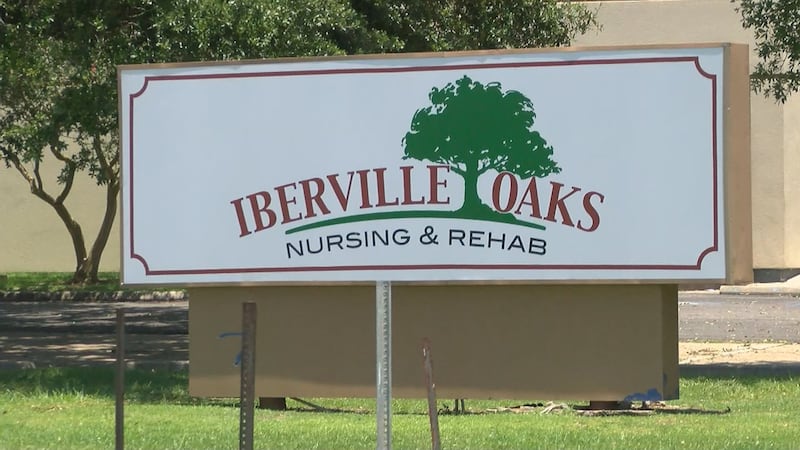 Updated: Jul. 3, 2019 at 9:45 PM CDT
PLAQUEMINE, La. (WAFB) - Sources within the Louisiana Attorney General's Office confirm it has now launched an investigation into Iberville Oaks Nursing & Rehab based off the allegations the 9News Investigators brought to light Tuesday, July 2.
Nearly 120 pages were released Tuesday by the Louisiana Department of Health (LDH) in response to a records request by the 9News Investigators.
PREVIOUS STORY: KIRAN: Alleged neglect at a Louisiana nursing home
The documents include several letters from LDH spanning multiple months. WAFB repeatedly found notices saying the facility "was not in substantial compliance" with requirements. Each time, those letters were followed by LDH notifying the nursing home they had now "attained substantial compliance."
Five LDH inspectors visited the nursing home June 18 and 19, one of the most recent inspections conducted by the state.
VIOLATIONS AT THE NURSING HOME
Develop/implement abuse/neglect policies - This violation has to do with the nursing home's policies and procedures to "prohibit and prevent abuse, neglect, and exploitation of residents…" The reasons for this violation? Iberville Oaks "failed to report an allegation of abuse per policy, failed to protect resident(s) after an allegation of abuse was made, failed to investigate an allegation of abuse per policy"

Quality of care - An example cites, for a resident, the home should "…send weekly weight report to doctor every Friday," but that the "corporate nurse was unable to provide any documented evidence that weights were obtained daily and faxed to the doctor as ordered"

Behavioral health services - The home has to provide access to residents for counseling. The state's records say the home "failed to have knowledge as to why a resident was going for counseling services once a week."

In January of 2019, the state notes three violations for grievances - That means "the resident has the right to voice grievances... without discrimination or fear of discrimination or reprisal."

Resident call system - Investigators also noted an issue with the the resident call system or their call buttons, noting one resident said "…she had complained about her call light not being answered timely for her," "there was no documented evidence on the grievance log of a complaint being made," and "…she either rolls herself to the nursing station and tells staff what she needs or tells staff what she needs when they pass by her door."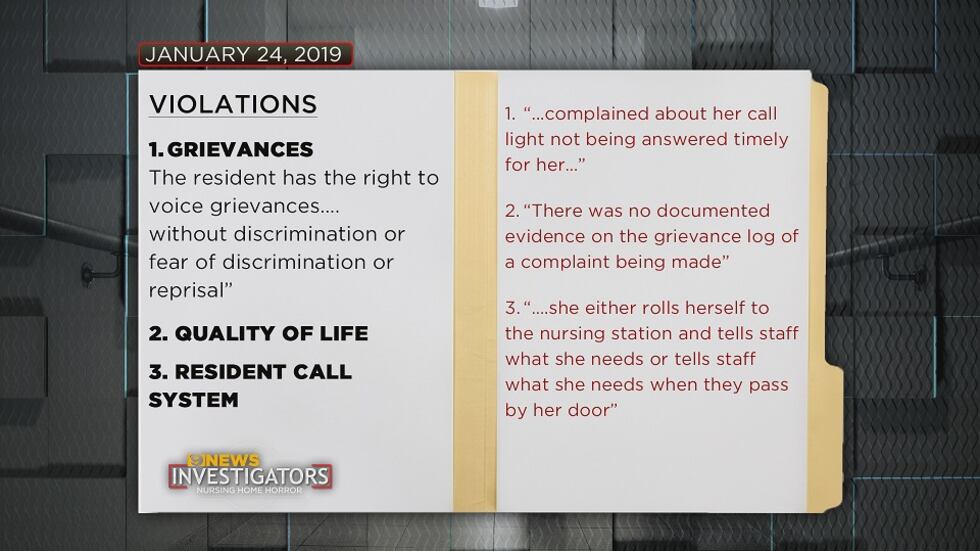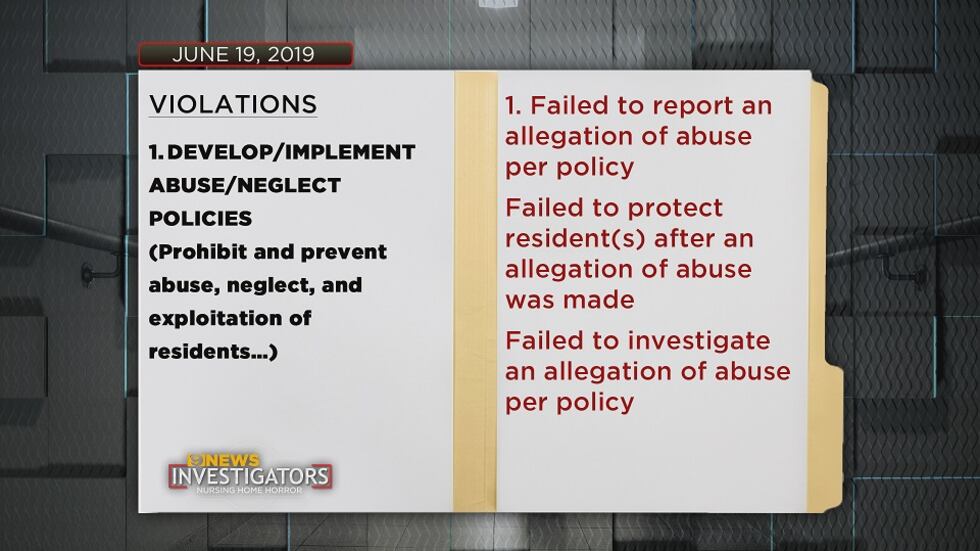 LDH says they routinely inspect nursing homes, but when complaints increase, as in the case with Iberville Oaks, the home falls under what's called "increased monitoring." Plus, when it comes to the nursing home's license renewal, if they have too many deficiencies or problems staying in compliance, they can be given a provisional license, meaning they have to fix certain violations before they are fully licensed or their license can be revoked entirely.
WAFB has learned that once in 2018, this nursing home's license was reduced to a provisional license, but that they did fix all those violations. Since the latest June inspection, the nursing home now has until July 5 to give the state their plan to fix all the violations and until Aug. 3 to fix them.
A former employee of the Plaquemine nursing home provided WAFB with photos and secret recordings, alleging neglect residents had to deal with. According to those recordings, things got fiery at times within the home. Plus, the Iberville Parish Sheriff's Office was called out to the nursing home repeatedly.
Copyright 2019 WAFB. All rights reserved.